Kids Company's closure is no cause for celebration
We sometimes forget that planned poverty is also child abuse - and that we live in a country that is no place for young boys and girls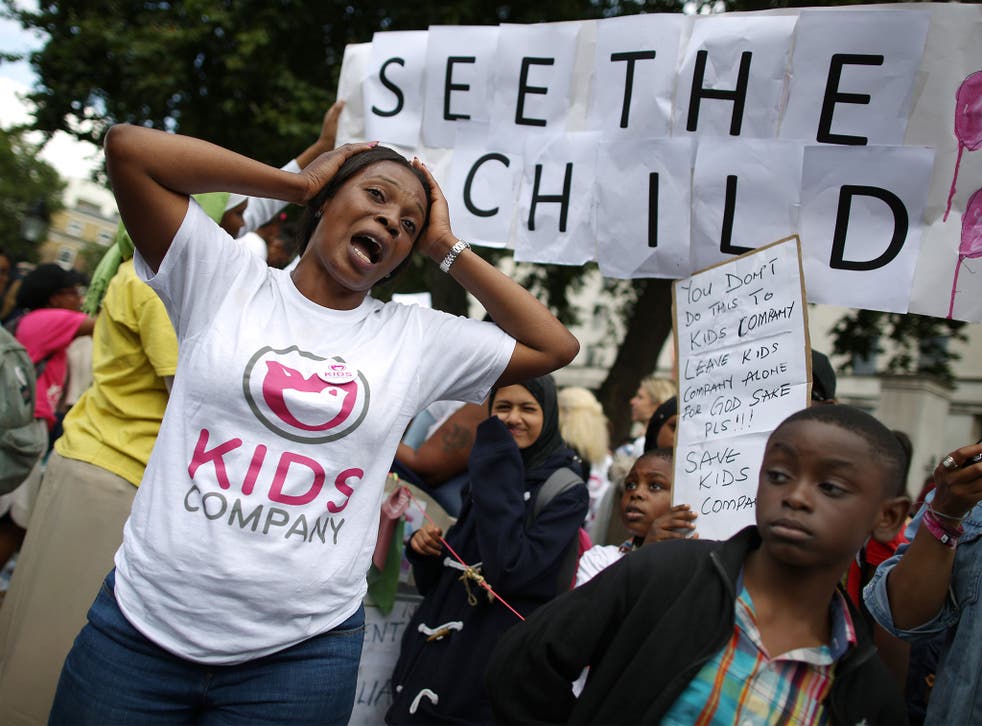 The po' lost children of Kids Company. What will happen to them? They watched as tanks were sent in by vicious media operators and government. Camila Batmanghelidjh, once adulated as the fairy godmother of the deprived, feral and hopeless, suddenly became the wicked witch running a coven.
Unsubstantiated allegations were made about child abuse, the charity was indicted for financial laxity and imprudence and the trustees besmirched. On BBC Radio2's Jeremy Vine Show Fraser Nelson, the sharp, smart editor of The Spectator, was so filled with fury he almost burst out of his seams. Meanwhile Nick Hurd, the Tory MP and erstwhile minister in the Coalition Government, affirmed that the financial audits of the company were examined and approved. At this point the nation was obsessing and making much noise about numbers. There was little interest in the priceless nurturing the charity provided.
Suffering children from low-income families are still seen as dispensable trash by abusers and state institutions. They have no rights, no autonomy, no credibility.
Since Savile and the grooming gang revelations, false optimism has been raised that the voices of the young, of the vulnerable, of victims of abuse, are now seen and heard. We believe that such exploitation will never again be left unchecked. Really?
Names are emerging of alleged perpetrators among the most powerful men in the land. Ted Heath may have been a perfect gentleman or he may not have been. Six police forces nationwide are looking into child sex accusations made against the Tory PM. Greville Janner has been summoned to court, even though he is said to be suffering from dementia.
But do you hear the commotion? Those are friends and cronies of both Heath and Janner jumping up to stop the probes. This is unjust, they cry: claims made by low life looking for fame and fortune. They want, in effect, to scare off those who have dared to describe what happened to them.
I recently had two separate letters from women in their late teens. Both were too frightened to give names or details which would identify them. They were gang raped and passed around by men for many years. But before that, they were sexually violated by fathers, cousins and uncles. Nobody believed or helped them. As one writes: "They say we are from troubled families, but don't say more. Before the Pakie [sic] found me, I had disease, two abortions and cuts. My uncle did that. Police did not arrest him. They say I am lying."
Such victims are hurt and irreversibly damaged by parents, by strangers, by communities and the state. And we don't care. Or maybe we can't allow ourselves to. Remember those lines in T.S.Elliot's Four Quartets:
"…human kind
Cannot bear very much reality.
Time past and time future
What might have been and what has been
Point to one end, which is always present."
Planned poverty is also a form of child abuse, and again the grief of children reduced to basic existence is unheeded. Since 2010, the number of needy kids has risen by half a million. They don't get the nutrition they need, feel nothing in a land of plenty. Once in a while you see poverty porn on TV, but most of the time, the injustice is swept to the margins so we don't have to witness it, or hear hungry infants wail.
Middle and upper class kids, in contrast have too much; they are, perhaps, spoilt. Too many among them still feel disempowered and deeply dejected.
A daughter of a friend came to see me recently. She is feeling worthless and low. Her parents – both strong, successful and practical – tell her to grow up and be thankful for her fortunate life. She sobbed on and off for an entire afternoon: "They just walk away, never try to understand. It's as if I am failing them by not being the girl they want me to be." She is on anti-depressants and coping better, but her parents still won't talk to her about her formless, nameless sorrow.
Every year, according to the National Children's Bureau, 15,000 pupils go missing from school; the Children's Society figures show that 100,000 young people run away from home or local authority care homes every year, and the National Institute of Health and Clinical Excellence (Nice) warns that almost 80,000 children, some as young as five, suffer depression. Two large-scale research studies have found British children to be among the least happy in the world. Suicides by teenagers is appallingly high.
When Kids Company fell, voices of conscience came out fighting. The author and journalist Henry Porter wrote: "[The organisation] has helped thousands upon thousands of young people survive the sort of hardship and emotional damage that most of us have not the slightest clue about … still less do anything to mitigate."
He should know. His daughter worked there, raising money from businesses and philanthropists. The charity loved, hugged, parented the most vulnerable and most far gone, gone bad young Brits. Their one sanctuary is no longer open. Their wounds will bleed again and they feel once more that they do not count.
This is not a country for young girls and boys. Camila Batmanghelidjh and Kids Company made Britain uncomfortable by demonstrating this truth over and over again. Other children's agencies and charities will carry on doing good work, but none will ever again be as daring or as provocative. They have, in this way, been silenced.
Register for free to continue reading
Registration is a free and easy way to support our truly independent journalism
By registering, you will also enjoy limited access to Premium articles, exclusive newsletters, commenting, and virtual events with our leading journalists
Already have an account? sign in
Join our new commenting forum
Join thought-provoking conversations, follow other Independent readers and see their replies