Kim Kardashian: Papermag pictures really could break the internet
This is not a woman who makes a single unplanned step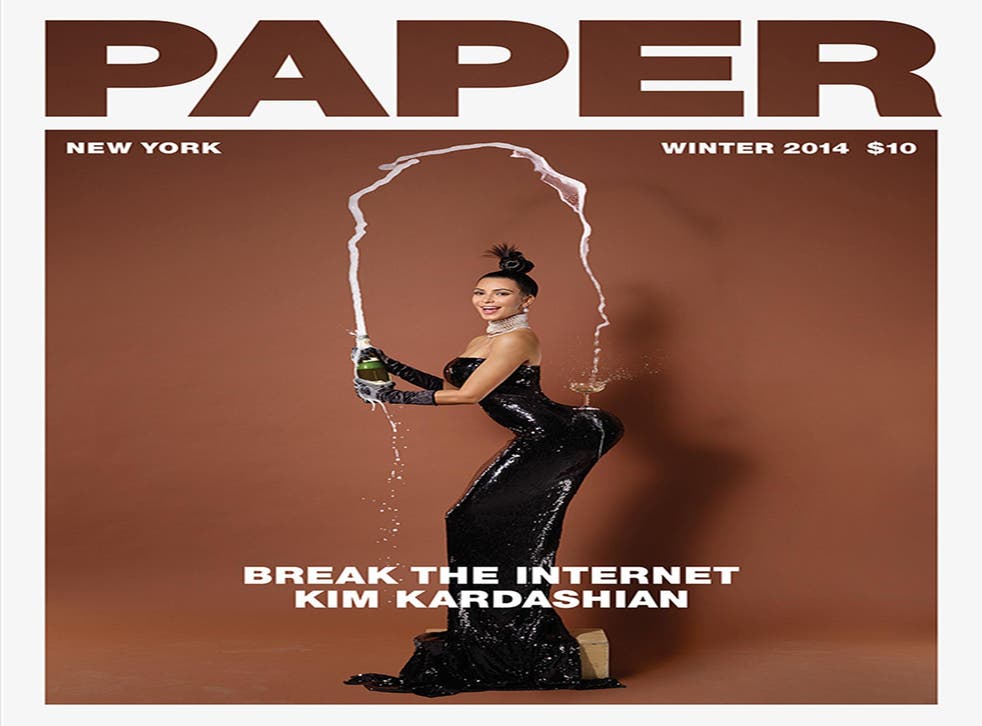 If you're planning on breaking the internet - as Papermag have decided they quite fancy a shot at today - then there's only one person you need on your side: Kim Kardashian West. Or rather, Kim Kardashian West's bottom.
And so the magazine dropped their winter issue cover on to an unsuspecting world this morning, featuring an oiled-up KKW wearing nothing but a choker of pearls and black elbow gloves, peering perkily over her shoulder. Break it? They're going to obliterate it.
It's the most famous arse in the world, primarily because of the incredibly savvy business woman is it attached to. Every aspect of the Kardashian West brand is curated, controlled and perfectly strategised. Don't make the mistake of thinking that this is a woman who makes a single unplanned misstep, especially when it comes to sharing images of her most famous asset.
Just look at the choice of photographer for the Papermag cover: if you're going to be pictured nearly naked in pictures that the entire world is going to see, Jean-Paul Goude is the man to have behind the camera. This is the guy who was was responsible for Grace Jones in her heyday, who photographed Vanessa Paradis as a bird in cage for Chanel and that Léa Seydoux Prada campaign. It's an inspired move.
But even with an artist like Goude attached to the shoot, and a series of images that are undeniably both ambitious and creative (one is of Kim recreating Goude's 'champagne moment' by popping a bottle over her head and catching it in a glass resting comfortably on her famous derrière), these pictures are going to be endlessly picked over and mocked, just like her American Vogue cover shoot was ridiculed in March. Because, in every aspect of her very public life, Kim inspires inexplicably vitriolic levels of dislike from people who consider her too self-promoting, too tacky, too, well, mainstream, to truly belong in the upper echelons of the fashion world. A mere reality TV star, the message is that Kim should know her place. We are never allowed to forget that this is a women who has appeared in a sex tape, regardless that this was filmed over a decade ago, and leaked in a vile act of betrayal by an ex-partner.
Kim Kardashian- entrepreneur extraordinaire

Show all 6
Not that any of this nasty snobbery seems to faze her. And why would it? Within minutes of her naked bottom appear online, the internet was speaking about little else, melting into a chaotic mess of memes and adoration. Her Instagram post has been liked over half a million times in a matter of hours, already well on its way to beating the the most liked picture of all time.... one of Kim and Kanye West on their wedding day. Take that, haters. This is a woman who knows her brand, and knows how to make it work. What's not to admire?
"And they say I didn't have a talent" she tweeted this morning "...try balancing a champagne glass on your ass". Well quite, Kim. Quite.
Join our new commenting forum
Join thought-provoking conversations, follow other Independent readers and see their replies