Corbyn has been found wanting on antisemitism – now he must act
The leader of the opposition needs to overcome his innate obstinacy and and take the lead by immediately adopting the widely accepted definition of antisemitism from the International Holocaust Remembrance Alliance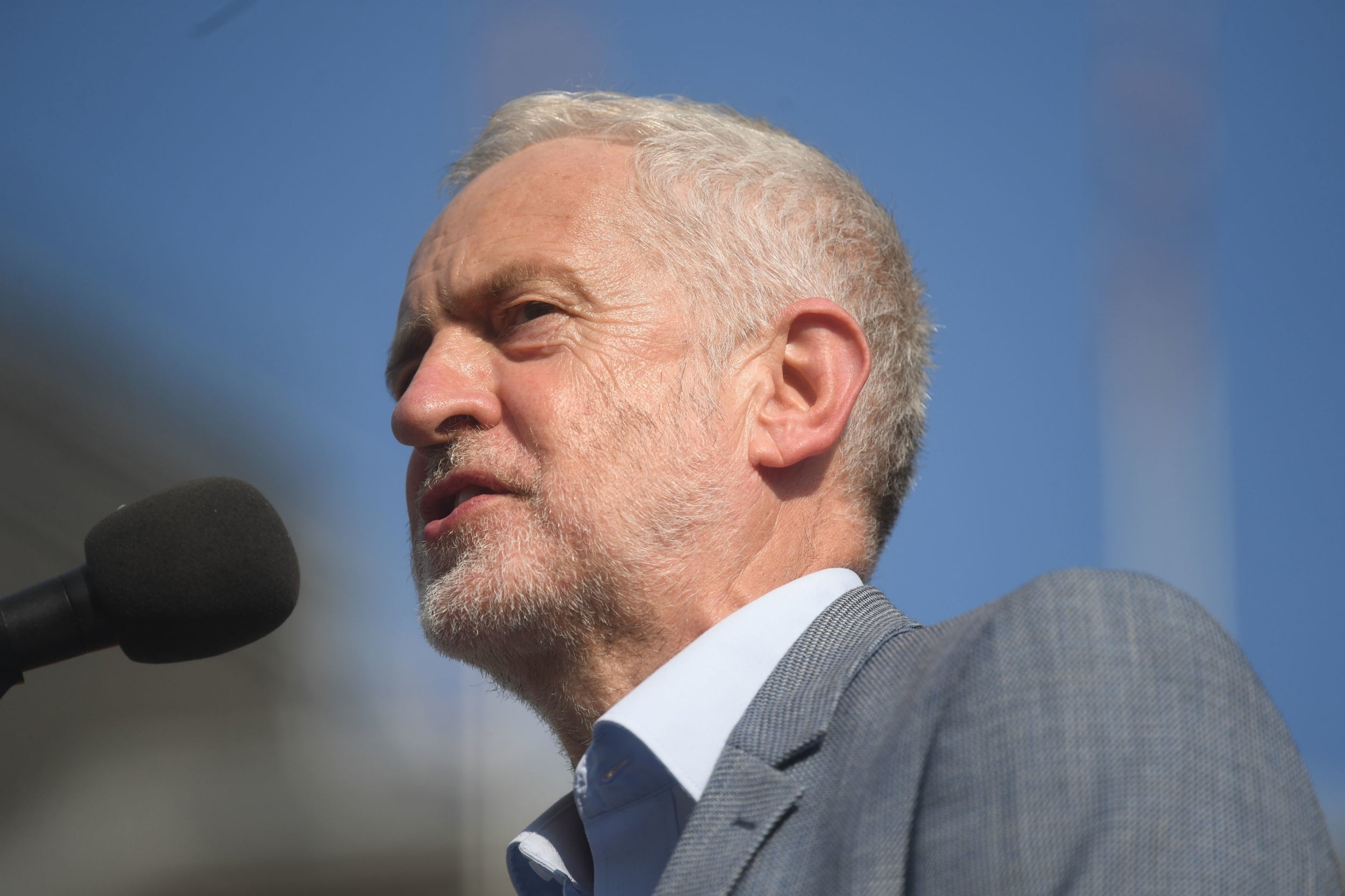 Hosting an event entitled "Never Again for Anyone – Auschwitz to Gaza" on Holocaust Memorial Day was such an egregious error of judgement that Jeremy Corbyn, an extraordinarily stubborn man, has had to apologise for it. It was eight years ago; Mr Corbyn was a backbencher; and he has made his case for talking to unpleasant and violent people in order to push them towards peace; but he was still a fool to lend his name to this stunt. It doesn't say much for his judgement.
Mr Corbyn's "sorry", indeed, was what might be termed a "Tony Blair apology" – not sorrow for the act itself, but rather regret that what he did upset anyone, as his predecessor used to. It is not quite the same thing. Mr Corbyn said, stiffly: "In the past, in pursuit of justice for the Palestinian people and peace in Israel/Palestine, I have on occasion appeared on platforms with people whose views I completely reject. I apologise for the concerns and anxiety that this has caused."
Still, it is something, and although the Jewish community – and indeed the wider nation with any shred of sensitivity – might be prepared to offer Mr Corbyn the benefit of the doubt in normal times, it is difficult to do so given the current climate in his party and his disgraceful failure to exercise leadership and take decisive action to end his activists' flirtations with antisemitism.
The latest evidence The Independent reports on today – emails emanating from the Barnet branch in north London, home to a Jewish population – are hardly rogue. Across social media, in leaked rants at national executive meetings, and in other statements, Labour personalities ranging from deranged activists to former London mayor Ken Livingstone have consistently shown a tendency to offend and disturb the Jewish community. Worse, by far, the leadership – Mr Corbyn, the NEC, the disciplinary panel – have been slow and reluctant to act. Sometimes, Labour figures don't even offer a grudging apology, but double down, and claim that Jewish people are fabricating their claims for some possibly ulterior motive; the unspoken one of course being some presumed support for the state of Israel, either its existence or its government. Some say the critics are using antisemitism to hit at Mr Corbyn. On the other side, some are openly accused of being agents of Mossad or in the pay of Jerusalem.
Too many Labour people cannot accept that support for the state of Israel is a perfectly legitimate point of view; just as is their own support for justice for the Palestinian people or Irish unity, or Catalan independence. Someone of, say, Jamaican descent expressing support for Israel is never derided as a stooge; someone of Jewish heritage doing the same often is, but should not be.
That is the key to understanding the current crisis of confusion, or worse, inside Labour. Too often, through lazy thinking or some deeper prejudice, many in the party allow their criticisms of the Israeli government – and there are many to be made – to shade into abuse of anyone who happens to offer a different point of view, with particular venom reserved for British Jews. So that abuse then takes on a different complexion. From there is but a short step to the world of "international Jewish conspiracy", pulling the media, the banks and big business (the Bolsheviks no longer feature in such fantasies, as once they did).
That awful image of a mural in the East End with hook-nosed bankers that Mr Corbyn once endorsed on social media makes one wonder about whether he is sufficiently alive to traditional antisemitic tropes. The discomforting thought comes to mind that Mr Corbyn himself is prone to making such elisions, and has more in common with some of his activists than we, or he, might care to admit. Does Mr Corbyn accept the right of the State of Israel to exist, and that it is not a racist endeavour? It is strange to ask that question, but he needs to say so as often and as loudly as possible.
That is why it is so worrying and why many Jewish leaders and individual citizens feel that the Labour Party is conducting a sort of guerrilla propaganda war against them. It seems obvious that they are not making it up; they have no need to pursue any hidden agenda. Their fears are rooted in a long history of genocide and persecution. It is what it is. It is disappointing that so many Labour activists cannot accept such plain truths.
So it must stop. Mr Corbyn needs to overcome his innate obstinacy and show a lead – with actions as well as the usual forms of words. He should adopt, without any amendment or quibbling, the widely accepted definition of antisemitism from the International Holocaust Remembrance Alliance. He should make every Labour member accept that along with the other aims and values of the party. If they don't wish to, then the conclusion is obvious: Labour is not for them. It would be a powerful filter.
Second he needs to toughen the party's sanctions and approach, and go beyond the weak recommendations of the Chakrabarti Report, which has achieved nothing.
Third, he needs to encourage his party's apparatus to get on with the job of concluding all its current investigations.
The sooner Mr Corbyn gets on with these tasks the sooner he can move on. He needs to use all the power and influence his popularity in the party and his office affords him to make war on antisemitism. He has to show that he himself understands the nature of it, and make some examples of those who have transgressed. They should be granted due process, of course, but in some cases there is no harm in Mr Corbyn or his allies having a quiet word with some about whether it is still in the party's interests for them to stand for election to the National Executive Committee, for example.
Too often, individuals get away with some mumbling apology and the mildest of sanctions. They go to "equalities training", which is frankly beside the point. They need a course in the unique nature of antisemitism, how insidious it is and has been throughout history, how mad old conspiracy theories and libels re-emerge in modernised camouflaged form, and how easily and wrongly a passion for the cause of the Palestinian people can deteriorate into antisemitism. Antisemitism has its own features which need to be appreciated by those who do not understand it properly; this cannot be done with a generalised equality awareness course.
It is nothing short of tragic that at a time when the British nation faces such huge challenges to its future as Brexit, struggling public services, the continuing refugee crisis and democracy itself, the principal opposition party is engaged in an entirely unnecessary wrangle about antisemitism. It is grotesque. It is wrong on every level. It is a test of Mr Corbyn. Thus far he has been found wanting.
Join our commenting forum
Join thought-provoking conversations, follow other Independent readers and see their replies