Who are the candidates who could take on Jeremy Corbyn?
By a margin of four to one Labour MPs say they have no confidence in their leader: so who could command their confidence – and that of the party members who elected him less than a year ago?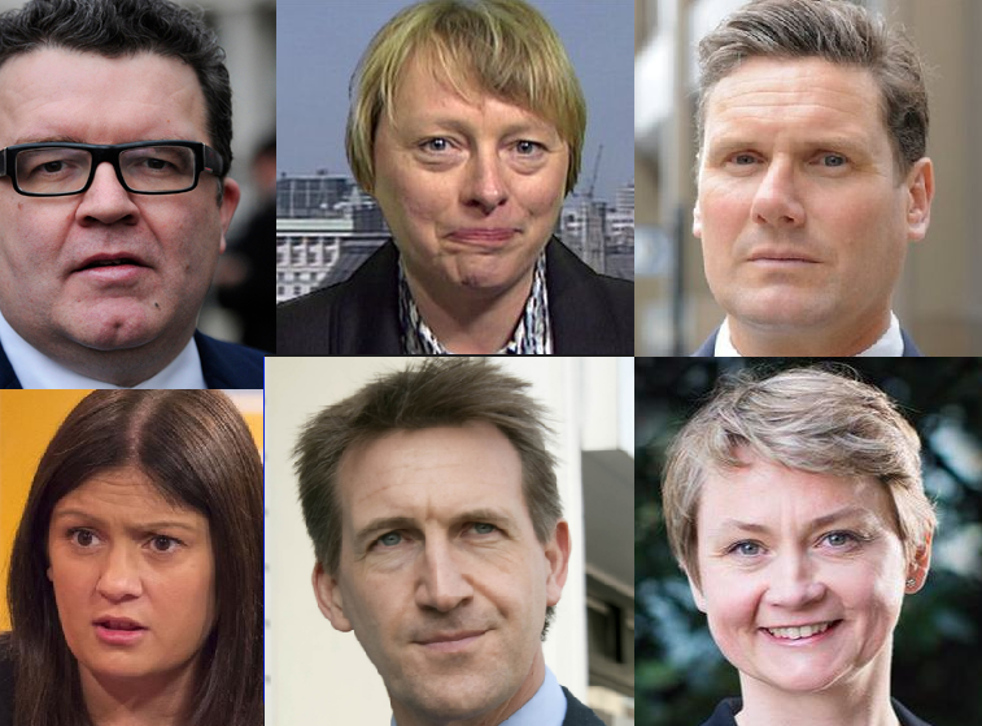 Labour MPs seem determined to prove the old adage of American politics, "You can't beat somebody with nobody." Today 172 of them voted for Nobody, and 40 of them voted for Jeremy Corbyn. For the sake of completeness, let us record that four of them positively abstained and 14 didn't vote.
Among the non-voters was Graham Allen, MP for Nottingham North, who said beforehand the vote of no confidence "has no standing in our party's rules – I will not give it or any faction any legitimacy by voting today".
He was right, in the sense that Labour MPs have no role under the rules in leadership elections except at the nominating stage. A challenge to Corbyn's leadership isn't formally triggered until 50 MPs and MEPs nominate a candidate against him.
Today's vote was designed – to the extent that it was designed, rather than the messy result of desperation on the part of MPs who feel that they have nothing to lose – to put pressure on Corbyn to resign voluntarily. But he made it clear after the vote that he won't do that. He knows how hard it is to get rid of him under the Labour Party rules, and so he is digging in.
That forces his opponents in the party to move to the next stage, which is to identify the Somebody who could defeat him.
In working out who this mystery person might be, there are four requirements:
1. Candidates need 50 Labour MPs or MEPs to nominate them – 20 per cent of the total, currently 250 (one MP is suspended and there is one vacancy – the MEPs were added in a constitutional amendment that few people noticed at last year's party conference). This is not a stiff test: the 172 MPs who voted against Corbyn could put up three candidates between them.
2. It has to be someone who could win a vote on Labour's National Executive. The NEC decides the detailed rules and timetable for a leadership election. The party rule book is ambiguous about whether an incumbent leader would need to secure the 50 nominations himself, and it leaves the timetable entirely to the discretion of the NEC. As long as Corbyn keeps his small majority on the NEC, it could put off the leadership election until it was too late for the early general election the new Conservative prime minister is likely to call.
Dame Margaret Beckett says Jeremy Corbyn must stand aside in emotional interview
3. It has to be someone who could beat Corbyn in a ballot of party members. He was elected by 60 per cent of them 10 months ago. Last month a YouGov poll found that if there were a new leadership contest, he would win 64 per cent. That was a hypothetical question then, pitting Corbyn against Nobody: a list of possible candidates, many of whom are not realistic runners. But it does suggest a successful candidate would have to appeal to same anti-Blairite sentiment. With the Chilcot report being published next week, any MP who voted for the Iraq war, or for airstrikes against Isis in Syria last year, is at a heavy disadvantage.
4. It ought to be someone better capable of stemming the loss of Labour seats in a general election. Again, this one is not a stiff test, but much of the party's trouble arises from the lack of an obvious vote-winner among the possible alternatives.
So, given that Alan Johnson and Hilary Benn have ruled themselves out and the idea of getting David Miliband back through a by-election is implausible, who could stand against Corbyn?
Tom Watson
The great operator of Labour politics who has a personal mandate of his own as deputy leader, he may be able to swing the trade unions that hold the balance of power on the NEC. Voted for Iraq and airstrikes in Syria.
Angela Eagle
Cut a dash in the House of Commons standing in for Corbyn against George Osborne, with a nice line in humour. Almost as experienced in the politics of Labour machinery as Watson. Voted for Iraq and airstrikes in Syria.
Keir Starmer
Experience of a serious job outside Parliament as Director of Public Prosecutions, with some enthusiastic supporters despite his political inexperience. A late resigner from Labour's front bench. Not an MP in 2003 and voted against airstrikes in Syria.
Lisa Nandy
Ideal candidate in many ways: young, northern and regarded as left wing. She was shadow energy and climate change secretary and held her own against Andrew Neil in TV interviews. But she has said through intermediaries that she doesn't want to be leader. Not an MP in 2003 and voted against airstrikes in Syria.
Dan Jarvis
Known mainly for being a former Army officer and for deciding not to contest the leadership a year ago for family reasons, making an impressive speech at the time. Not an MP in 2003 – he served in Iraq – and voted for airstrikes in Syria.
John McDonnell
The shadow chancellor who said this week that he "will never" stand for the leadership. But he shares Corbyn's politics – indeed he has never been outflanked to his left in the Labour Party – and would be the "no surrender" replacement if Corbyn did stand down. Voted against Iraq and airstrikes in Syria.
Yvette Cooper
The former cabinet minister gave a thoughtful speech today that suggested she is interested in standing again. But she was beaten badly last time not just by Corbyn but by Andy Burnham. Voted for Iraq and airstrikes in Syria.
Register for free to continue reading
Registration is a free and easy way to support our truly independent journalism
By registering, you will also enjoy limited access to Premium articles, exclusive newsletters, commenting, and virtual events with our leading journalists
Already have an account? sign in
Register for free to continue reading
Registration is a free and easy way to support our truly independent journalism
By registering, you will also enjoy limited access to Premium articles, exclusive newsletters, commenting, and virtual events with our leading journalists
Already have an account? sign in
Join our new commenting forum
Join thought-provoking conversations, follow other Independent readers and see their replies