John McDonnell's new economic plan proves once and for all that Labour isn't looking to the past for inspiration
The Labour Party is finally making sense of a post-crash world with a new brand of socialism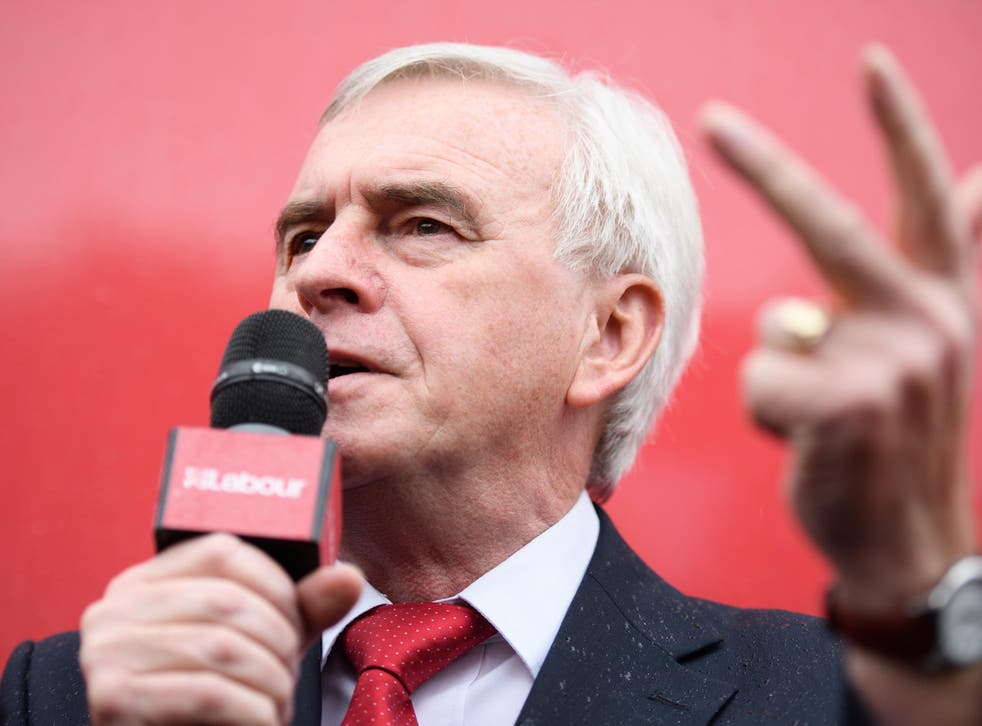 Labour has been accused of wanting to "turn back the clocks" with its plan to renationalise the railways and public utilities. These warnings against a return to the pre-Thatcherite model, in a way they are right: a return to top-down, managerialist nationalisation of the post-war era is not the answer to today's economic woes. But this isn't what Labour is proposing.
In the post-war nationalisation model, the power over how industries were run rested with government-appointed managers – workers only recourse to control over their conditions was strike action. Relatively relaxed trade union laws meant workers were able to remove their labour for higher wages but yet weren't given a say in what their work looked like. This centralised model redistributed wealth paternalistically and dictated terms to the labour movement rather than giving workers – who know and understand the work they carry out better than anyone else – a voice in how their labour was structured and remunerated.
Corbyn's Labour has no interest in pursuing the failed strategies of previous leftist projects. In his speech to the Alternative Models of Ownership conference, John McDonnell promised a Labour government would "irreversibly" put control of public industries into the hands of those who deliver and use the services. This is what taking back control really looks like.
The party already have a model on which to base their new direction. After plans for a massive shopping mall fell through, single-minded councillor Matthew Brown, with the help of Manchester-based think tank the Centre for Local Economic Strategies (CLES) changed the way in which Preston ran its local authority, transformed its fortunes in the process. In doing so he provided a model for municipal socialism in the 21st century.
Inspired by the doctrine of Community Wealth Building preached by US-based Ted Howard, members of the community are involved in the provision of public services, giving them a stake in how they are run and sharing the wealth that is created locally. The revolution will be de-centralised.
UK news in pictures

Show all 50
In practice, this means rather than public services being outsourced to giants such as Carillion and G4S, they would be delivered by local worker co-operatives. This way workers would get greater control of their workplaces and money is more likely to stay within the local economy rather than leaking out into the pockets of shareholders. This is Labour's new model of socialism: we the public collectively owning and running our public services, rather than leaving it to a distant, government-appointed bureaucracy, or a panel of wealthy shareholders.
Under Corbyn and McDonnell, the Labour Party is finally making sense of a post-crash world and providing exciting, practical alternatives to the malaise we find ourselves in. No return to anything: only something new and exciting they insist. Not a Stalinist project obsessed with productivity at the expense of freedom, or a bureaucratic Fordist era project looking for a balance between labour and capital as in the 1970s, but municipal, de-centralised socialism built for the current moment.
It's easy to get carried away, but Labour's agenda is genuinely shaping up to be something which hasn't been seen before. But, like with anything as ambitious as this, up against an establishment willing it to fail, only the utmost dedication, nous – as well as a lot of luck – will see it through.
Register for free to continue reading
Registration is a free and easy way to support our truly independent journalism
By registering, you will also enjoy limited access to Premium articles, exclusive newsletters, commenting, and virtual events with our leading journalists
Already have an account? sign in
Register for free to continue reading
Registration is a free and easy way to support our truly independent journalism
By registering, you will also enjoy limited access to Premium articles, exclusive newsletters, commenting, and virtual events with our leading journalists
Already have an account? sign in
Join our new commenting forum
Join thought-provoking conversations, follow other Independent readers and see their replies