The proportion of students who say they'd vote Labour has gone up again. Why aren't the Tories doing anything about it?
Asked to name one policy which it would be essential for Labour to keep in order secure their vote, the most popular choice was more investment in public services – the top priority for just under 40 per cent of party supporters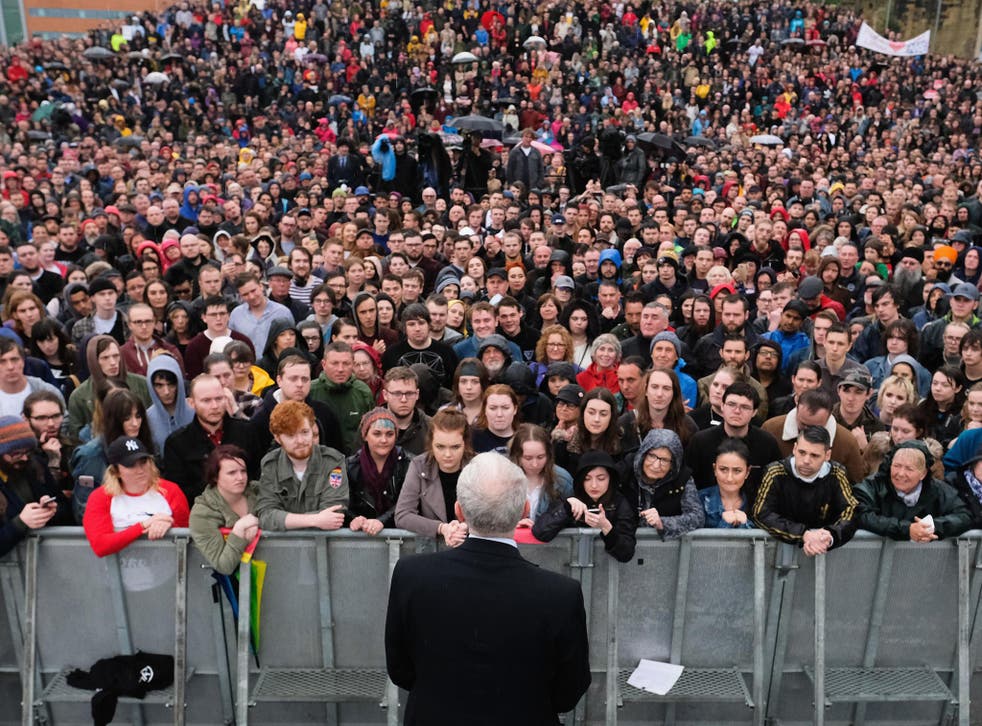 If there were a general election tomorrow Labour would be the party of choice (aside from a house party, obvs) of nearly seven in 10 students, which is a remarkable statistic.
A new poll of full-time undergraduates by the Higher Education Policy Institute (HEPI) and YouthSight has Labour taking 68 per cent of the student vote, its highest share since the survey began in 2004. Back then, less than a quarter of respondents would have backed the party of government led by Tony Blair.
It is notable that Labour's recovery among young voters is not linked directly to the election of Jeremy Corbyn as leader. A more significant factor has been the total and utter collapse of the Liberal Democrats' appeal among those at university, trust in the party having been destroyed by the introduction of higher tuition fees during the coalition years.
The Lib Dems would take only around 7 per cent of the student vote if an election were called now, mirroring its support in the broader population.
The Conservatives, meanwhile, would attract 15 per cent, down from a high of 42 per cent, which came in 2008 as the impact of the financial crisis robbed Labour of authority.
Jeremy Corbyn hits back at Morgan Stanley in new video
Nevertheless, the Corbyn factor has plainly improved matters still further for Labour. At the time he took over as Labour's "absolute boy", the party might have expected student support around the 55 per cent mark.
Yet the question remains whether it is Corbyn's personal appeal or specific policies which particularly appeal to the university crowd.
Unquestionably, the former plays a significant role. Corbyn's net favourability rating has consistently been better than those enjoyed by other party leaders – and by a distance too.
Labour's promise to scrap tuition fees is often held up as another key influence in determining students' voting intentions. Prior to the last general election just over half of students said it was a factor in their choice at the ballot box – although fifty per cent also said they doubted Labour would be able to follow through on its pledge in office.
Brexit is a matter of both concern and confusion. Fifty-five per cent of students who say they would vote for Labour also think the party's position on EU withdrawal is, in fact, not to depart at all. That, for the moment, is manifestly not the case, which suggests that Labour is – to coin a phrase – successfully having its cake and eating it, at least among one section of the population.
Ultimately though, it appears it is neither Brexit nor the specific question of tuition fees which is most likely to motivate people in higher education to support Labour. Asked to name one policy which it would be essential for Labour to keep in order secure their vote, the most popular choice was more investment in public services – the top priority for just under 40 per cent of party supporters.
This, of course, is a broad-ranging policy area but the result underpins other surveys which highlight the degree to which young people want to see improvements to the NHS, better schooling and public transport, as well as more public spending on infrastructure projects.
What all this suggests is that for many students – as it is for many Labour supporters more generally – the primary appeal of the party is the sense that it will spend money on services that can be used by everyone. Or as Jeremy Corbyn might put it, Labour is the party "for the many, not the few". The HEPI/YouthSight survey will, for the most part, be music to his ears.
Indeed, for the Tories, it is hard to imagine how it can win back the student vote, unless Theresa May is delivered of a Brexit miracle.
Not only is the party's sole focus on the EU (and on keeping its own divisions in check) but it is abundantly clear that the Chancellor and the Prime Minister would not embark on a programme of large-scale borrowing even if they weren't concentrating on the split from Brussels. Railcards for millennials isn't going to cut it in the meantime.
Right-wing commentators regularly chide young Labour supporters, patronisingly telling them that "Comrade Corbyn" would take us back to the 1970s and that, if they were a bit older, they would know what a horrific time that was for everyone.
Yet for students (and young people more generally), that ogre of the past brings with it average house prices of around £10,000, cheap rail travel and foreign holidays, not to mention subsidised higher education.
The fear of a decade no one under 40 remembers is as nothing to the anxiety that many in that age bracket feel about the present. No wonder Labour's message is proving so effective.
Join our new commenting forum
Join thought-provoking conversations, follow other Independent readers and see their replies