Letters: Cameron doesn't see what his cuts are doing
The following letters appear in the 13th November edition of the Independent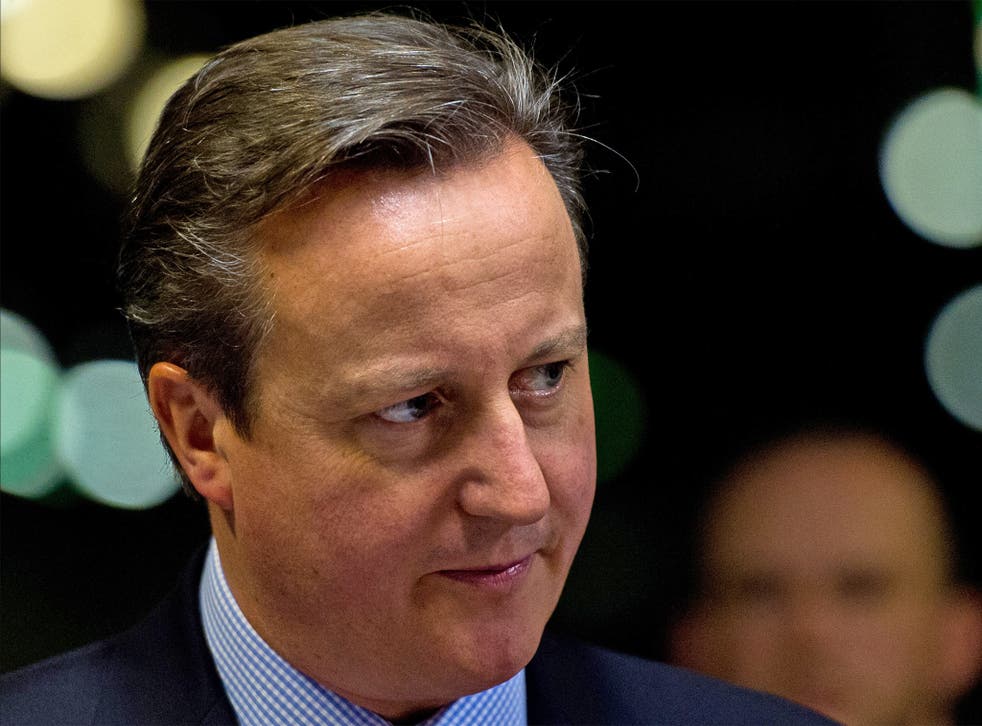 Last week it was trade deals supporting steel production in Kazakhstan while our own steel industry collapses into a cold pile of slag.
This week we are discussing with our EU partners how we can participate in spending 2bn euros to improve living conditions for African people while our PM and Chancellor are determined to cut or remove tax credits from our poorer UK citizens.
And we have a report that our PM has written to his local council as he is disappointed that their budget cuts are affecting essential services. Is that not what commentators have been saying since Cameron and Osborne took us all together down the road to austerity?
My father spent his final 10 years irritating me with his conviction that our politicians were ruining the country. Sorry Dad, you were right all along. The sad thing is that our politicians don't even understand the effects of their own actions.
Graham Main
Rode Heath, Cheshire
I read your reports "Cuts may force two out of five sixth-form colleges to shut" and "Police budget reforms halted after funding formula error" (10 November).
It is a fact supported by statistical evidence that the more educated one is, the less likely one is to commit crime. So cuts to the education budget will lead to a greater financial burden on the police service, not to mention the courts and prisons. Equally, statistics confirm that the more educated one is, the more likely one is to understand the benefits of exercise and a healthy diet. So cuts to the education budget will also lead to a greater financial burden on the NHS.
Why are the long-term benefits to society, both financial and otherwise, of education so difficult for short-sighted and short-termist politicians to grasp?
Nick Eastwell
London SE10
Gosh! Oxfordshire still has subsidised rural bus services ("Tory cuts under fire from David Cameron", 12 November). Cumbria's all disappeared last year.
Ian K Watson
Carlisle
Modi visit raises deep concerns
As UK academics working on India, we are deeply concerned about Prime Minister Narendra Modi's visit to the UK from 12-14 November, and call for the human rights abuses on his watch to be questioned in the public domain. It is important that the growing economic ties between India and the UK which will no doubt be applauded during this visit should not mask acknowledgement of the darker sides of what's happening in India today.
Since his coming to power in 2014, minorities and women have experienced rising intolerance and intimidation and cultural and academic freedoms have been eroded. Under his leadership as Chief Minister of Gujarat in 2002, the Gujarat government encouraged a pogrom of 1,000 people directed against the minority Muslim community.
There has been an escalation of rapes against women. Mr Modi's roots in the Rashtriya Swayamsevak Sangh (RSS), a belligerent right-wing paramilitary organisation, are well established. The RSS is known for misogynist and anti-minority views.
Under Modi's rule, hate speech and violent acts against Christian and Muslim minorities have steadily increased. Mr Modi's silence and delayed response to all these crimes does nothing to stem the violence. Additionally, his administration has intimidated environmental and human rights activists and researchers and sought to control key institutions of learning.
It is important that his official visit to the UK does not give him a further platform to restrict human rights, tolerance and cultural freedoms in India.
Professor Lyla Mehta
Dr Jaideep Gupte
Dr Deepta Chopra
Dr Anuradha Joshi
Dr Dolf te Lintelo
Institute of Development Studies, UK
Dr Priya Deshingkar
Dr Vinita Damodaran
University of Sussex
Save climate or betray future generations
Surely, the best way to honour those who "for our tomorrow, gave their today" would be to accept our own obligations to future generations. The news that we are already halfway to the "tipping point" of a two-degree global temperature rise should wake us up. Unless we reduce our carbon footprint now, we risk condemning our children and grandchildren to catastrophic climate change.
At this juncture our government's commitment to energy efficiency and renewables seems to be going into reverse, which could threaten international agreement at Paris next month.
If we refuse to reduce our greenhouse gas emissions we are saying to future generations: "For our today, we're stealing your tomorrow."
Mike Wright
Nuneaton
I'm afraid Kieth O'Neill is wrong to say that "livestock production is the biggest contributor to global warming" (letter, 11 November). It is producing more people that is the biggest contributor to global warming. Unpopular though the idea is, control of population is the first step to avoid global disaster.
David Downie
Bristol
Looming crisis for care homes
The alarming picture of an impending crisis in social care in your report "Thousands of elderly people may be forced out of care homes by cash crisis" (11 November) will come as no surprise to many in the care sector.
Few would disagree in principle with a fair living wage, but it needs to be affordable for employers. Next April's increase, it should be remembered, is only the beginning; care organisations will need to find money to meet a further rise in the living wage before the end of the decade.
Stormy waters lie ahead, with care home providers increased wage bills at the same time that they are having to meet their obligations under the pensions "auto-enrolment" system.
Every failed care home is likely to mean more frail older people ending up in NHS hospital beds rather than receiving the care and compassion in an appropriate setting that they deserve – a cost to the public purse, yes, but a human tragedy first and foremost. Let us hope that the Government will heed the warning of a looming crisis before the care sector begins to buckle.
Rachel Dryden
Chief Executive, Silverline Care, London W1
Congratulations to Paula Jones (letter, 11 November) for raising the growing problem of carers in their 80s and 90s who will themselves need care.
The other hidden problem is that "care of the elderly" is no longer of simple matter of "feeding, watering and keeping clean" as one MP succinctly put it earlier this year. A combination of extreme old age and medical advances means that carers are often required to carry out quite complex medical procedures many times each day and often during the night as well.
The combination of these, and other factors is a further threat to an already fragile system of community care.
B J Cairns
London N22
Banning Russia from Rio Games won't help
The independent commission report to the World Anti-Doping Agency on Russian doping in athletics is certainly shocking. But the answer is not to ban the Russian Athletics Federation from the Rio 2016 Olympic Games.
The report concludes that the Federation is "non-compliant" with the Wada anti-doping code. Wada should, therefore, encourage and assist the federation in implementing the necessary changes to its doping controls to make them compliant for the Games.
In any case, any Russian athletes winning medals will automatically be subject to doping controls at the Games and any cheats will be exposed and sanctioned accordingly.
Professor Ian Blackshaw
Asser International Sports Law Centre, The Hague
Travesty of a poppy insults war dead
Further to Penny King's letter (12 November), I am angered by the pathetic travesty of a "poppy" that has become the routine rip-off that we are nowadays sold.
When I was a child you could buy lovely artificial poppies with silky petals and a dark heart and they probably took some skill to make. Now they are a flat figure-of-eight shape perfunctorily stamped out in some cheap material, the only resemblance to a poppy being their reddish colour. I think they are actually insulting to the memory of our dead.
Sara Neill
Tunbridge Wells, Kent
Yet another snack for America?
Jane Merrick argues that "it is time the US saw the true face of British culture: sausage rolls" (11 November). Does a nation that has embraced the taco, pizza slice, knish, Chinese eggroll, cheese steak, hero, hoagie, submarine, po boy, lobster roll and hot dog, really need a sausage roll?
Beth Prince
London SW11
Join our new commenting forum
Join thought-provoking conversations, follow other Independent readers and see their replies