Boris Johnson's immigration plan will have long-lasting consequences for the care system
Send your letters to letters@independent.co.uk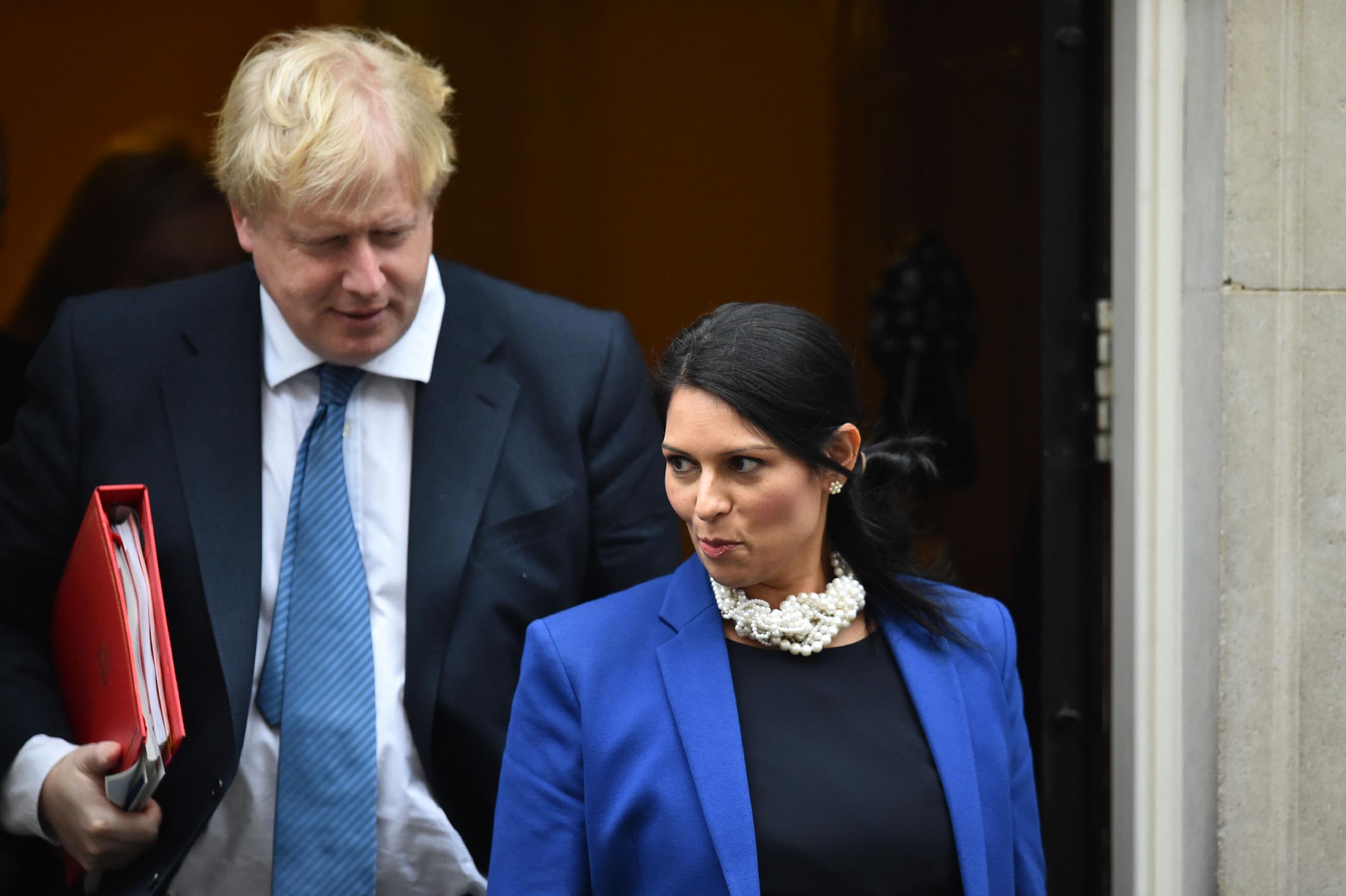 The government's plan for a points-based immigration system paints a concerning picture of a health and care system already under record pressure, amid growing demand.
There are now three million people living with cancer in the UK with a range of social care needs, which often go unrecognised. Around half of those diagnosed today will live for at least ten years and at least one in four people with cancer will face poor health or disability after their treatment. For instance, we know many people become unable to get in and out of bed by themselves, while others need a lot of help with routine practical tasks like preparing food.
Social care support is a lifeline, but there are already 122,000 vacancies within social care. We know that where the system is stretched and people don't get this support and their health deteriorates, they often turn to A&E departments, only compounding the pressures on NHS staff.
The government must create a separate migration route for social care, as well as clarifying what specific measures will be put in place to protect the NHS workforce to ensure that people with cancer get the right support when they need it. Any immigration reform that prevents social care workers from working in the UK could mean some of the most vulnerable people, including those living with cancer, suffer the consequences.
Dr Moira Fraser-Pearce
Director of policy, Macmillan Cancer Support
A welcome move
As concerned citizens of Israel, we welcome the publication of the UN database of companies doing business with Israeli settlements in the occupied territories.
The settlements deprive Palestinians of their basic freedoms and block their economic development. They sabotage the possibility of a peaceful two-state solution and thus also threaten the future of Israel itself.
For 50 years, the international community has avoided almost any diplomatic measures in response to the settlement expansion – in stark contrast to actions taken in many other conflict situations around the world.
In light of US president Donald Trump's misguided plan, which lays ground for Israeli annexation of the settlements, it is more important than ever for the international community to draw a line between the State of Israel in its pre-1967 borders and its illegal settlement enterprise.
Accordingly, the UN database does not entail a boycott of the State of Israel but relates only to the settlements in the occupied territories.
As people who care sincerely about Israel's future and wish for our country to live in peace with its neighbors, we applaud UN high commissioner Michelle Bachelet for this step and urge the UN to ensure continued updating of the list.
Professor Eli Barnavi, former Israeli ambassador to France
Ilan Baruch, former Israeli ambassador to South Africa, Namibia, Botswana, and Zimbabwe
Professor Michael Ben-Yair, former attorney general of Israel and former acting Supreme Court judge
Avraham Burg, former speaker of Knesset and former head of the Jewish Agency
Professor Naomi Chazan, former member and deputy speaker of Knesset; former president of the New Israel Fund
Professor Itzhak Galnoor, former head of the Israeli Civil Service Commission
Zehava Galon, former Member of Knesset and former chair of Meretz Party
Erella Hadar, former Israeli ambassador to the Czech Republic
Dr Ilana Hammerman, Israeli writer and translator
Professor David Harel, vice president of the Israel Academy of Sciences and Humanities, Israel Prize recipient (2004), EMET Prize recipient (2010)
Professor Moty Heiblum, EMET Prize recipient (2014), member of the Israel Academy of Sciences and Humanities
Professor Yehoshua Kolodny, Israel Prize recipient (2010)
Miki Kratsman, Emet Prize recipient (2011)
Alex Levac, Israel Prize recipient (2005)
Dr Alon Liel, former director general of the Ministry of Foreign Affairs, former Israeli ambassador to South Africa and Turkey
Mossi Raz, former Member of Knesset
Michal Rozin, former Member of Knesset
Professor David Shulman, Emet Prize recipient (2010); Israel Prize recipient (2016); member of the American Academy of Arts and Sciences
Professor Zeev Sternhell, Israel Prize recipient (2008); member of the American Academy of Arts and Sciences
Where were all the women at the Brits?
At last night's Brit awards, women were nominated just three times in the mixed gender categories in a total of 25 slots available.
Talented female composers, songwriters and musicians are out there and yet, last year, they made up just over 14 per cent of those signed to 106 music publishers, and under 20 per cent of those signed to 219 record labels.
These figures represent an industry wide problem which has allowed a lack of diversity and inclusivity to persist for far too long, and as a result, the industry is lacking female role models – from artists to producers, pluggers to record label executives.
Of course, gender is just one of a whole host of ways the music industry is unrepresentative of the range of talent this country has to offer, and currently, too many young people miss out because of who they are, where they live, or what they're going through.
Youth Music is calling for greater collaboration between the education workforce and the music industry. We want to see the major record labels providing financial backing to support regional grassroots projects outside of London – nurturing talent where it already exists. Creating paid opportunities and making structural changes so that more women and young people from all backgrounds can have access to music-making. And if they want it, a viable career in any part of the industry.
Matt Griffiths
Chief executive of Youth Music
Wasting funding
The news that at least 55 of the largest employers in England have each released more than £1m back to the government, which was meant to be spent on apprentices, is heartbreaking.
In light of the UK's wavering track record when it comes to investing in skills and higher-level skills in particular, this is even more concerning. With the global business world changing at an incredibly fast-pace, having a well-trained, tech-savvy workforce able to leverage new and emerging technologies will make or break our success.
Apprenticeships are an avenue to achieving upskilling in the workforce and we are disappointed the government has not ringfenced this levy money on apprenticeships and skills. We believe the apprenticeship levy should be reformed into an apprenticeship and skills levy so more organisations would be able to take advantage of the levy and upskill their staff.
Reskilling our workforce will be key to making the most of the digital revolution and boosting our productivity. Yet, a recent report by the Industrial Strategy Council estimates that 20 per cent of the workforce will be significantly underskilled for their jobs by 2030. Worryingly, our own research also revealed that 37 per cent of UK workers don't feel that they need to learn new skills despite a growing awareness of the impact of technology on jobs. 
We hope the government reconsiders and puts this money back into apprenticeships and skills training where it is desperately needed.
Andrew Harding
Chief executive, Management Accounting, CIMA​
Added security
Even before the start of the Brexit process my partner and I have been planning our move to Greece. We are now living there, including the residency permits.
Our biggest concerns about the whole debacle is the impact to us personally with regards to pensions, healthcare and the freedom of movement, along with working rights.
Brexit has happened so I am not going to go over that any more, however, we both feel very strongly that having the option to be associate members of the EU would give us the security that we feel we both need going forward.
With this in mind, we sincerely hope that Sadiq Khan and Guy Verhofstadt can accelerate the decision to allow this to happen, not just for our benefits, but our children and the other remainers who now do not have the choice.
Paul Foster
Greece
CPS right to bring cases forward even when victim opposes prosecution
Diane Learmont-Hughes asks why the CPS was bringing a case against Caroline Flack despite the alleged victim having opposed any prosecution. If the accused (celebrity) had been male and the alleged female victim had opposed prosecution (for whatever reason), what then?
It is not the CPS on trial here. It is the media, their readers, and those who feel entitled to comment on social media about people whom they do not know.
I'm very sorry for the family and friends of Caroline Flack
Beryl Wall
Chiswick, London
Join our commenting forum
Join thought-provoking conversations, follow other Independent readers and see their replies