To get through Brexit we should abandon political parties – and hold a general election of Leave v Remain MPs
Please send your letters to letters@independent.co.uk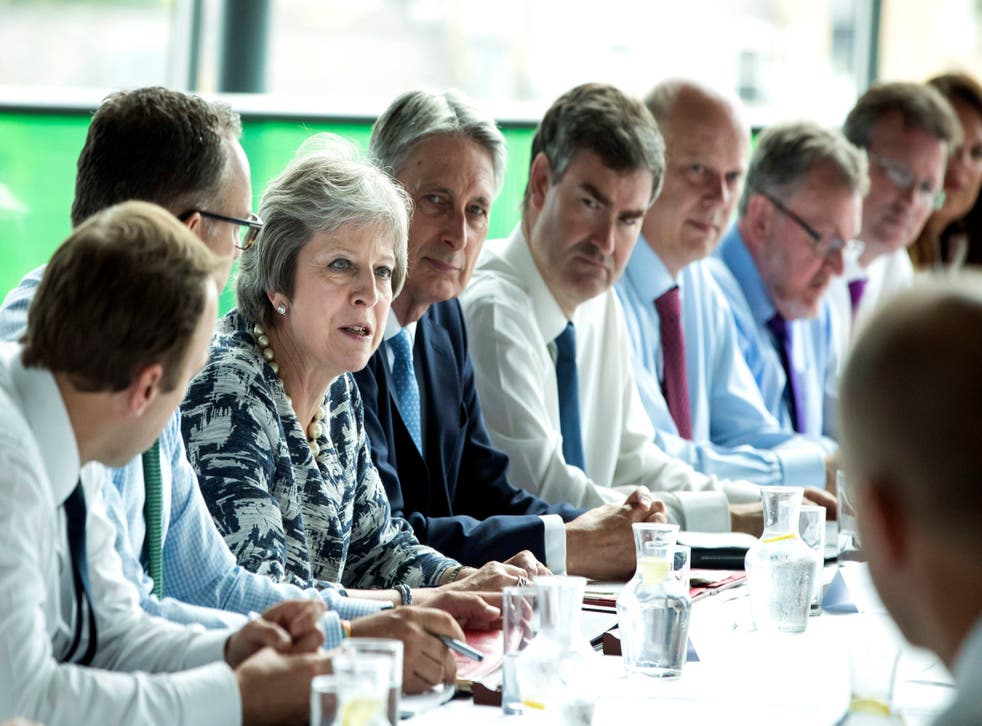 These are unusual times, and I have an unusual suggestion for dealing with them.
There is so much infighting, that the party structures are not suitable for addressing the current problems.
In wartime, party structures were abandoned and a war cabinet was formed with MPs being taken from Conservative, Labour, and national parties.
My suggestion is to do something similar now. There are momentous decisions that need to be taken, and they will affect the lives of this and future generations, so we have to make sure it is done correctly. We also have to make sure we address, "The will of the people".
The suggestion: call a general election, and candidates declare their allegiance as a Brexiteer or as a Remainer.
In the election process, the people vote for the candidate who represents their will (to leave or to remain).
Whichever party (Brexiteers or Remainers) wins, takes over governing the country and crucially in fulfilling the mandate (to remain or to leave) that they have been given by the people.
There will be no party infighting as all members of the Brexit party will be Brexiteers, and all members of the Remain party will be Remainers.
Once the winning party has fulfilled its mandate (to remain or to leave) another general election will be called, with candidates reverting to their original party allegiances.
It worked in wartime – so why not now?
I hope you find this idea not only interesting, but also practical.
Michael Alexander
Address supplied
Where does food come from?
Does Dominic Raab – Brexit minister – know where babies come from? At the age of 44, he doesn't seem to know where food comes from.
He flippantly suggested that food stockpiling could be done by "the food industry" – an industry that most grown-ups know operates on an off-the-shelf/on-the-shelf basis. It is an industry that has also said that even an extra two minute increase in delay at borders could cause over a dozen miles of tailbacks and disrupt the 30 per cent of foods that come into the UK from the EU.
But at least the rabid Brexiteers are having their cake and eating it by claiming that food shortages are scaremongering while showing that they have no idea how to prevent them happening.
Will our 2019 ration cards have Boris Johnson's mugshot on them?
Amanda Baker
Edinburgh
Why so scared of a second referendum?
There are a series of questions that Brexiteer MPs and commentators need to answer when it comes to a second referendum. If you are so convinced you got it right last time, surely you have nothing to lose if we hold a referendum on the final terms of the deal?
If you were an estate agent would you tell a house buyer that their decision to move would be irrevocable because it was their "will" even if a survey revealed unexpected subsidence?
If you were a headhunter whose candidate changes their mind after accepting a new job would you insist on them taking it even if it was clear they had been lied to in the recruiting process?
In most cases in life there is a possibility that we can change our minds, but not for the Brexiteers when it comes to our relationship with Europe.
As David Davis once said, "A democracy isn't a democracy if people can't change their minds."
Chris Key
Address supplied
I voted Remain, but I want to leave
I have read with interest many letters on Brexit and must admit I am totally amazed at what is going on.
This country has become the most undemocratic nation on this planet of all time. Firstly, I voted to remain, but have since changed my mind even though I am a pensioner and live in the EU.
My understanding of Brexit is that once Article 50 has been triggered it cannot be stopped. The UK would have to leave and then re-apply again to join. This has been stated as fact by most of the EU Brexit negotiating ream.
Most news media made a big issue of this yet they now talk about referendums and God knows what else. Well the truth is we made a decision and must now leave and that is that.
Chris Knight
Address supplied
It's up to the EU to persuade Britain to stay
The main reason for the result of the 2016 referendum, more than anything, was the complacency, both in the Remain camp and the capitals of Europe, that the British would never be stupid enough to vote out.
Now that the full ramifications of that decision and its long-term effects on the entire continent are clear, that complacency will not exist a second time around.
If there is a second referendum, the EU will want Remain to win by a clear margin. It is far more likely to be willing to give us reasons to stay this time around than it did last time when Cameron was ignored.
The negotiations with them should now move to "what will you, the EU, now say to the British people, to make it a) worth their while to want to now stay and b) worth our while as their government to hold a further referendum?"
The one upside of the nationally humiliating last two years might be that we now stay inside the EU but on terms that, among other things, allow us to properly control free movement as we alone see fit. The EU must also recognise the need for wider overdue reforms.
They played their part in persuading people to leave. They have to now help change their minds for positive reasons.
Edward Fleming
Address supplied
And you thought we were post-postbox war
While walking along the front at Dunoon the other day I was confronted by something I thought had been consigned to the dustbin of history in Scotland, namely, an EIIR postbox.
It is surely an indication of how powerless and supine we now are that incorrectly badged post boxes are being reintroduced in Scotland some 65 years after having been shown the error of their ways and having them removed.
Given the state of things in Westminster and Edinburgh at the moment is this the thin end of the wedge?
Colin Stevenson
Hillside
Stress-free mornings
I stopped listening to Today when I found out that yelling "let him finish the sentence!" at the radio didn't change anything (Why is Today losing so many listeners?). So now I get the headlines from the BBC online and analysis from The Independent daily edition. I am working class, educated, and not from the southeast but am surprised to find myself perfectly capable of working out what is fake news and what is bias. And my breakfasts are peaceful without all that shouting.
Margaret Adams
Keighley
Register for free to continue reading
Registration is a free and easy way to support our truly independent journalism
By registering, you will also enjoy limited access to Premium articles, exclusive newsletters, commenting, and virtual events with our leading journalists
Already have an account? sign in
Register for free to continue reading
Registration is a free and easy way to support our truly independent journalism
By registering, you will also enjoy limited access to Premium articles, exclusive newsletters, commenting, and virtual events with our leading journalists
Already have an account? sign in
Join our new commenting forum
Join thought-provoking conversations, follow other Independent readers and see their replies