I've written my own Brexit impact paper. It says 'forget the whole thing'
Please send your letters to letters@independent.co.uk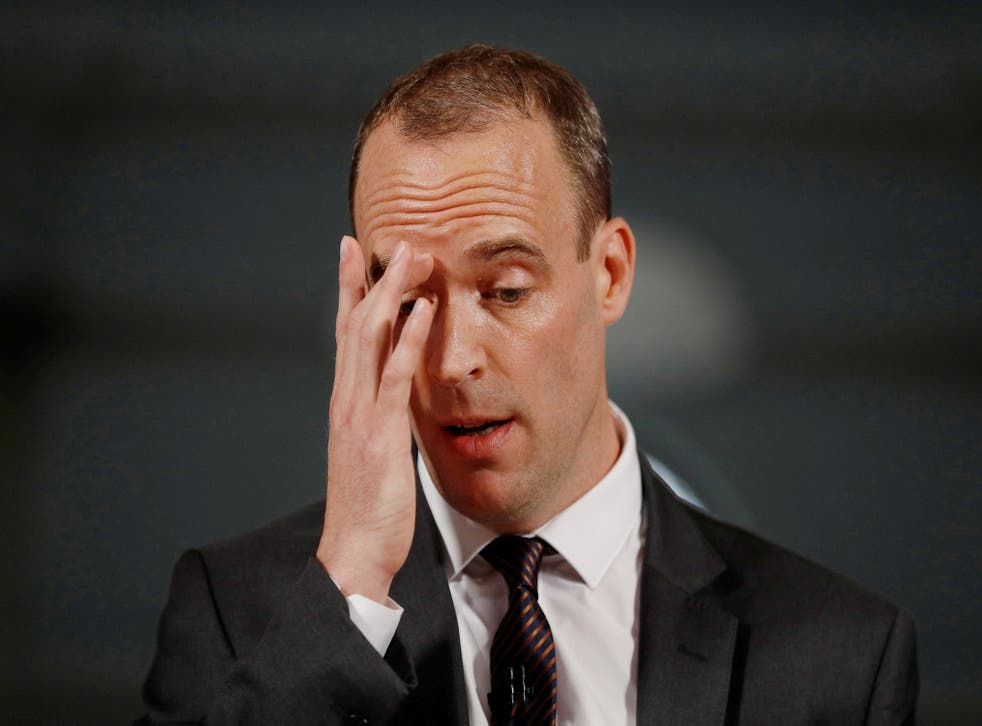 I write in the hope that you can pass my letter to Dominic Raab and tell him that I have a paper about Brexit. It's very short and I think will be easy to understand.
My paper says "forget the whole thing". Perhaps it should include an apology for wasting so much of the European Commission's time.
I don't care anymore who told which lie or which was the biggest lie. It's clear that we voted on the basis of so much misinformation that we should just forget it. Then maybe, just maybe, the government can do something about all the stuff they've been neglecting like the NHS, the railways, social care, the awful new benefits system and the level of poverty in some parts of the country to name a few.
Steve Mumby
Bournemouth
Why are we putting peace at risk?
The European Union is the greatest project for peace in the history of western Europe, which we, out of narrow self-interest, have walked away from. There is no knowing what the situation will be in 50 or 100 years' time, but political short-termism has made us much less safe. We have cast ourselves adrift. Putin must be absolutely delighted, having an idiot in the White House and the first stage in a possible fragmentation of western Europe, which long term would have been the biggest brake on his and Russia's ambitions.
I foresee that within a very short period foreign investment will be hugely curtailed, Japanese-owned businesses will decamp to Poland or Romania, crops will rot in fields for the lack of pickers, care homes will have no carers, there's a hard border in Ireland, the City's big hitters who operate principally in Europe (their biggest source of income) will decide that being in Europe just makes more sense. It is also inconceivable that France would continue to operate as our border police officer in preventing the many thousands of migrants who wish to make the journey to the UK. All this could be lost – the big picture and the small picture – long term and short term, we're the losers.
And what do we gain by leaving? Certainly not the extra £350m a week for the NHS that was emblazoned on the Brexiteers' bus.
David G Peak
Shotley Bridge, County Durham
I am a Remainer but let's give the Leavers a chance
Maybe it would be best for those of us who believe in Europe to take a step back and respect the result of the referendum. To graciously accept the hard Brexit that the Conservative Right – and others' – desire to occur so that we can give their vision a proper chance to work. We will then be able to see if our country can indeed be successful and thrive outside Europe. In return, those advocating a hard Brexit should gracefully accept the necessity of a request from Britain to rejoin the European Union if the success they envisage doesn't materialise as expected.
Certain European politicians have indeed suggested that Britain could rejoin the European Union if it so wished after Brexit had occurred.
Arron Nouban​
Colchester
Can't you just accept it's time to move on?
Well well! The Independent thinks that their false polls and misrepresentation of the facts will get Leavers to change their votes and return to the EU nirvana with its sunny uplands and safe French holiday homes.
How wrong can you be? The reversal of the referendum vote will indeed lead to reprisals and social unrest and if you had an ounce of intelligence you would be able to figure that out for yourself. WE WON, YOU LOST. Get over it.
John Bowyer
Lincoln
GCSE reforms have led to GCSE failure
Maybe we, as a nation, deserve to be bottom of the international league table when it comes to school performance. The government decides to make GCSEs "harder" and then decides to adjust the grade boundaries because those taking the exams have been disadvantaged by not seeing past papers.
So, I ask, why weren't exam boards instructed to provide a set of mock exam papers that schooled pupils about the new style of exam? This is simple stuff and certainly better than giving this and yet further generations false impressions about their performance. How can we hope to compete in a post-Brexit world when even our political leaders can't get simple things right?
Ian Reid
Kilnwick
Let people pay their dues and move on
Allowing and encouraging ex-offenders to take on public offices such as a magistrate not only enhances diversity but also reflects an understanding of the Christian principles of repentance, forgiveness and sanctification which have blessed this nation in the past. Offenders who have committed an offence have paid the price for their actions, even by a prison sentence, and who have learned a better way to behave are in a much better position to help others on their journey in life. Society should recognise this and welcome them.
J Longstaff
Buxted
World news in pictures

Show all 50
Zimbabwe has an uncertain future
It never rains but pours for Zimbabwe. The military involvement in the 2017 coup and the post-election violence in July that claimed seven lives have ignited fear when we thought it had gone with Mugabe. The outcome of the much-awaited decision of the presidential election appeal is a true measurement of whether the judiciary system has divorced itself from the corruption that Mugabe cultivated and natured.
And as for Emmerson Mnangagwa, there is a lack of clear and cogent evidence that the government has fundamentally changed the political environment. The international community should reject any miscarriage of justice from this court hearing.
Jeff Kurai Chakanyuka
Liverpool
Register for free to continue reading
Registration is a free and easy way to support our truly independent journalism
By registering, you will also enjoy limited access to Premium articles, exclusive newsletters, commenting, and virtual events with our leading journalists
Already have an account? sign in
Register for free to continue reading
Registration is a free and easy way to support our truly independent journalism
By registering, you will also enjoy limited access to Premium articles, exclusive newsletters, commenting, and virtual events with our leading journalists
Already have an account? sign in
Join our new commenting forum
Join thought-provoking conversations, follow other Independent readers and see their replies