Remainers, please stop treating everyone who voted Leave as if they are six years old
Please send your letters to letters@independent.co.uk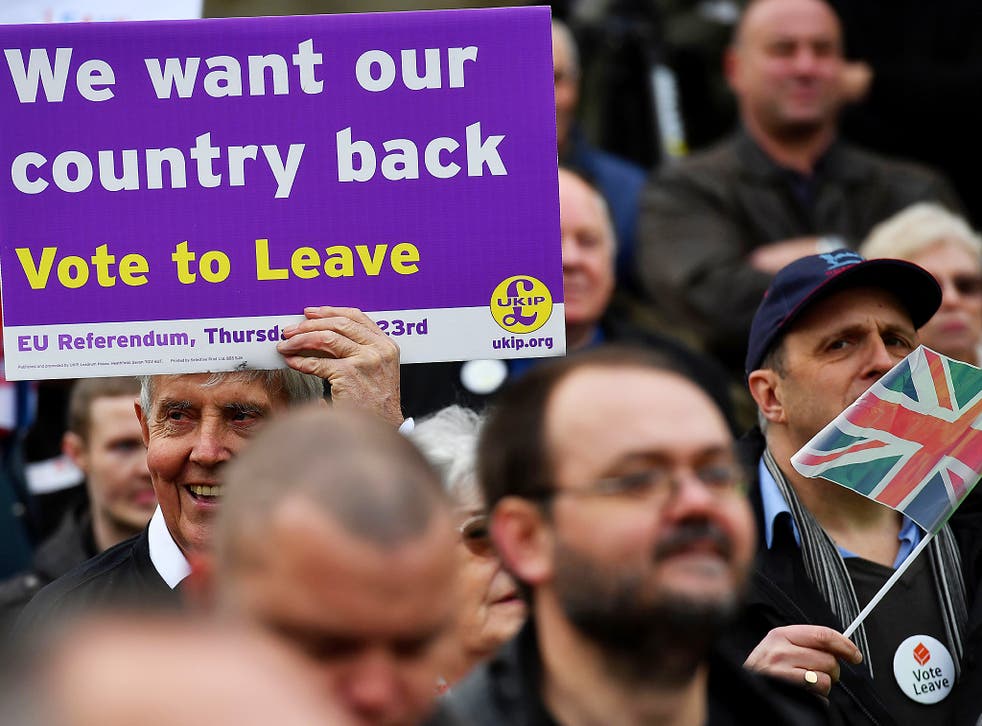 Since the referendum, I've been shocked to witness Remainers, around my and other people's dinner tables, tacitly clubbing together in their scorn of their fellow countrymen and women who don't agree with them. "Oh my God," said one. "All those ignorant, uneducated people have ruined the future."
Whose future? What do they know of the lives of ordinary people, whose lives are ruined right now by the EU? By the regulations, the loss of our legislature, the overcrowded NHS etc?
As a Europhile with postgraduate qualifications, I nearly voted Remain. Then, just before the referendum, I listened to the broadcasts, the sneering arrogance of Remainers, their ignorance of vast tracts of our country, their presumptions and judgements, all projected from immensely privileged lives.
So I voted Leave, for the forgotten backbone of our country, for southern Italy and Greece, for our legislature, worn away day by day, by unelected EU politicians.
Despite the mockery, disbelief and downright nastiness I have endured as a result, I am glad of it, even though I have concerns.
"We morons," commented a builder, who voted Leave, "would fight for our country if we were invaded. That lot wouldn't."
Silently, most of the country would agree with him. Their dislike of a certain type of Remainer is palpable. So, Remainers – please don't – just don't – treat everyone who voted Leave as if they are six years old. Remember the French revolution and beware.
Jacqueline King
Castle Cary
(We stick to the facts, promise)
What The Independent should do is wake up, stop writing fake, negative news and support Brexit. I am sick of reading the rubbish you report because we are leaving the EU – so you Remoaners, stop being poor losers and stick your People's Vote where the sun don't shine.
Robert Patterson
Address supplied
This is why we need a second referendum
There has been much talk about Brexit and our obligation to follow the result of a "democratic" referendum, but have you considered this?
The UK population is around 66.5 million.
The average life expectancy is about 84 years.
Around 800,000 people die each year, and the same number become eligible to vote for the first time – around 66,000 people per month.
The period from June 2016 to March 2019 is 33 months. In that time, 2.18 million people will have changed their voting status, either through death or coming of age.
The over-80s voted 60 per cent out, so that's 1.3 million Brexiters gone.
The under-24s voted 73 per cent to stay – 1.59 million new Remainers.
That alone makes a swing to Remain of 2.89 million, even if no one else changes their mind.
Given the original majority was just 1.3 million, it would seem true democracy demands a new vote since the voting population has changed, quite apart from all the other revelations about the difficulties, costs and predicted chaos of Brexit that were not discussed first time around.
This is the most important economic, political and social decision in a lifetime: it needs to be the right one for all of us, but most particularly for the young, who will have to live with it long after we're gone.
Andrew Prentis
London SW8
For all those who stabbed her in the back
If there is a strong public interest case for using parliamentary privilege to name and shame, contrary to a court injunction, should whoever used the particularly vile and violent language directed at Theresa May be similarly named and shamed, particularly if the individual is an MP?
Stephen Johnson
Chidham, West Sussex
Kendall Jenner fluffs (her hair) up – again
This article on Kendall Jenner's Vogue photoshoot attracting controversy indicates to me why I don't agree with the cultural appropriation accusations. I am Chinese. In the late 1970s I had a perm. In the decade following that there were many times when I brushed it out and it looked like an afro. Was I appropriating a black person's haircut? Of course not – that was just the way my hair looked when I had a perm. If you look back at seventies hairstyles, there are many non-white people wearing a style that looked like an afro, but I don't think we ever considered it cultural appropriation.
May Loo
Address supplied
Support free-thinking journalism and attend Independent events
A clever way to reduce the surplus population
Andrew Griffin's article about driverless cars deciding who to hit if they have to choose was incredible. I had to check the date wasn't 1 April.
If the cars have to be intelligent enough to make those sort of choices, they should be intelligent enough to avoid a collision in the first place.
It does open a whole new train of thought though. If they can do this, how will they discern the age of potential victims? Will everyone over the age of, say, 75 have to wear an app so a crashing car can select them?
Who will fix the age limit? And how about selecting victims for their contribution to society? In a couple of hundred years or so, we could have a young, healthy society with all the weak, elderly and undesirables quietly disposed of. The accident statistics might be a bit high though!
Walter Sandys
Cheshunt​
Register for free to continue reading
Registration is a free and easy way to support our truly independent journalism
By registering, you will also enjoy limited access to Premium articles, exclusive newsletters, commenting, and virtual events with our leading journalists
Already have an account? sign in
Register for free to continue reading
Registration is a free and easy way to support our truly independent journalism
By registering, you will also enjoy limited access to Premium articles, exclusive newsletters, commenting, and virtual events with our leading journalists
Already have an account? sign in
Join our new commenting forum
Join thought-provoking conversations, follow other Independent readers and see their replies