The government failure to protect NHS staff is not the first time it's let down those who depend upon it
Send your letters to letters@independent.co.uk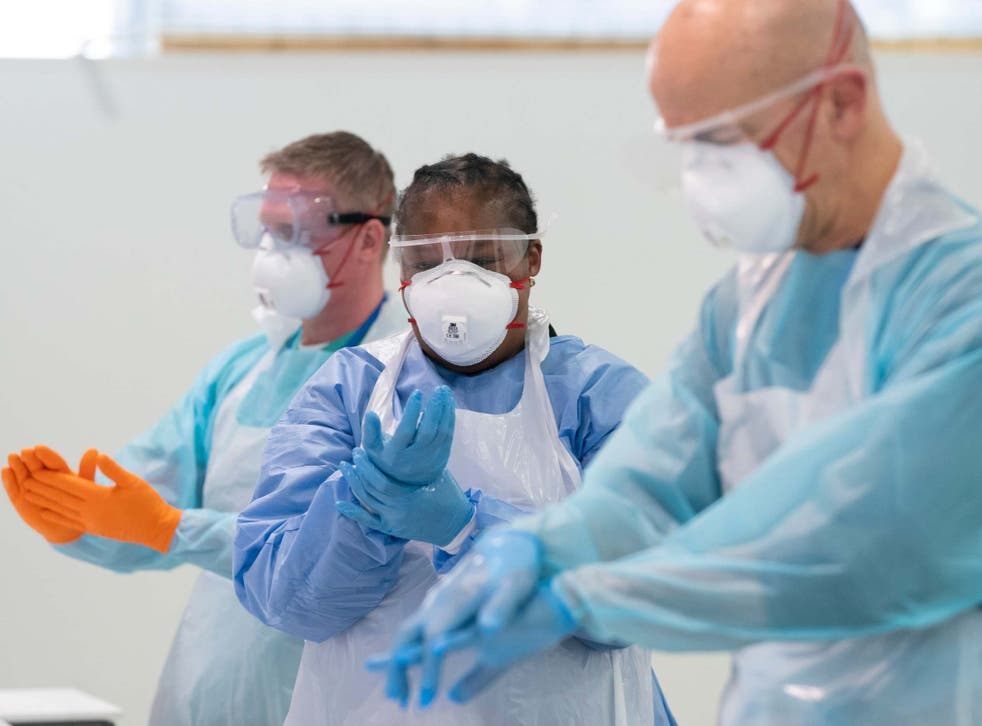 With NHS staff now desperately using plastic bin bags for personal protective equipment (PPE), and even even forced into reusing single-use PPE, very serious questions must be asked about the government's coronavirus strategies.
For weeks NHS managers have been demanding more protection for their staff. Already at least 30 staff treating coronavirus patients have died after contracting the virus. But the problem is actually even more serious than that.
With limited PPE, NHS staff often have to care for Covid-19-positive patients wearing just their standard uniforms before eventually travelling home in those same uniforms. Nursing staff are then responsible for laundering those uniforms at home at high enough temperature to kill viruses and germs. Therefore the government's prolonged protective equipment failure is not just putting NHS staff at risk, but their families and the rest of the community as well.
Dominic Cummings reportedly said: "If some pensioners die, too bad." This would explain the total inaction of this government, but suggests an even more troubling agenda. Concealing the true picture by not including deaths in care homes adds further to that impression. Rationing PPE for carers in such homes just makes the spread of the virus even more prevalent. The cynical could see it as a massive bonus for the government if many older pensioners die from the virus, saving on the country's long-term healthcare and pensions budget.
Remember this is the government who deported elderly migrants invited to this country, the Windrush generation.
Andy Milroy
Trowbridge
The current PPE crisis facing social care and the NHS is a supply and demand problem which those of us in industry face every day. A team of expert materials planners should be deployed to manage the country out of the current supply problem. British industry would readily release their best supply chain planners and deploy their planning software to address the issue.
The government needs to recognise that the country is facing an operations management problem as well as a pandemic affecting public health. Using manufacturing experts from across industry would enable the entire supply chain, from small businesses to multinationals to be mobilised.
A simple solution would be to align the garment industry with experts from the "Sharing in Growth Programme" currently being deployed in the aerospace industry. This would enable the smaller firms to be supported by large company experts to reconfigure their production processes to meet the demand for PPE.
However, I am to be convinced that Lord Deighton, an investment banker who had four years to plan an event, is the answer to the PPE problem.
Dr D W Ford
Cambridge
In the Sunday edition about the appointment of the London Olympics chief Lord Deighton, you say that "the Unite union suggested health secretary Matt Hancock should resign unless more PPE was urgently found". I suggest that a print error occurred and the item should have ended at the word resign, with no conditions.
Dennis Allen
Woodstock, Oxfordshire
Tom Peck's "bollocks" sketch lampooning and dissecting the vague and evasive assurances churned out at the daily briefings on the coronavirus crisis, was witheringly accurate and hilarious.
UK citizens, jointly and individually, are working wonders to overcome the problems and perils currently besetting us. A 99-year-old raises £26m. Children have painted rainbows of hope to display in their windows along with cuddly toys as symbols of compassion. Millions of us applaud and cheer our carers and NHS from our doorsteps and windows.
As a gesture of our communal appreciation of the efforts of Matt Hancock, Dominic Raab and the rest, next Friday night at 8pm I suggest that we, the nation in unison, should stick our bare arses out of the window.
Trelawney Ffrench
Ascot
When times change, so should political promises
It is a dereliction of care for the government to have insufficient protective clothing for those doctors and nurses nursing the sickest and most infectious patients.
The government appears to have put ideology before the interests of the population at large. Three times we were offered to join the EU in a bulk purchase of such protective gear and ventilators, but our government declined to accept this offer.
Every country is going to suffer economically as the result of this coronavirus plague. When it was agreed that we would leave the EU on 31 December 2020 no one knew the coronavirus was coming, so when circumstances change governments and individuals change with them.
To say, if offered by the EU to extend the period for leaving the EU, our government would refuse the offer beggars belief in present circumstances that ideology is being put above the economic interests of us all.
Valerie Crews
Beckenham
Labour is setting a self-defeating precedent
It has been reported that upwards of a dozen people are drawing up legal action against Labour after being named in the recent leaked report into antisemitism and racism within the party. That may well set a dangerous and self-defeating precedent.
Should the claims of serial internal sabotage and racism by certain party workers exposed in the report be substantiated, they themselves could find themselves on the end of action by the legions of grassroots Labour activists who poured heart and soul into achieving a Labour government during the past two elections.
The report has now been shared so far and wide the chances of it disappearing into the ether are pretty slim. The toothpaste is well and truly out of the tube.
Paul Hallas
Stroud
A chance to rethink education
It is too soon to tell what changes will be made to education post Covid-19. One thing which is clear is that Ofsted will not be able to carry out its functions in the usual way.
The impact of Covid-19 on students and staff will take many months to stabilise, and schools will not be in a position to produce reliable data for a year at least. What, then, will this mean for Ofsted?
I suggest that the government takes this opportunity to repurpose Ofsted, pivoting it to become an organisation which supports schools and students, rather than simply inspecting them. No grades should be awarded for at least 18 months. Rather, Ofsted should work with local authorities, academy trusts and individual schools to identify exactly what support is needed to help the education sector become stronger than ever.
The past few months have proved beyond any doubt the resilience of our schools, teachers and headteachers, as well as making it clear what an incredible job schools do to support society. The post-Covid-19 world promises to be complex and difficult, with national finances stretched. This is a real opportunity for Ofsted to genuinely work with schools to help and support them in becoming what society needs.
John Perry, assistant professor in education
University of Nottingham
As a retired headteacher, I'm just curious. Many of the children who left my school a few years ago without achieving the English Baccalaureate or top grade GCSEs, including a foreign language or Latin, now work as vital care workers for the NHS and in care homes. Is the government still labelling them failures?
Ben Warren
Church Stretton
An end to NHS parking fees
It does not look as if there will be much money around after coronavirus. It would help financially if the government waived parking fees for all NHS staff for the foreseeable future. It was an iniquitous thing to introduce it in the first place.
The other thing that would help would be to cover all the nursing tuition fees, not just give nurses a £5,000 bursary. We need more UK-trained staff in the health service. Apart from anything else we should not be exploiting other, poorer, countries' trained staff.
Rosanne Bostock
Oxford
DIY dentistry is a dangerous trend
A few days ago I read a fine article from James Moore about DIY haircuts. We had already joined those ranks, and unless one wishes to return to 1970s male inelegance, I suppose it is our only choice.
However, on a far more serious note I find it worrying that another DIY trend has reportedly emerged and that is dentistry. It's hardly surprising after years of underfunding of NHS dentistry, many private practices closing for the duration of the Covid-19 crisis and some already on the verge of bankruptcy.
The government must take robust action, not only to save dental practices but also to totally revamp NHS dentistry. If no action is taken then after a decade or so after coronavirus we could experience not only bad children's teeth but a small army of ordinary working people unable to navigate successfully in the job market. After all, how many of us have had a productive day with raging toothache?
Robert Boston
Kingshill
Register for free to continue reading
Registration is a free and easy way to support our truly independent journalism
By registering, you will also enjoy limited access to Premium articles, exclusive newsletters, commenting, and virtual events with our leading journalists
Already have an account? sign in
Register for free to continue reading
Registration is a free and easy way to support our truly independent journalism
By registering, you will also enjoy limited access to Premium articles, exclusive newsletters, commenting, and virtual events with our leading journalists
Already have an account? sign in
Join our new commenting forum
Join thought-provoking conversations, follow other Independent readers and see their replies