The government has no answer to the exams problem and has missed the elephant in the room
Please send your letters to letters@independent.co.uk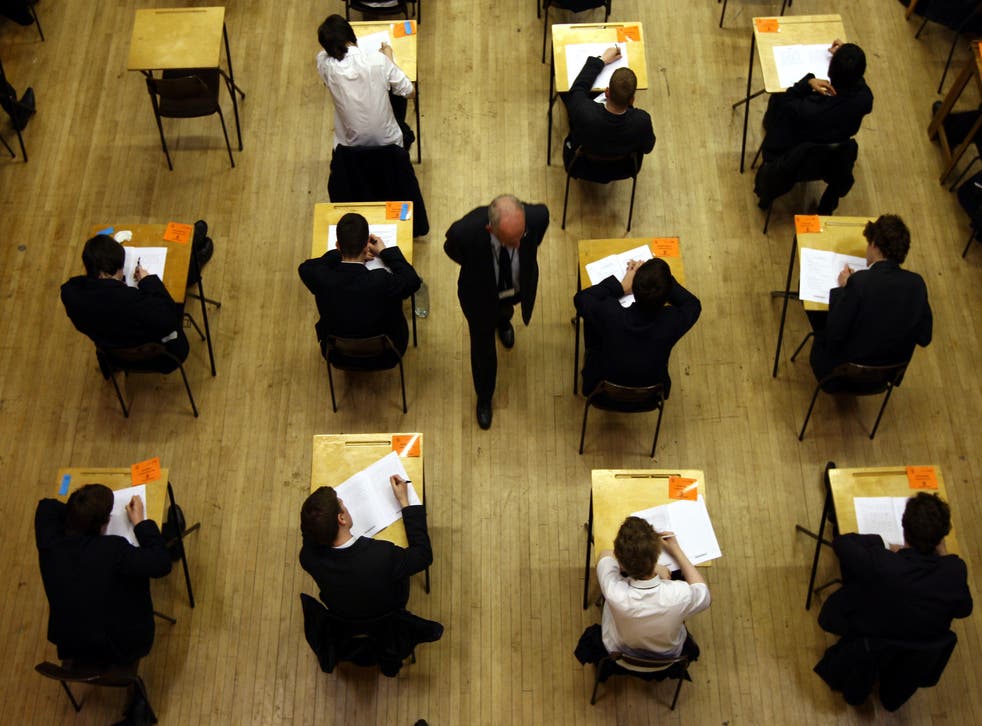 It is interesting and uncomfortable to watch this government flounder around trying to find a solution to the A-level and GCSE problem. Nobody seems to have noticed the elephant in the room, however.
Surely the point of these exams is to demonstrate the level of a young person's education to colleges, universities and employers? What precisely is the point of demonstrating what a person might have learned, if circumstances had been different? An employer doesn't want to send their recruits to night school or a university to ensure they have a reasonable grasp of the A-levels they should have done.
The system that is being proposed is simply one that nods to the "numbers game", while avoiding the real issue.
It is time the government got to grips with the uncomfortable truth, which is that it has presided over a period of time during which our young people have been largely uneducated.
Paul Finch
Somerset
It's good news that education is restarting, but having lost so much time already, not to mention the mixed success of homeschooling and education online, why not just repeat the year?
The repeat year could allow some time to re-examine the present system. Do we start formal education too early? Is play and socialising more important than we realised? Are there curriculum benefits of online Zoom and webinar lessons made professionally by experts or celebrities helping the classroom teacher? Do our children specialise too early, limiting their life choices later on? Do we rely on passing final exams to progress?
The pandemic has been disastrous for the young but some good can come out of it.
Dave Thomas
Bristol
Whiley has highlighted a wider problem
Jo Whiley is to be congratulated on her success in getting the government to support vaccine prioritisation for adults with a learning disability.
Sadly, however, the plight of her sister Frances has shone a light on the continuing scandal of glaring health inequalities for this neglected section of our society.
Despite financial incentive schemes to ensure people with learning difficulties are recorded by their GP practice, together with annual health checks and a care plan in place, NHS estimates of the percentage actually registered suggests this has fallen from just over half in 2014 to less than a quarter today, while the Down's Syndrome Association calculated that just 53 per cent of learning disability patients received annual health checks in 2016-17.
No doubt there are issues around the complexities of GPs recognising learning disabilities, particularly when other comorbidities exist. But this case also reveals how enduring negative attitudes and even prejudice towards people with learning disabilities has persisted even within statutory services. It must be challenged as robustly as racial and gender discrimination.
Paul Dolan
Cheshire
City life
The UK financial services industry accounts for £75bn (12 per cent) of the entire UK tax take. Whether or not Brexit sinks the British economy may depend to a significant extent on how successful the City is in fighting off EU attempts to poach business and to undermine one of our greatest assets. The City's share of funds under management and proportion of European share trading have already both fallen since Brexit.
However, financial service businesses, although present across the UK, are nevertheless highly concentrated in the City of London, which has a powerful integration of legal, accounting and other support services underpinning the core financial activity. EU financial services on the other hand are spread across a number of competing financial capitals: Frankfurt, Paris, Amsterdam, Dublin etc, none of which individually may be able to acquire the same powerful concentration of expertise that London has built up in recent years.
The City has quite enough ingenuity and drive to create new financial instruments and new services with a greater focus on markets in the wider world, which may enable it to outflank EU competition.
Let us hope it can hold its nerve and prove wrong the gloomier prognostications of those of us who voted Remain.
Gavin Turner
Norfolk
Bad hair day
The Book of Daniel records how King Nebuchadnezzar of Babylon was punished over seven seasons: "His hair grew long like the feathers of an eagle, and his nails grew long like the claws of a bird."
We will probably not have to tolerate Boris Johnson for "seven seasons" as prime minister, or wait for his fingernails to grow claw like. With the poor state of the economy, and the NHS on its knees, the PM's disastrous political career may be over soon. Is Boris Johnson's increasingly dishevelled hairstyle a welcome sign of his impending exit from No 10 Downing Street?
James Hardy
Belfast
Join our new commenting forum
Join thought-provoking conversations, follow other Independent readers and see their replies