Labour's plan to strengthen the hunting ban is the best Christmas present I could have hoped for
Please send your letters to letters@independent.co.uk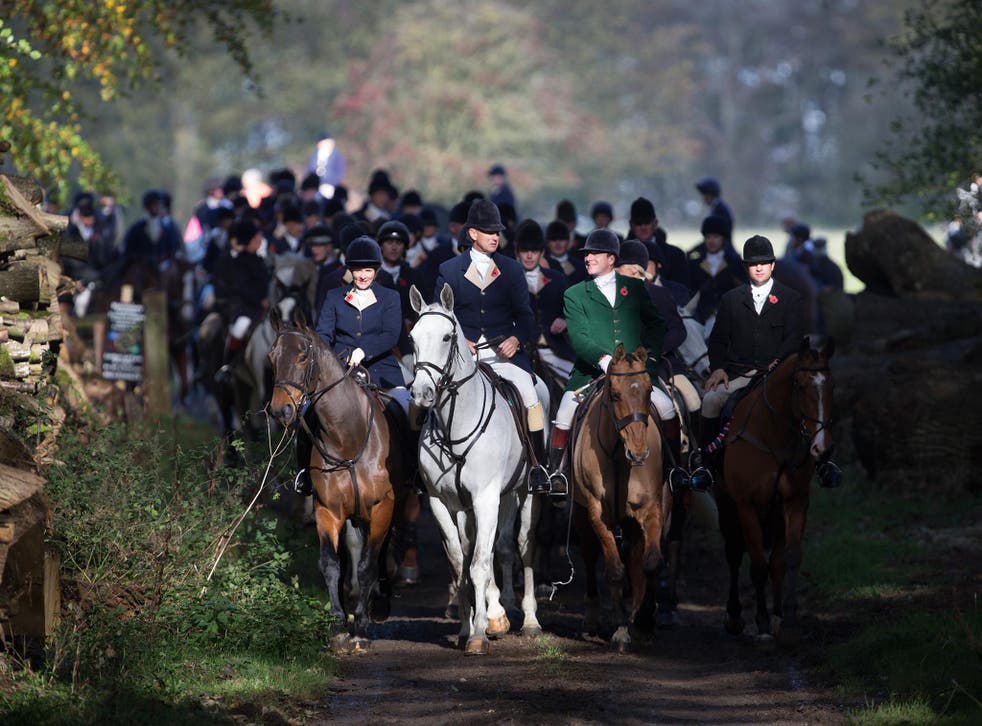 I couldn't have wished for a better Christmas present with Labour's announcement that they will not only strengthen the hunt ban but will consider a five-year prison sentence for those found guilty of extreme animal cruelty.
The hunt ban clearly hasn't worked and the legislation currently in place has done nothing to address the suffering still being endured by many foxes and stags, when so-called accidents occur. Plus the police appear confused about what actually constitutes illegal hunting with dogs.
When the ban was introduced in 2005 I never gloated and I never celebrated because I knew it was far from over – I knew that foxes and deer would still be abused but now I am seeing light at the end of a long dark tunnel – I am sensing victory. And not just because of Labour's awakening but because there are now so many people disgusted that 14 years down the line our wild animals are still being persecuted for fun.
It looks like my dream just might be coming true sooner than I thought.
Judi Hewitt
Rhyl
Right message, wrong messenger
That the Queen should speak, at a time of a divided parliament and a divided electorate, of respecting those with opposite views, is unhelpful. I find it difficult to accept such a message from a very privileged, unelected hereditary head of state presiding over a country with an honours system and a privileged elite. Seemingly, it is the super rich and money making sector of the UK who are pioneering the Brexit campaign. The head of state is effectively head of a multi-billion pound organisation (subsidised by the state), whilst we have record numbers of citizens either in poverty or actually living – and some dying – on our streets.
These are troubled times. We do require an effective second chamber and an elected head of state, both of which could speak authoritatively on the Brexit conundrum, and, with credibility, attempt to bring unity and resolution to a fractured and disparate nation.
John McLorinan
Weston-super-Mare
Christmas is commercialised
Once again the retail sector has decided that Christmas ends at 6pm on 24 December when the shops have shut and they can no longer sell us anything for Christmas Day. They dispense with the festive adverts that have swamped the TV screens since early November, immediately turning their attention to non-yuletide sales and holidays. Never mind the 12 days of Christmas, it's the 54 days of Christmas from 1 November to Christmas Eve.
Philip Mason
Kirkby Fleetham
May immigration laws will keep out Santa
Next Christmas, the North American Aerospace Defence Command's (NORAD) system for tracking Santa's journey around the globe is likely to show him bypassing the UK. Because under Theresa May's tougher immigration regime it is almost certain that he won't be allowed in.
Roger Hinds
Coulsdon
A campaign against putting Thatcher on the £50 note
The first time I noticed Margaret Thatcher's name mentioned with regard to scientists on the new bank note, I dismissed it as the work of cranks or, of course, satire.
Now though, I hear, thanks to The Independent, that she is, in fact, on the shortlist.
I fully realise that the country, even the world, has moved into a crazy period maybe never to return, but even considering the all round low standards I feel this is truly scandalous. She was not a Marie Curie: all she did was experiment on ice cream. How on earth has that contributed to the greater good of mankind?
Support free-thinking journalism and attend Independent events
I doubt her image will prevail. However if I am wrong, I predict a campaign which could come close to the vociferous demands for a people's vote!
I shall be the first to sign up to such action if needed.
Robert Boston
Kingshill
A Robert Fisk book for Christmas? Perfect
Imagine my delight: a book from 1975 with a slightly worn orange dust-jacket signed by its author. A Christmas present from my wonderful daughter, the book The Point of No Return; the author your own Robert Fisk.
Chris Hazell
Chiswick
Join our new commenting forum
Join thought-provoking conversations, follow other Independent readers and see their replies