Silly season has truly begun if we're considering Jacob Rees-Mogg for prime minister
Please send your letters to letters@independent.co.uk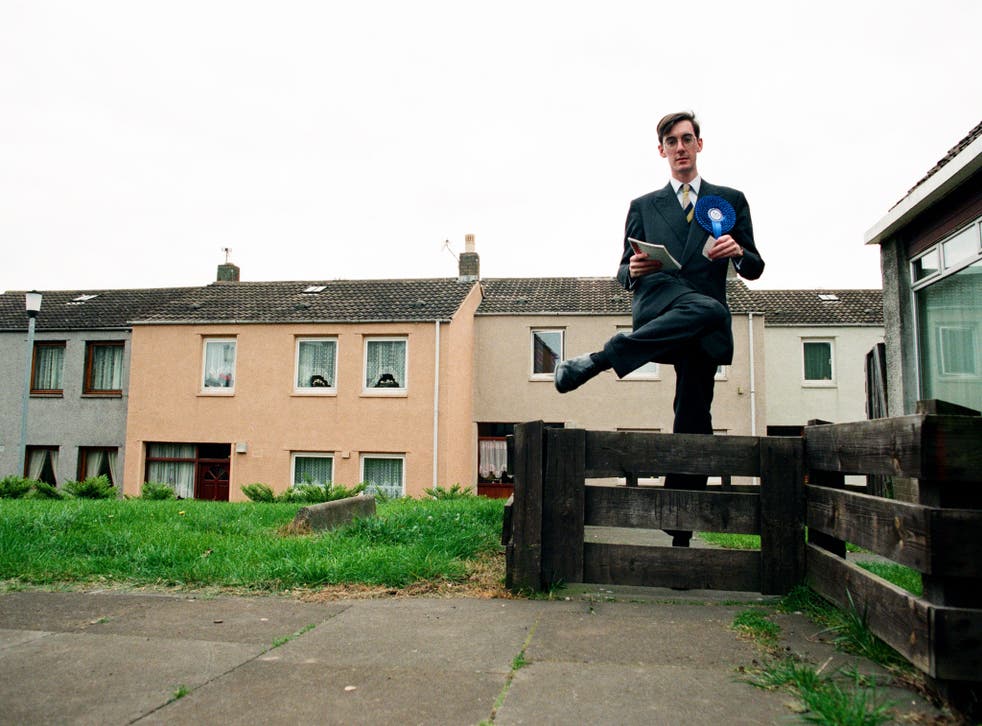 The silly season is upon us, and when Bertie Wooster's old school chum Moggles (Jacob Rees-Mogg) is being touted for leadership of the Tory party, you can be sure that there is not going to be a vacancy anytime soon. Theresa May is safe in Downing Street for the foreseeable future – i.e. the next fortnight.
Which means that we will be getting a Cabinet reshuffle. A couple of suggestions. Surely we have tried the patience of the rest of the world for long enough, and can now move Boris somewhere more appropriate? How about Deputy PM? He would have no formal responsibilities and could stand in for May when displays of public emotion are needed. Damian Green to International Trade, with Liam Fox becoming the "senior casualty". This would give an unprecedented victory to the chickens over the Fox.
Needless to say, all members of the Cabinet would be issued with Kevlar vests to protect them from being stabbed in the back by Michael Gove.
Bernard Cudd
Morpeth
Jacob Rees-Mogg as PM is as frightening as Johnson. Both are undoubtedly "intelligent", but they lack any appreciation of or for "hard-working families" and Mogg's politics are positively antediluvian (which is absolutely not a positive).
As for being a "successful businessman", my recollection is that he was part of the banking industry and made enough money out of the rest of us to make several ridiculed and failed attempts to become a full-time politician before landing in Somerset.
He may be amusing to some on Question Time, but he is a back-bencher for good reason in a government that struggles to find ministers of quality and competence.
The Tories are struggling. Best send them off with Nanny for rest and recuperation before they wreck Britain and turn us into a third world country.
Michael Mann
Shrewsbury
If Jacob Rees-Mogg is the future, I'm out
Henry Cotton (Letters, 26 July) "wholeheartedly supports" Jacob Rees-Mogg, as a "businessman of the real world" to be Conservative leader. Sadly, I fear he does not know the "real" Rees-Mogg.
As a constituent of Rees-Mogg, I have glimpsed the "real" one. The one who: voted to increase VAT, supports zero-hours contracts, voted against raising welfare benefit, voted against a tax on bankers' bonuses, voted for the "mansion tax", voted against same-sex marriage, voted against an investigation into the Iraq War, and voted against a ban on smoking in private vehicles.
He also filibustered on a bill to mitigate the effects of the "bedroom tax". He supports the views of Donald Trump and Nigel Farage.
Rees-Mogg, from the "real" world of Eton, Oxford, high finance and never having changed a nappy, shows that with these views, and many others, it is not a world I would want to see.
John Daintith
Address supplied
As I started reading Henry Carlton's letter yesterday, I assumed it was, like Rees-Mogg himself, a parody. I am still not sure. Maybe Carlton enjoys a subtle sense of humour.
When I contemplate the menagerie that is the present Conservative party – John Wittingdale, Chris Grayling, Boris Johnson, Liam Fox, Michael Gove, Owen Patterson and of course Rees-Mogg, I cannot repress the question, "Where do they get them from?" and "How did we come to this?" We are rudderless and a laughing stock throughout the world.
Dennis Leachman
Kingston upon Thames
Make taxi ranks switch their engines off to cut pollution
The Government has set a long, generational target date to remove diesel fumes from our cities. But so much could be done sooner by legislating on current practices. The other day, I stood waiting for a bus outside Newcastle rail station, and was conscious of the 15 to 20 taxis nearby, all awaiting fares with their engines running – a complete waste of fuel, and a deadly pollution I was unable to avoid if I were to catch the bus.
This must be happening for much of every day outside all city railway stations. This and similar acts of pollution could be made illegal.
Ian Reid
Kilnwick
The Government knows the answer to the NHS and teaching recruitment crises
Reports in your paper highlight the lack of trained applicants in both the NHS and teaching. For a government so wedded to market forces, surely the solution is obvious; pay higher wages to reflect demand, and the supply of high quality graduates will increase.
Jane Pickard
Edinburgh
Register for free to continue reading
Registration is a free and easy way to support our truly independent journalism
By registering, you will also enjoy limited access to Premium articles, exclusive newsletters, commenting, and virtual events with our leading journalists
Already have an account? sign in
Register for free to continue reading
Registration is a free and easy way to support our truly independent journalism
By registering, you will also enjoy limited access to Premium articles, exclusive newsletters, commenting, and virtual events with our leading journalists
Already have an account? sign in
Join our new commenting forum
Join thought-provoking conversations, follow other Independent readers and see their replies