Jeremy Corbyn is making headway in the Tory heartlands
Please send your letters to letters@independent.co.uk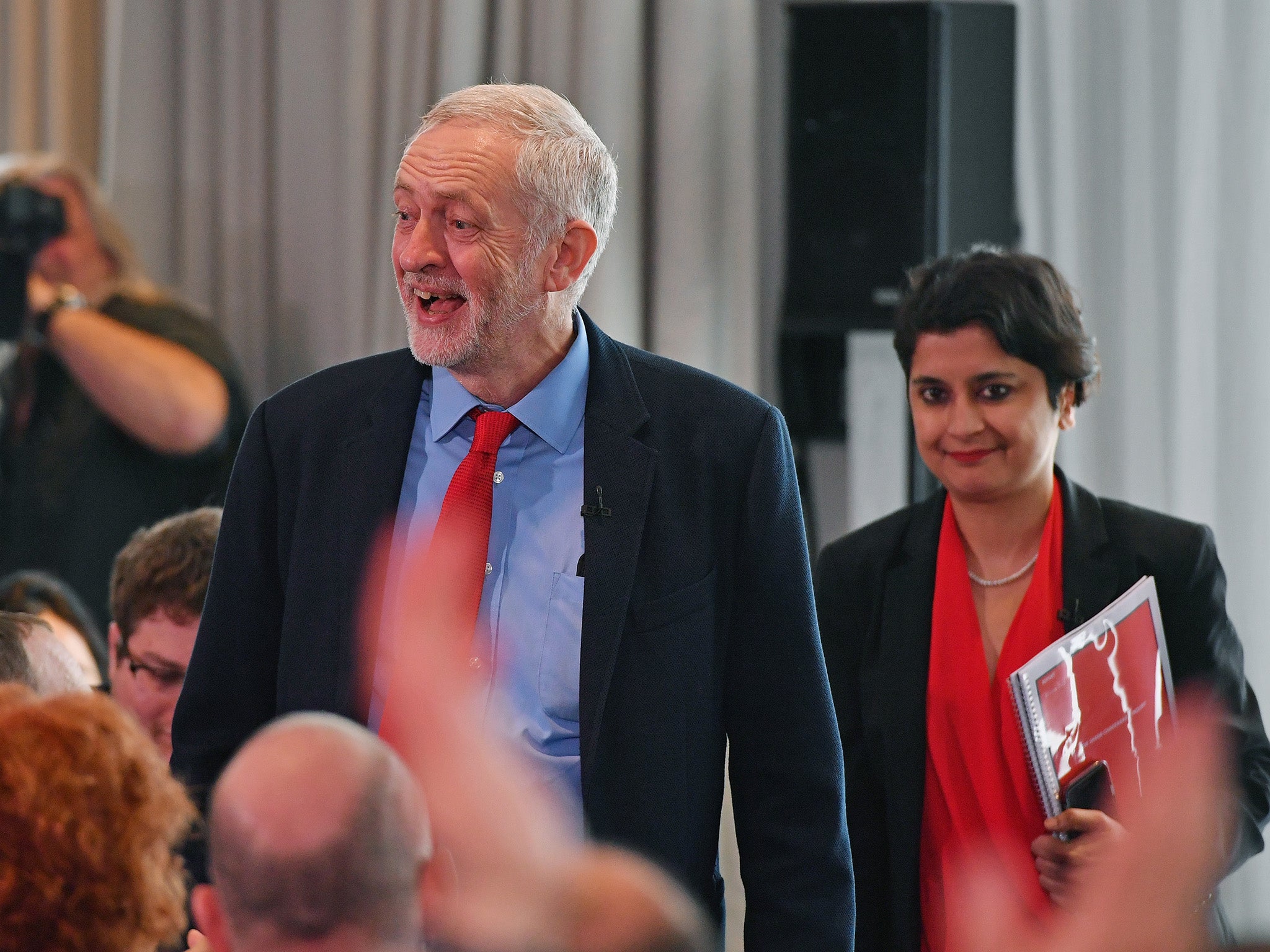 In today's Independent Andrew Grice tells us that Jeremy Corbyn is living within a fan "bubble". It seems he is not reaching out to voters and has "made no headway". I am puzzled by his comments as experience here in deepest Tory territory suggests otherwise. Fifteen months ago Worthing Labour Party had just 150 members whereas today there are 700 and rising. If Corbyn has not been speaking to the 550 new recruits then surely someone has? Are we to believe there are socialist fairies at work in deepest Sussex?
Bill Geddes
Worthing
We, female Labour members, condemn attempts by some women MPs to blame the Leader of the Labour Party Jeremy Corbyn and shadow chancellor John McDonnell for alleged bullying in the party. These accusations form part of an unceasing witch hunt against Corbyn and his supporters.
Women in politics have no right to discredit legitimate political opposition as gender based intimidation. MPs are supposed to be public servants, not masters, and we all have a right to peacefully hold them to account.
It is the anti-Corbyn hierarchy that has banned constituency meetings, cancelled the results elections such as in Brighton and Hove CLP, and denied members the right to vote in the leadership election unless they pay an additional £25.
Corbyn's leadership, the most democratic, anti-sexist, anti-racist and anti-war this party has ever had, has inspired the mass participation of women and men in shaping Labour politics. His anti-austerity programme targets "inequality, neglect, insecurity, prejudice and discrimination" – not only gender balance in Parliament but pay equity for women who are "over-represented in the lowest-paying sectors: cleaning, catering and caring – vital sectors of our economy, doing valuable work, but not work that is fairly rewarded or equally respected."
It is sad that women MPs, some of whom were part of the first-ever shadow cabinet with a majority of women, have not welcomed this "new politics". We are glad that one of them has unresigned and we hope that the others will reconsider.
Niki Adams, Kilburn
Nana Asante, Ealing
Cristel Amiss, Kilburn
Caroline Barker, Kilburn
Lynda Bennet, London
Amanda Bentham, Stoke Newington
Nechamah Bonanos, Brixton
Kristina Brandemo, Kensal Rise
Jessica Burke, Brighton
Emily Burnham, Barnet
Linda Burnip, Warwickshire
Sara Callaway, South Kilburn
Vee Cartwright, Brighton
Ellen Clifford, Lewisham
Petra Dando, Camden
Miriam E David, Islington North
Hanna Demel, Kensal Rise
Nina Douglas, North Broxtowe
Una Doyle, Holborn and St Pancras
Marlene Ellis, Streatham
Roisin Francis, South Kilburn
Claire Glasman, Gospel Oak
Beth Granter, Brighton
Bethan Griffiths, Birmingham
Sibyl Grundberg, Tottenham
Charlie Hall, Cambridge
Jo Hammond, Vauxhall
Linda Heiden, Streatham
Christine Hemmingway, Norfolk
Michelle Hemmingway, Rowley Regis, Birmingham
Amy Hills-Fletcher, Hackney South
Jenny Hardacre, Cambridge
Becka Hudson, Islington North
Selma James, Kilburn
Coral Jones, Hackney
Eleanor Kilroy, Winchester
Jem Lindo, Haringey
Ruth London, Kilburn
Nina Lopez, Kilburn
Marie Lynam, Kilburn
Nicola Mann, Childs Hill
Sandra Mann, Childs Hill
Helen Marks, Liverpool
Delia Mattis, Enfield Southgate
Juliet McCaffery, Brighton
Denise McKenna, Welling
Heather Mendick, Hackney South
Firinne Ni Chreachain, Brent
Marion Pencavel, Keighley, West Yorkshire
Paula Peters, Bromley
Rachel Remedios, Oxford
Mena Remedios, Oxford
Ariane Sacco, Kensal Rise
Harriet Sampson, Ealing
Awula Serwah, Brent
Vanessa Stilwell, Dulwich
Cindy Taplin, Hackney South
Mary Taylor, Greenwich
Chrissie Tiller, Hackney
June Turvey, Brent South
Rosa Valdez, Brighton
Flora Wanyu, Hull, East Riding of Yorkshire
Laura Watson, Kilburn
Ann Whitehurst, Stoke-on-Trent
Naomi Wimborne-Idrissi, Chingford
The Chief Rabbi Ephraim Mirivis tells us that Shami Chakrabarti's credibility regarding her Labour's anti-Semitism report lies in tatters, her having accepted a peerage (Honours list: Jeremy Corbyn accused of 'buying' Labour anti-Semitism report after author is given peerage", August 5th). Why does he believe this? Did he ignore the evidence and reasoning in the report? If we are going to retain an unelected second chamber, we need a mixture of expertise and social concern, manifested in individuals such as Chakrabarti.
Peter Cave
London
Thomson Holidays
Every right minded person should denounce what happened to Faizah Shaheen. Thomson Holidays should be required at the least to offer an apology. What message does this give to the world?
Rod Hartley
Preston
Join our commenting forum
Join thought-provoking conversations, follow other Independent readers and see their replies