Letters: Don't let trade trump human rights
The following letters appear in the 20 October edition of The Independent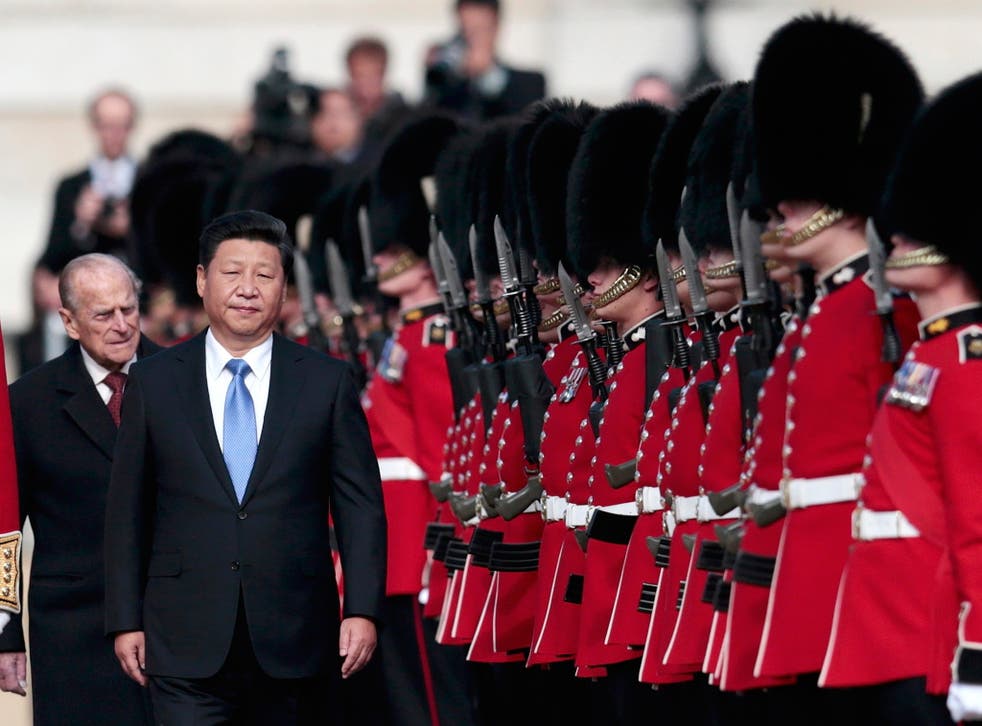 As a member of the Christian Peoples' Alliance I disagree with many of Jeremy Corbyn's policies. However as regards his concern about the poor human rights record of Saudi Arabia and China we are at one.
With regard to the impending visit of the Chinese President, Mr Corbyn should indeed take this opportunity to speak out about the ongoing occupation of Tibet, the discrimination against Christians in many regions, the denial of a free press, treatment of dissidents, sending refugees from North Korea back to that hell-hole where they are likely to be executed, no protection for unborn children, and, on animal welfare, failing to take serious measures to stop the import of body parts from endangered species.
John Wainwright
Potters Bar, Hertfordshire
Conservative governments of the 1980s and 1990s "sold off the family silver" and now our Conservative leaders are selling off our only remaining asset, our good name.
We have recently demonstrated to the world, by rowing back on green policies, that we have only token respect for the future of the planet. We have been shamed by our pitiful response to the refugee problem, a response that would have been shameful even in those ruthless days of empire. Now we are trawling the world to sell our reputation to any regime no matter what its view on human rights as long as the balance sheet shows an increased profit.
We will no doubt be told that the financial security of our country depends upon such decisions, but who wants to be part of a family who are told to appreciate their comfort and wealth without questioning the means by which such wealth has been acquired?
If we still had a steel industry maybe its next project could have been the construction of our own Statue of Liberty at Dover with the message: "Send me your dynamic, your rich, your ruthless strutting leaders yearning to trade.... Cash preferred but most credit cards accepted. Please ignore the mess: we are currently restructuring society."
John Dillon
Birmingham
With the present crisis in the British steel industry and imports from China of cheaper steel, the real elephant in the room is quality. From what I know of China, much of what they produce will be sub-standard.
All imports to this country of Chinese steel should be subject to rigorous inspection and testing. All sub-standard product should be rejected and returned.
I think a high proportion would be making the return journey.
Iain Smith
Rugby
How can Gove repair our criminal justice?
Much of the public seems keen only in criminals being locked up. Most have little or no idea of the financial cost and long-term impact of a custodial sentence. Michael Gove, who saw the flaws the moment he sat behind his new desk, now needs to show the public and the judiciary that the system is in fact counter productive: it both increases crime and places excessive costs on the taxpayer.
Mr Gove's search for alternatives to prison – to reduce cost, recidivism and the "crime university" factor – is greatly helped by technological developments such as GPS tagging and biometric reporting, which allow convicts to be held in virtual captivity, or limited in their movements, without going to prison.
In our experience (we both served sentences for white-collar crimes) the prison population divides up into the Mad (10-20 per cent) the Bad (30 per cent) and the Sad (50-60 per cent). The 30 per cent who are a malign threat to society have to be locked up. Of the rest, the Mad should be helped in proper facilities and the Sad – those who have made stupid mistakes rather than set out to cause harm or damage – have a realistic chance of being rehabilitated and reintegrated back into society.
We have seen countless examples of white-collar criminals who have taken a wrong turn and then compounded their error by trying to cover it up. They are, for the most part, first-time offenders and have demonstrated extremely low recidivism rates. They represent little or no ongoing threat to society and should, after a punishing period of harsh confinement, be released on highly restrictive licence conditions far earlier than is the case today.
Steve Dagworthy
Bettina Jordan-Barber
Prison Consultants Ltd, London EC1
David Cameron and Michael Gove are right to call for a transformation in our approach to criminal justice. However, the solutions they offer address the problem from the wrong direction and may lead to an expansion of tagging and prison numbers, all driven in partnership with the private sector.
A whole-society approach should be the starting point. Social and economic conditions are key to preventing and reducing harm. Numerous studies demonstrate that more equal societies with lower levels of poverty and larger welfare states are healthier places and tend to have smaller prison populations.
For too long we have been over reliant on police, courts and prisons as the key mechanism for responding to harm. Victims need a comprehensive and universal social insurance scheme to shield them from the impact of violence and property crime. This would include well-resourced refuges, health and mental health services, all supplemented with direct financial and practical support. At a local level we need to build skills and community solidarity to step in where possible, rather than use the police as the first port of call.
People need to be held accountable through well- managed processes that protect both victim and perpetrator. High-level police enforcement may be required – but only as a last resort.
The serious starting point for progressive policy lies not in the question, how can we fix criminal justice, but rather how can we transform society.
Rebecca Roberts
Senior Associate, Centre for Crime and Justice Studies
London SW8
Bishops see House of Lords as a chore
Could I be just a little nit-picking about Yasmin Alibhai-Brown's otherwise good article (19 October)?
Britain does not have an Established Church: England has. The name "Church of England" might give you a clue. Scotland has a different one, while Wales and Northern Ireland do not have one at all.
And far from being a privilege, most bishops I have ever known have regarded a seat in the House of Lords as a boring chore which keeps them away from more important work. Apart from that, fewer than a quarter of the bishops of the Church of England (26 out of 104) are in the House of Lords anyway.
John Williams
West Wittering, West Sussex
Put your bike in a box on Eurostar
Returning from Holland, a paradise where cars give precedence to cyclists, I discover that Eurostar now decrees that it will carry bicycles only if they are dismembered and put in boxes, creating mechanical problems and causing delays when making train connections here or abroad.
The Mayor of London, a notable London cyclist, is, along with many cycling associations, opposing Eurostar's new rule, yet another example of the restrictions already imposed on cyclists by authorities who do not themselves cycle.
Peter Forster
London N4
Stand up against censorship of art
I applaud Janet Street-Porter's article on the absurdity of censoring art by Graham Ovenden and others (17 October).
Many artists and art critics have been concerned about censorship of nudity in art where it relates to images of adolescents. More articles by mainstream commentators which highlight the subjective and futile nature of legal bans would help to combat this trend.
Alexander Adams
Bristol
Keeping watch on Assange
The Metropolitan Police, having spent £12.6m standing outside the Ecuadorean embassy, preventing Julian Assange avoiding extradition to Sweden and possible transfer the US, tells us that such costs are "no longer proportionate". What made such police action (well, standing and twiddling thumbs, in the rain, snow and heat) appropriate in the first place? What has changed?
Peter Cave
London W1
Desperate Dan meets Groucho Marx
Struggling to understand how these trends happen: the preponderance of Desperate Dan beards on young men which make them look as if they have their heads on upside down; and the peculiar painted eyebrows on women. Are they all Groucho Marx fans?
I am worried if I see a couple together who are both "on trend" I may laugh out loud.
Rosy Curtis
Leicester
Join our new commenting forum
Join thought-provoking conversations, follow other Independent readers and see their replies