Trump must include China and Japan in his meeting with Kim Jong-un
Please send your letters to letters@independent.co.uk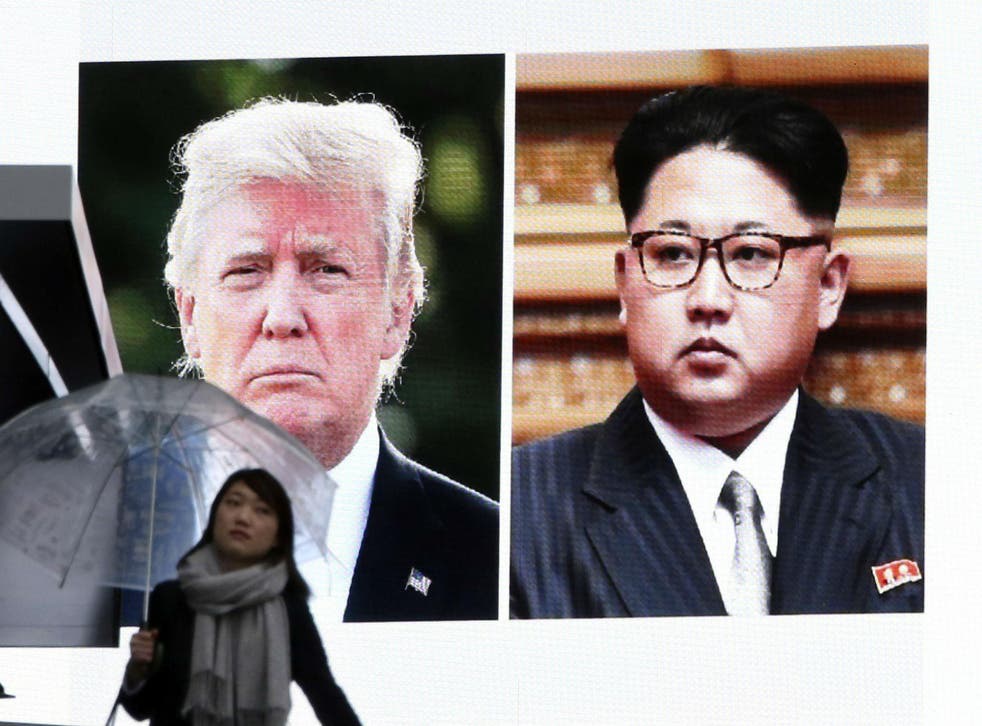 A Trump-Kim Jong-un summit is only a cautious first step in the complex long-haul diplomatic hustle and bustle to denuclearise North Korea. However optimism for successful and permanent nuclear weapons deproliferation of the Korean Peninsula is constrained by the inexplicable exclusion of China, North Korea's advocates and Japan, whose island territories Kim's armed missiles have recently overflown to great alarm.
Without a five-way agreement that encompasses agreements of both Koreas, the United States, China and Japan, the US-North Korea summit is unlikely to broker a reliable and lasting peace in Far East Asia.
Joseph Ting
Carina, Australia
The cost of re-election
If Theresa May can find £410m to give to the DUP, then all she has done has prove that her own personal survival is much more important to her than the rest of us struggling with the NHS, with the lack of money to deal with rough sleepers. I could go on and on.
I promise I'm not stupid enough not to realise that the only thing that really matters to an MP is getting re-elected. But at this cost, Theresa May should be ashamed of herself.
Steve Mumby
Bournemouth
Bright dyslexic children need help too
According to Philip Kirby ("Mum's the Word", 8 March), the battle for recognition of dyslexia was fought for and won by a group of pioneering women in the Seventies. As a result of their determination, government ultimately recognised the condition, an evidence base for diagnosis was established and "it's now recognised that dyslexia can occur across the spectrum of intellectual abilities." Sadly, it took just one man to undermine all these achievements.
As Education Minister (2010-14), Michael Gove changed the boundaries that determined whether a child was sufficiently disadvantaged to benefit from a range of concessions in public exams. Prior to this, diagnosis and proof of need were based on a significant discrepancy between high and low scores in a complex range of tests carried out by an educational psychologist. Mr Gove decided that need was only evidenced by below-average scores. So a bright child with learning difficulties suddenly no longer qualified for support.
If "the story of dyslexia's pioneers serves as a warning against the gains that could be lost", perhaps it can also flag up to the Government what has already been lost and overturn Mr Gove's regressive ruling so that all children with significant learning difficulties, however bright, have an equal chance of reaching their full potential.
Deborah Richardson
London
We need the Lib Dems
The Lib Dems need to come back to the voice of protest. The anti-war, free education and training, renewable energy, and social responsibility policies are the ones of the future. It is only when people have something to move towards that they will move to Lib Dems.
Martin Rayner
Windemere
A Labour-Lib Dem pact
Andrew Grice refloats an old idea, tried many times over the years ("A 'below the radar' agreement could deliver a victory for Labour and save the Lib Dems from extinction", 9 March), and while I would applaud the former, the latter holds no attraction to me.
In my local District of Suffolk in the late Nineties a prospective Labour district councillor was approached by the then Lib Dem incumbent with a plan: the Labour man would withdraw his candidacy to ensure a Lib Dem victory.
This may seem one-sided, but they were on friendly terms, both active in their community, and the Lib Dem confided that he had been about to defect to Labour for some time. Late in the day the Labour man withdrew his candidacy and the Lib Dem won the seat, but did not defect to Labour.
It would have to be not only well "below the radar" but deep underground as LP rules forbid such deals and there is no love lost between the two parties at the grass roots.
Eddie Dougall
Bury St Edmunds
We need the latte levy
Is it any wonder that plastic platitudes have not been followed through with action by Theresa May?
Is it surprising that our Environment Secretary – Gove, who lambasted experts during the EU referendum – should ignore informed opinion now?
This is, after all, the party that when in government back in 2013 rejected plain packaging on cigarette packets despite compelling positive evidence of the success and benefit to health of this in places like Australia.
Amanda Baker
Edinburgh
Register for free to continue reading
Registration is a free and easy way to support our truly independent journalism
By registering, you will also enjoy limited access to Premium articles, exclusive newsletters, commenting, and virtual events with our leading journalists
Already have an account? sign in
Register for free to continue reading
Registration is a free and easy way to support our truly independent journalism
By registering, you will also enjoy limited access to Premium articles, exclusive newsletters, commenting, and virtual events with our leading journalists
Already have an account? sign in
Join our new commenting forum
Join thought-provoking conversations, follow other Independent readers and see their replies