Letters: Keep up the greenhouse gas check on companies
These letters appear in the 11th March 2016 edition of The Independent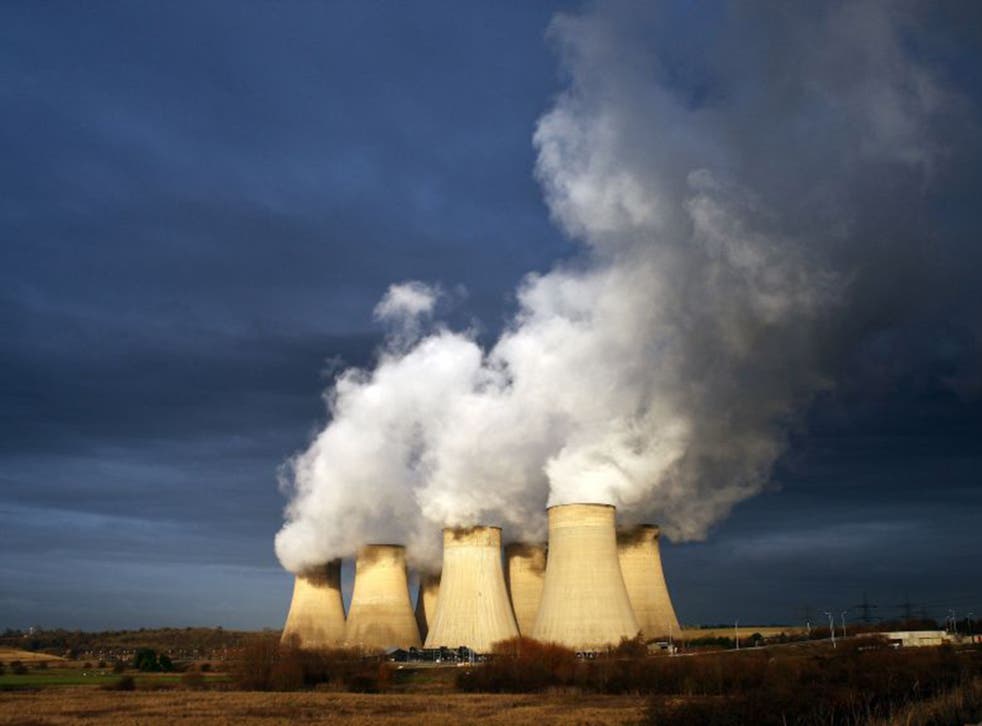 In 2013, the UK Government introduced the mandatory carbon reporting requirements that require listed companies to report annually on their global greenhouse gas emissions in the directors' report of the annual report.
The introduction of these requirements has helped provide greater levels of board oversight and investor engagement on how to improve the resource efficiency of their businesses, thereby boosting productivity. These requirements provide standardised and comparable information to institutional investors, who are increasingly demanding information on companies' greenhouse gas emissions and financial risks relating to climate change to help guide their investment decisions.
The Government is currently reviewing the future of these regulations as part of its consultation on business energy efficiency policies.
At a time when important international initiatives such as the Financial Stability Board's climate-related financial disclosures taskforce are investigating the potential for greater levels of disclosure on climate related risks, it is critical that the UK retains its market-leading mandatory carbon reporting requirements in place.
We urge the Government to confirm on Budget Day that this will indeed be the case.
Nick Molho
Executive Director, Aldersgate Group
Steve Waygood
Chief Responsible Investment Officer, Aviva Investors
Niall Dunne
Chief Sustainability Officer, BT
Meryam Omi
Head of Sustainability, Legal & General Investment Management
Mike Barry
Director of Sustainable Business, Marks & Spencer
Stuart Bailey
Head of Sustainability and Climate Change, National Grid
Andrew Griffiths
Head of Environmental Sustainability, Nestlé UK & Ireland
Fiona Ball
Head of Responsible Business, Sky
Stephanie Pfeifer
Chief Executive, Institutional Investors Group on Climate Change
Jane Stevensen
Managing Director, Climate Disclosure Standards Board
Paul Simpson
Chief Executive Officer, CDP
Roger Ponting
Group Finance Director and Business Support, Energy Saving Trust
Matthew Farrow
Executive Director, Environmental Industries Commission
Martin Baxter
Chief Policy Advisor, Institute of Environmental Management and Assessment
Simon Howard
Chief Executive, UK Sustainable Investment and Finance Association
Robert Lambe
Managing Director, Willmott Dixon Energy Services
David Symons
Director of Environment, WSP Parsons Brinckerhoff
Brexit a licence for food fakery
Fancy tucking into Cumberland sausage or Stilton for tea, bought from some geezer on the market, and enjoying the thrill of not knowing where it is from? Brazil, Samoa, China? If so then Brexit is for you.
Pesky EU red tape (Regulation 1151/2012) means that regional foods from all over Europe, including in the UK, have geographically protected status. Because of those meddling MEPs, a Cornish pasty has to be made in Cornwall to a traditional recipe. Would you believe it? And, worse still, nasty EU trade agreements with the rest of the world mean that these regulations covering regional specialities are respected in countries around the planet, protecting UK traditions and jobs.
Once out of the EU, everyone will be free at last to make fake versions of treasured British foods and sell them wherever they like, because EU regulations will no longer apply. Hurrah!
Even better, out of the EU, our very own UK wideboys will be free to produce fake Parma hams, camembert and Wensleydale in warehouses in Chingford, and flog them in Greenland, Swaziland and Taiwan, beside the fake Melton Mowbray pork pies from the Philippines. What's not to like?
Christian Vassie
York
At a time when the Conservative Party, elected in by only a fraction of the electorate, seeks to strengthen its future with further advantageous boundary changes, voters would do well to remember that membership of the European Community offers important laws that protect our society.
I am very afraid of an unfettered Tory fiefdom that may result if we exit from the European Union. The EU, for all its faults, appears to seek to protect vulnerable citizens and the environment, which the current Conservative Party appears to disregard.
Simon Watson
Mamble, Worcestershire
In view of the shaky mandate the Conservatives got from the last general election – less than 25 per cent – and as they were the only party with an EU referendum in their manifesto, one concludes that over 75 per cent of the electorate weren't bothered about having one, not even the minority voting for Ukip, who wanted Brexit without a referendum.
So couldn't we call the whole thing off and get on with our lives?
Geoffrey Downs
Bradford
Lavish spending will make you rich
Simon Read (5 March) tells of his effort to teach his children a lesson in thrift by saving up coins they found in the street.
"Look after the pennies..." is one of the many maxims which purport to give a clue to the hoi polloi as to how they can become millionaires, but which are meant to keep them in their place.
It gains its bogus authenticity from stories of reclusive tycoons dying in filth and privation, but with several billions in stockholdings. The confusion which the billionaires aim to foster through their phoney axiom is that parsimony makes people rich. The truth is that meanness is an eccentricity which occasionally accompanies great wealth, but it isn't the explanation for it.
Instead, one millionaire biography after another tells how rich people became extravagant even before they had much money. There is a sort of homeopathic principle here, that a sniff of the good life, even if it is initially on credit, will attract more money. And it's true.
Do you ever hear a Murdoch or a Branson moaning about a penny increase in the price of a pint of milk? Have you ever come across a wealthy person who even knows the price of a pint of milk? The truth is that looking after the pennies will simply ensure that you end up with a world-class collection of pennies.
Victoria Watts
Crumlin, Caerphilly
The Queen dragged into EU quarrel
The Brexit campaigners must be getting desperate if they have to drag up a five-year-old conversation the Queen supposedly had supporting Brexit before the term had even been invented or a referendum mooted.
Like many of us the Queen may well have reservations about the EU but would still support our remaining in it.
Valerie Crews
Beckenham, Kent
Dave Brown (cartoon, 10 March) has got it wrong. The Queen's name is not Saxe-Coburg-Gotha. It is an ex-name, it has ceased to be, changed to "Windsor" 99 years ago by her grandfather.
But the point of the cartoon is that the Queen, distantly descended via a bundle of Germans from a 16th-century Scotsman and a Dane, can hardly call herself British. She, like most of us, must envy Dave Brown's direct descent, with pure unmixed blood, from the Ancient Brits themselves.
Peter Forster
London N4
Somewhere to live for students in London
Contrary to the impression conveyed in your report and editorial (4 March), UCL is extremely concerned about the affordability of student accommodation in London. We want every student who is offered a place at UCL to be able to afford to come here. However, providing cheap housing in the heart of one of the world's most expensive cities is a considerable challenge, and not just for UCL.
As a non-profit organisation, we do not make any financial gain on rent. Any surplus is ploughed back into residences. The rents we charge are on a par with those charged by other London universities, and less than those charged by private providers, who do make a profit, and currently provide 59 per cent of the student housing stock in London. I want universities – not driven by profit – to continue to provide accommodation, but we can only do so on the basis of setting rents at a level that enables us to cover our costs and invest in upkeep.
We are taking active steps to keep our rents down. Last week we announced that we are either reducing or freezing rents in over 1,200 rooms next year. No one should underestimate the challenge of delivering affordable accommodation while London property prices remain at their current level and our student funding system does not reflect the true cost of living in the capital, but we will continue to work with our students to find solutions to lessen the burden.
Andrew Grainger
Director, UCL Estates
University College London
The rewards of democracy?
According to Stephen Lewis (letter, 8 March), Israel "is the only democracy in the Middle East".
Would Mr Lewis – or anyone else – care to explain how that entitles it to dispossess and oppress the Palestinians in the West Bank, East Jerusalem and Gaza?
Roberto Mercatali
Oxford
Join our new commenting forum
Join thought-provoking conversations, follow other Independent readers and see their replies