Rather than exploring Mars, we should be using our resources to combat climate change
Please send your letters to letters@independent.co.uk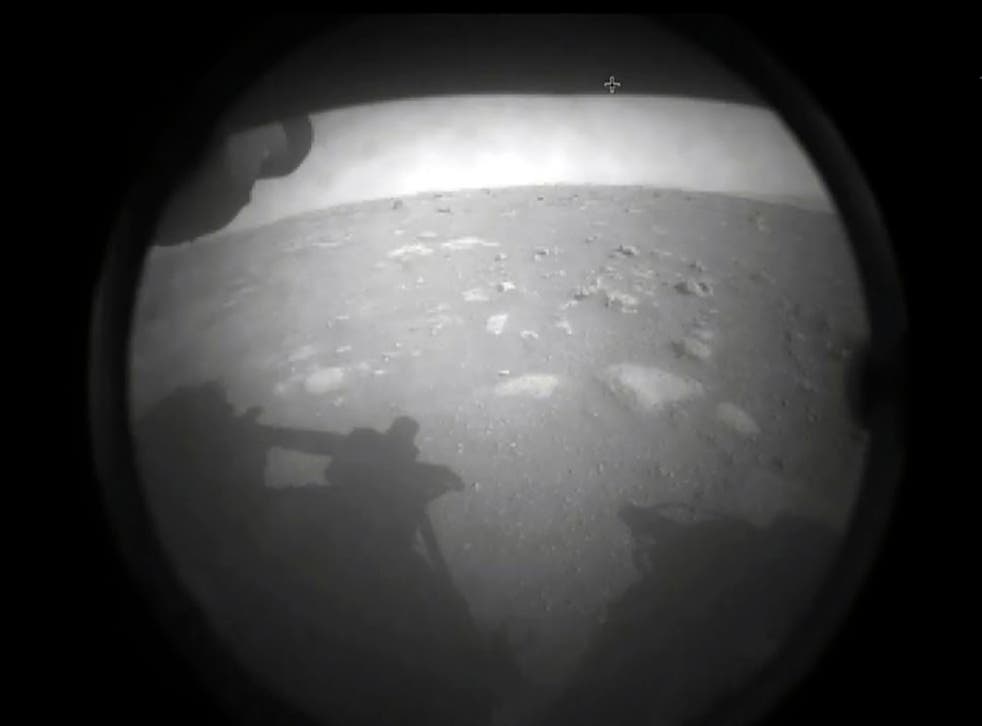 Curmudgeonly though it may seem, I remain mystified why so many resources are being deployed to explore Mars for life that is likely to have been extinct for at least two gigayears (if, indeed, it existed at all) when we have so many issues to address on planet Earth.
The technical achievement of landing on another world is undoubtedly impressive and we can congratulate the scientists. But, as a prelude to human immigration, the hope of some, we must remind ourselves that conditions will require continuous protection from a toxic atmosphere, from intense cold and from high doses of ultraviolet radiation, among many other hazards. Added to this, the social isolation will be far, far greater than lockdown on Earth.
Perhaps the increasing amount of resource being deployed in reaching Mars might more usefully be used in reversing human-induced climate change on Earth?
Ian Reid
Kilnwick
Driving change
The recent ruling that Uber drivers are workers and not self-employed is to be celebrated – worker protections are indisputably a good thing.
However, I am concerned about the future of the gig economy. Tough legislation could suffocate the gig economy entirely, and Uber, Deliveroo and other blue-collar companies are only one part of the picture.
The white-collar gig economy, which covers everything from marketers and designers to PhD-level scientists is quite different. There are tens of thousands of gig-based scientists in the UK and the rest of the world, who use freelancing to contribute to potentially lifesaving research.
We cannot lump these two groups together. Knowledge workers in the gig economy are central to innovation and post-Covid economic recovery. A one size fits all legislative approach to the gig economy is unwise – so while we can celebrate this news, we must tread carefully.
Ashmita Das
Co-Founder and CEO of Kolabtree
Vaccine hold-up
My 86-year-old mother, who is severely disabled by Parkinson's disease, is still waiting for her Covid vaccine. I have contacted her GP on numerous occasions, only to be told "she is on a list". They don't give any more details.
I have tried booking via the NHS website, as advised by our prime minister, but was told that the service was not for use by the housebound.
My mother is in pain and in need of a chiropodist appointment but has had to cancel her appointment as she doesn't feel safe without a vaccine.
It is scandalous that the most frail in our society have been ignored nearly a week after the deadline for the vaccination of that group, while our prime minister is claiming that "everyone in the priority groups has been offered an appointment".
Sarah Spong
Deal, Kent
Starmer power
I must admit Jess Phillips breezy and unambiguous style of writing is very refreshing ('Keir Starmer doesn't deserve a lot of the criticism – here's why', 18 February).
She makes some valid points that for Keir Starmer and his new administration to cut through in the midst of a pandemic is a pretty thankless task.
I take the point, too, that apart from political-fixated people like myself, the public would not perhaps recognise factions such as the ERG, who have seamlessly morphed into the just as truculent Covid Recovery Group. Different name; same disruptors.
Yet Starmer has competence written all through him and when he is allowed to address the troops, there will no doubt be far more of his personality and oomph coming through. His recent speech was aspirational. No, we do not want to go back to life as normal, with more inequality dressed up in the name of paying off our enormous bills.
So we all should cut him some slack, give him the benefit of a Mount Everest to climb and a leg up to do so.
Judith A. Daniels
Great Yarmouth, Norfolk
Thanks, Jess Phillips for restoring perspective and raising the spirits in Voices. We can't wait for you all to return to parliament and the fire of real debate to be lit again. Roll on!
Noel Chadwick
Cumbria
'Like'
It occurs to me that the argument in Australia is about Face News.
Dr Mark Vaughn
Blewbury, Oxon
Join our new commenting forum
Join thought-provoking conversations, follow other Independent readers and see their replies