Nicola Sturgeon is demanding too much from Theresa May
Please send your letters to letters@independent.co.uk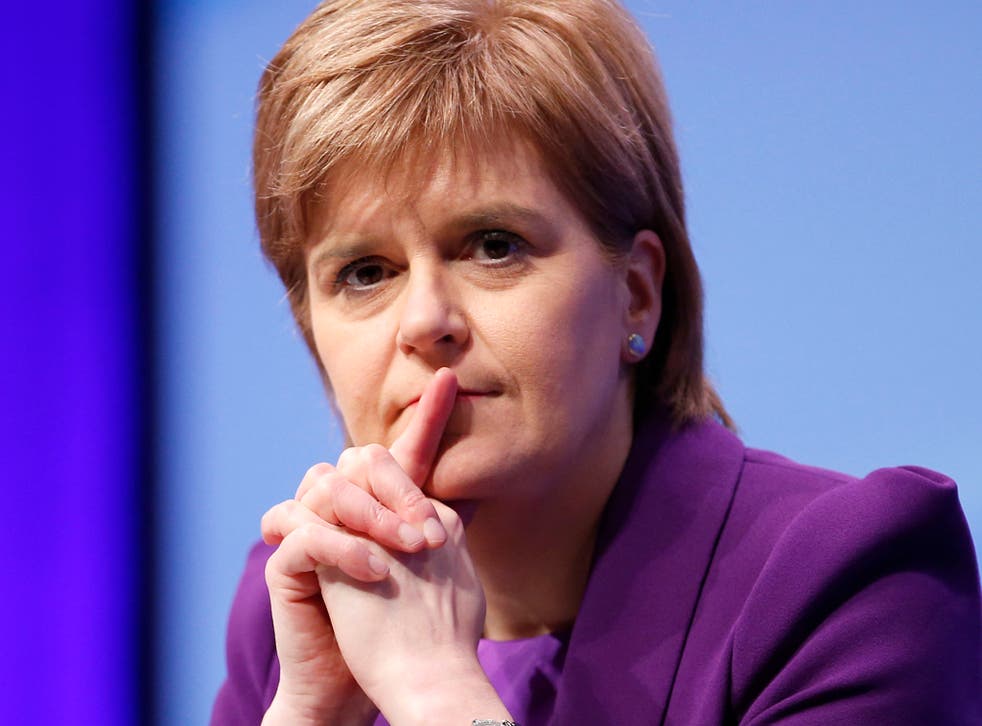 Nicola Sturgeon has offered Theresa May a "compromise" of the "what's yours is mine, what's mine is my own" type. She has said she will take a new referendum off the table for two years if May gets the kind of deal with the EU that she, Sturgeon, "demands".
She readily admits that her overriding aim remains the breakup of the UK and that she will not stop working for that. What she is offering is a brief truce in return for a long-term gain.
The British Government and the pro-union party leaders in Scotland have already conceded too many to Sturgeon's demands, as she salami-slices away at the union. It is time for them all to stop collaborating with her and tell her that the majority in Scotland expressed its will to remain in the union unconditionally. There were no caveats about "material change" in the SNP's prospectus in 2014, and the SNP was well aware that a referendum on EU membership was highly likely.
This posturing about another referendum is damaging to Scotland's stability. And anyone with sense knows that a separate Scotland would be very much worse off outside the UK, Brexit or no Brexit. Anyone who says otherwise has fallen victim to SNP propaganda.
Jill Stephenson
Edinburgh
Does Nicola Sturgeon not realise that people who bluff don't have any cards of value. Is this her position?
Michael Pate
Preston
Life for pensioners isn't as rosy as it is made out to be
As a pensioner, I read Ben Chu's article on social care with interest.
However, I not sure that he is aiming at the right target when he bemoans high pensioner incomes. Most UK pensioners will be in receipt of a state pension of some £6,200; this sum is minimal compared to other incomes in our society. According to information from the Equalities Trust, a FTSE 100 CEO now has an average income of £5.5m per annum. In recent decades numerous individuals have managed to boost their incomes to stratospheric levels compared to normal employees. These include council bosses, university vice chancellors, directors of utility companies and BBC managers and "talent".
Pensioners minimal incomes may well have been protected since the financial crash, but I doubt many CEOs will be rushing to swap their salaries for a state pension.
Robin White
Basingstoke
Peter Sarstedt brings back fond memories
Extremely sad to hear of Peter Sarstedt's death at a relatively young age. Progressive supranuclear palsy: are there means to alleviate this condition nowadays? Is anyone able to tell us? Is the condition frequent in our society?
My late husband occasionally played his Peter Sarstedt song on his CD player during his life. Hearing the song on YouTube now brings back happy memories to me of our life together. My sincere condolences to Sarstedt's family.
Cathy
Address Supplied
The mental health sector needs overhauling
While there are many aspects of psychiatric practice that don't make for good reading, one that is worth looking closer at is the amount of money spent on antidepressant prescribing. The most recently published NHS figures show that more than £285m was spent on antidepressants in 2015. Put this alongside the psychiatric propaganda that more people will experience mental illness, and anyone investing in antidepressants or psychiatry would reasonably expect the number of sufferers to decrease.
Now consider the continued reports that people of all ages are taking their own lives after receiving psychiatric treatment, including antidepressant drugs. The media regularly reports on the medications prescribed to individuals who are the subject of inquests around the UK. Antidepressants regularly rear their ugly head. While psychiatrists blame the tragedies on so-called mental illnesses, one cannot escape the fact that among the listed effects of antidepressant drugs are suicidal thoughts and ideation.
Considering the physical conditions caused by the psychiatric drugs and the consequent fatalities, it is no wonder that a stigma hangs over mental health services. Furthermore, traditional doctors who practise real medicine don't consider psychiatrists to be real doctors, and when you see the appalling results, you can see why.
Any sensible investor would join the dots and see the problem. Why would anyone invest in an industry that does not produce results, makes situations worse with its so-called "treatments", takes away personal liberties, and then asks for more funding? Psychiatry is one of only a few professions that have to continually advertise failures in order to get more Government funding.
Investing in real medicine, not psychiatry, is the answer. Finding any undiagnosed physical condition manifesting as a so-called mental illness and treating that condition is the answer as it deals with the real cause of the difficulty and the person a chance of recovery. That would be an overhaul that gets real results rather than making life-long patients.
Brian Daniels
Address supplied
Register for free to continue reading
Registration is a free and easy way to support our truly independent journalism
By registering, you will also enjoy limited access to Premium articles, exclusive newsletters, commenting, and virtual events with our leading journalists
Already have an account? sign in
Join our new commenting forum
Join thought-provoking conversations, follow other Independent readers and see their replies