Rail privatisation has failed. It's time to put the brakes on
Please send your letters to letters@independent.co.uk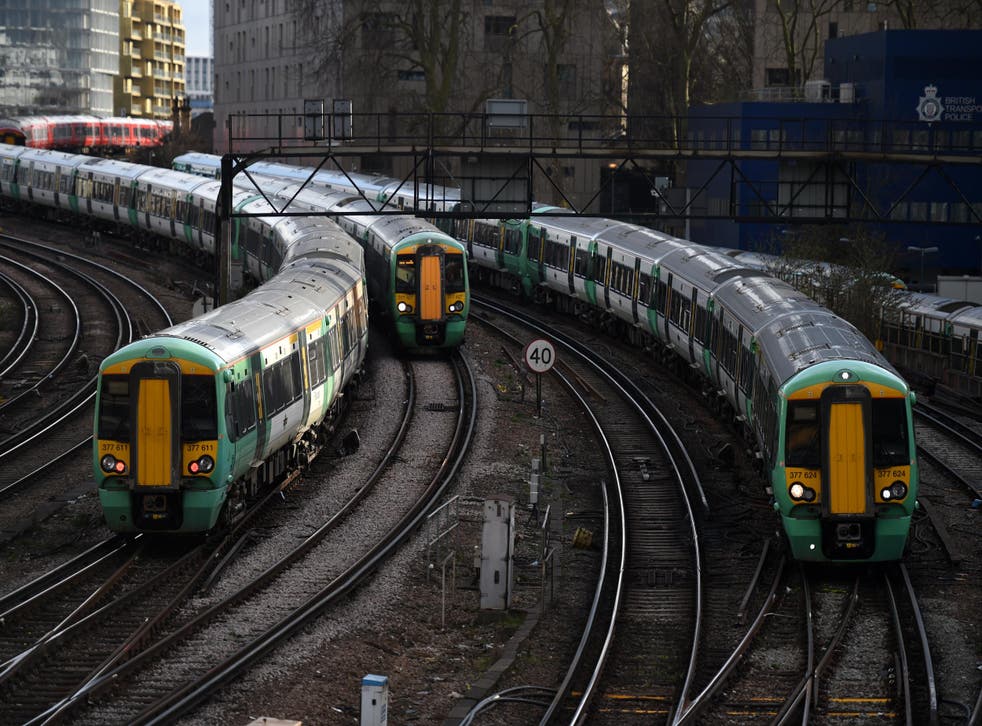 The first working day of 2018 saw average rail ticket prices rise by 3.4 per cent – the largest increase since 2013.
Twenty-five years after the Tories began the process of privatising Britain's rail network, train fares in the UK are the most expensive in Europe, with rail passengers here spending six times more on fare than there. UK railways are slower and more overcrowded than the state-owned rail services of Germany, France, Italy and Spain.
In addition it's a very strange sort of "privatisation" at work here where all but one of the private train operators in the UK receive more in public subsidies than they return in franchise payments. The top five recipients of the rail subsidy got almost £3bn from the taxpayer between 2007 and 2011 allowing them to make profits of £504m – which went to their shareholders.
Rail privatisation has failed. It's time to put the brakes on the gravy train and cut out the grasping privateers.
It's time to run rail as a public service and not for private profit.
Sasha Simic
London N16
Leaving aside the arguments around the merits of nationalisation versus privatisation of our railways, perhaps we should be addressing the reasons why so many people are commuting such large distances into London.
It cannot be a good thing from an eco-point of view nor for family life to be travelling everyday from as far afield, and I suspect further, as Birmingham into London. Still, after we leave Europe and the financial/services sector either goes bust or moves across the channel, the problem will no longer exist, as I suspect a season ticket from Birmingham to Frankfurt or Paris will be out of reach of most.
G Forward
Stirling
London referendum
Surely Eloise Todd (Here's how Brexit can be stopped in 2018 – if that is the will of the people) says: "The local elections in May will be the first test of how Labour's Brexit policy might affect electoral dynamics with an increasingly clued-up electorate."
Every London borough goes to the polls in May 2018. So let's challenge London Labour to campaign explicitly for Remain voters in all 32 London boroughs to vote Labour and against Brexit.
Labour in three boroughs, Southwark, Lambeth and Lewisham, gave a lead a week ago in a letter to Sir Keir Starmer.
We may not be able to rerun the referendum nationally, but we can turn the London elections into a referendum in the most pro-Remain region in Britain.
Labour can embarrass the Tories, outflank the Liberals and weigh the votes at the Town Hall counts. Come on Sadiq Khan – if the Liberals can't do it, surely Labour can.
Chris King
London N3
Mollycoddled
The comments from Johnny Bairstow that we should get behind Moen Ali surely demonstrate what is wrong with some sportsmen and specifically the England cricket team.
In this country there are some really hard-working people who get paid a pittance and if they turn up late one day they might be sacked. Some people get no second chances. Ali has had an awful series; he does not warrant his place in the side. The selectors have recently given a number of cricketers several chances: you can argue that Cook did not deserve his place in this team and Joe Root on current form does not warrant his place.
These cricketers are extremely well rewarded for playing for England, the real world is not so forgiving to ordinary working people, why do they think that they are so hard done by when they are criticised? It suggests they are mollycoddled. I am sure a poorly paid cleaner would be more than happy to be publicly criticised for a few off days for my poor performance if I got the tens of thousands of pounds too!
N Smith
West Sussex
Misplaced optimism
Sean O'Grady manages a tentative optimism about Brexit in his thoughtful piece. He touches, in passing, on Ireland's relationship with the thus-far United Kingdom, but he says nothing about the border.
To be able to feel even remotely optimistic about a positive Brexit outcome, he must have some solution in mind to what seems a wholly intractable and ultimately insoluble problem.
Could he please tell us what that solution is so that we can share at least a small fraction of his optimism?
D Maughan Brown
York
Join our new commenting forum
Join thought-provoking conversations, follow other Independent readers and see their replies