If I was chancellor for the day, this is what I would announce in the Budget
Please send your letters to letters@independent.co.uk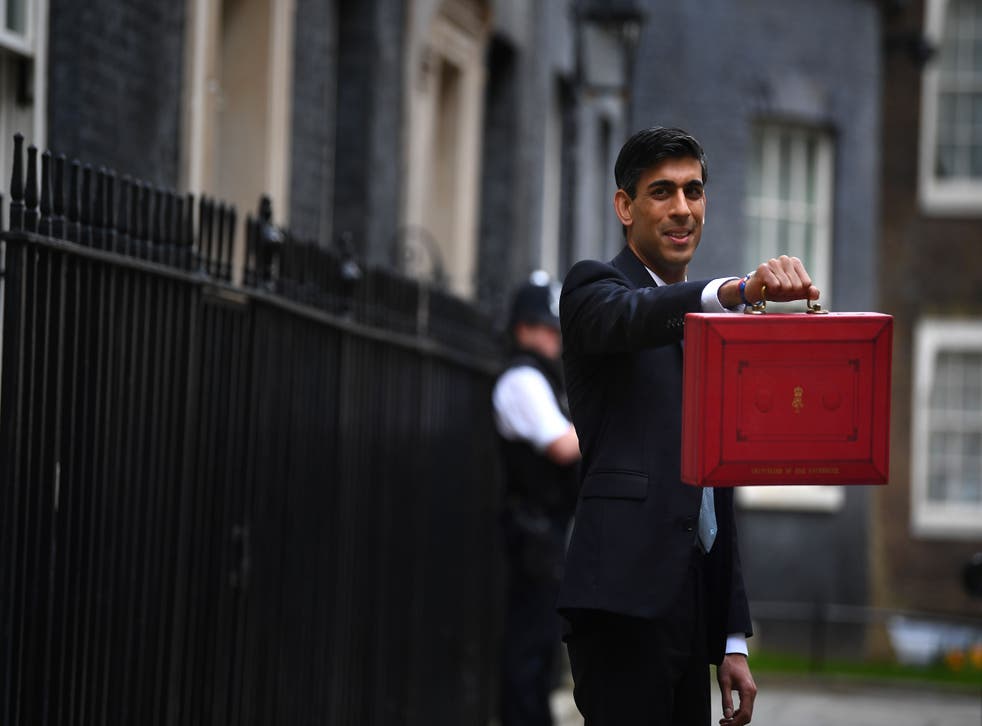 Yet another year when pre-Budget leaks seem to come thick and fast. It appears that the chancellor is going to hand grants to high street shops and pubs to prevent them disappearing. But what they all need is long-term, radical change – rebalancing the tax system in order to preserve them into the future. Now the government doesn't have the excuse that, "the EU won't let us do it".
Rishi Sunak should:
1. Reduce business rates on physical shops, pubs and restaurants (except takeaway only) dramatically
2. Increase dramatically business rates on warehouses used by internet-only companies
3. Reduce tax on draught beer, lager and cider (sold in reusable containers), especially of the lower alcohol type, say up to 3.5 per cent
4. Increase alcohol tax on off licence sales
5. Introduce a bottle deposit scheme on all drinks whether in glass, metal, plastic or paper
6. Tax all other packaging
There, that would get people socialising, clean our streets, save councils money and dramatically improve the country's recycling record.
Alan Hutchinson
Address supplied
Sneak leaks
Every day, prior to major speeches in the House of Commons, we are given authoritative insights into what is to come in media interviews by ministers on their daily rounds. When it comes to the actual event there's little to learn that is new. Most recently it's been the prime minister's roadmap, and I expect no real surprises in the Budget, either.
The purpose of these untimely news releases would seem to be a PR exercise by the No 10 press machine. Should not the speaker be intervening to ensure that the House hears it first?
Richard Lloyd
Dunfermline
Don't abandon Yemen
The UK slashing its aid pledge to war-torn Yemen for a second time has condemned thousands of children to starvation.
Yemen's brutal conflict has seen 4 million people displaced and thousands of children killed by famine and disease. The sick irony of all this being that, while the UK is cutting aid, it is continuing to license the sale of billions of pounds of arms to Saudi Arabia. It is also the lead country at the UN, the so-called "penholder", on Yemen. The ring-fenced aid is less than half the £200m originally pledged in 2019, which was slashed to £160m and now stands at £87m.
Cutting aid by more than half for the greatest humanitarian crisis on earth, in the middle of a pandemic, is disgraceful. It also breaks a key pledge in the Tory manifesto that it would maintain overseas aid at 0.7 per cent of national income, which has now been slashed to 0.5 per cent.
The UK is, in fact, the only G7 country to cut aid this year, while other G7 countries are ramping up their humanitarian support.
Despite all the talk of global Britain, it is abandoning its moral obligations, pulling us further away from our allies and stepping back, just as the US steps up.
Alex Orr
Edinburgh
Vaccine passport destination is discrimination
The use of a vaccine passport would be extraordinarily discriminatory against a large and varied number of people who cannot, or do not want to, for various reasons, have a vaccine.
It is, after all, not mandatory and therefore it would be illegal to create a scenario whereby those who have had a vaccine are somehow given preferential treatment in terms of easier access to workplaces, travel or entertainment venues.
The World Health Organisation has also warned other countries, including Greece, which erroneously sees a vaccine passport as a way to open to tourism, that vaccine requirements for travel would be in breach of legally binding international health rules. There will inevitably be a backlash against those countries pushing for vaccine passports for travel, particularly with younger people and those of ethnic backgrounds who are concerned about the vaccine.
The push for vaccine passports must therefore be nipped in the bud. It is the most draconian and dangerous aspect to civil liberties of this pandemic, which would make the idea of carrying national ID cards an elementary walk in the park by comparison. It is anathema to most people and the prime minister needs to have the courage of his convictions and say no to such a dangerous idea.
Themis Avraamides
London SW7
Lib Dem credit where it's due
John Barstow (Letters, 2 March) is right to suggest that the increase in personal tax allowance should be maintained. He is, however, wrong to attribute it to David Cameron. It was a Liberal Democrat policy introduced – against some Tory opposition – in the Coalition Agreement of 2010.
Simon Gamble
Brighton
Join our new commenting forum
Join thought-provoking conversations, follow other Independent readers and see their replies