Those endorsing Owen Smith are ruining his chances of beating Jeremy Corbyn
Send your letters in to letters@independent.co.uk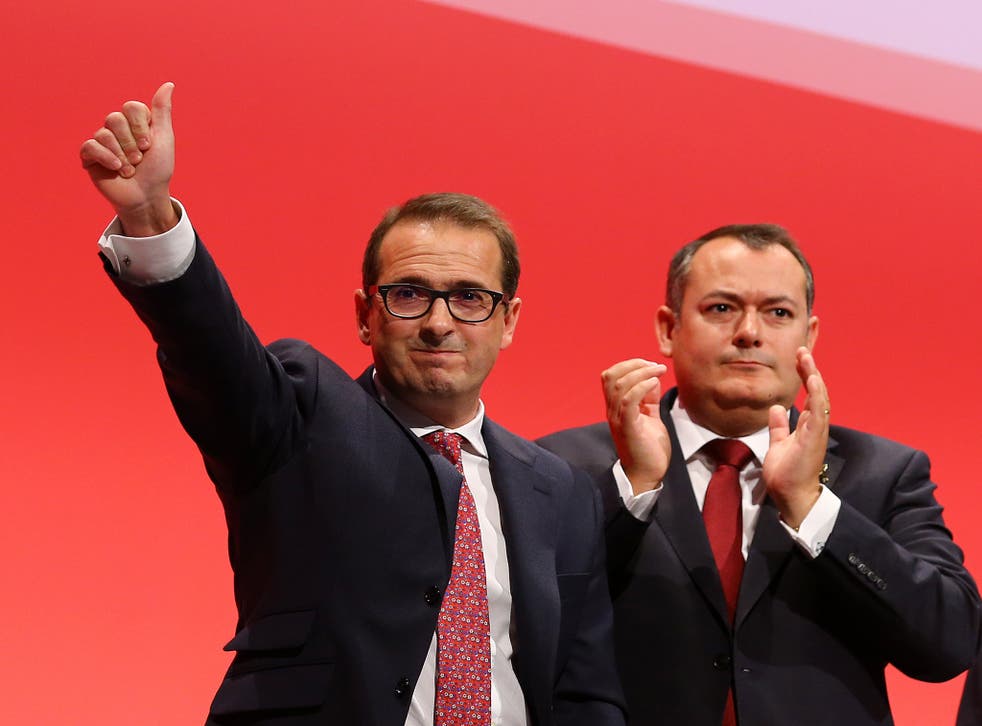 Owen Smith's attempt to present himself as a radical alternative to Jeremy Corbyn has effectively been torpedoed by Alastair Campbell's recent endorsement.
Perhaps Mr Smith might now wish to reconsider the cost of using dangerous deterrents which time has rendered obsolete?
Andy Halewood
Bradford on Avon
Delaying Article 50 is a smart move
Theresa May's carefully calculated move to delay Brexit until 2017 was the right decision. For a start, the workforce of lawyers and civil servants needed to carry out Brexit is lacking. The decision was also a way for May to signal to Jean Claude Juncker that she is no pushover. But there are other reasons why delaying Brexit will be hugely beneficial for the UK.
Francois Hollande has said that Britain will not be able to receive full access to the single market without accepting the free movement of people. Do not be fooled though. The reality is that both Hollande and Merkel have elections coming up. If Merkel and Hollande cannot guarantee jobs which rely on trade with the UK, then they and their parties will be in for the sack.
So there may be slight uncertainty in the air here, but there is too elsewhere in Europe. A compromise is therefore needed. And the longer May leaves it, the more pressurised Merkel and Hollande will be. This will transform into desperation – ideal for us. Then maybe we will not have to accept the free movement of people with access to the single market.
Lewis Chinchen
Sheffield
We can't have a referendum on everything
There are still a few people calling for another referendum on our EU membership and indeed one on Scotland's membership of the UK. What, short of the passage of a quarter of a century and the emergence of new generation and a new situation, could render this acceptable?
We most emphatically need to avoid falling into such models as "we'll keep on asking you until you get the answer right" and "democracy is like a tram – you ride it until it takes you where you want to go and then get off". What was designed, sold and accepted as a definitive one-off test cannot credibly be replaced by another one-off test; only one referendum on a given question can be a one-off. To try repeating it would be either to grant a privileged position to the losing side or to usher in serial referenda in perpetuity.
The latter option is perhaps slightly less daunting if we consider holding our EU referenda on general election days and our Scottish independence referenda on Scottish parliamentary election days, so we are not subjected to additional periods of campaigning for these. To build in a degree of stability we might want to require two consecutive wins to produce a change.
One might argue that such a system would be preferable to one in which our referendum decisions are considered subordinate to the mandate of a new government gained through a general election. Such elections can be won on 37 per cent of a smaller turnout, giving greater potential for flip-flopping in and out. On either approach, an early attempt at re-entry is liable only to mire us in prolonged indecision.
John Riseley
Harrogate
Donald Trump should show more respect to refugees
I listened to Donald Trump's speech attentively. He had nothing to offer except hate and division. He is using people's anger and frustration for the advancement of his cause and political gain.
Other than the fear of the unknown which includes the immigrant, Muslims, Mexicans – he has little to offer.
How could he expect to bring people together by such politics of divisiveness? How could he hope to gain the trust of the people – all people – including black people, Latinos and Muslims – all of whom he has portrayed as villains? He could have been a charismatic leader in South Africa during apartheid to represent the white people.
I can't stand to see politicians smearing refugees and portraying them as invaders whose mission is to take over the land. These refugees haven't done anything wrong. Neither did they cause any harm to the US. They have become the victims of our own invasions of their countries and exploiting their resources. These immigrants who are being portrayed as villains by Mr Trump are noble people who were outstanding citizens in their countries until we have created death and destruction to their countries
Mr Trump should also not forget that immigrants don't have colour or creed. Things could turn around especially in our volatile world where in a matter of seconds things could take a dramatic turn and he and his children could end up refugees one day.
Immigrants are not to blame for the mishaps that are happening in the US and around the world. He should not forget that during the Second World War his forefathers were probably immigrants.
Mr Trump ought to humble himself and avoid looking down at the people. To win the hearts and minds of people isn't the same as winning big in the market.
Abubakar Kasim
Toronto
Mistakes need to be admitted, not ignored
We all make mistakes, and feel a discomfort or embarrassment when we have to admit to them and change course.
But when extremely arrogant, powerful or self-righteous people make mistakes, they will often choose a less courageous, more selfish approach, regardless of the long-term consequences for everyone else. They will deny their initial mistake; and they will justify the validity of that ongoing denial by continuing to make the same mistake, often on an even grander scale.
The only thing that saves them is that the increasingly harmful effects, or the losses, caused by their mistake will often become the new norm – the older generation will learn to accept the loss, and the younger generation will have no awareness of it.
This is why it is so difficult to have an open and frank debate on immigration policy, why the Government lacks the will to change it, and why the people of France have been told to accept terrorism as a part of life.
Mark Dyer
Rockingham, Australia
What about constituencies?
Gavin Lewis (Letters, 21 July) says that the fundamental job of a Labour MP is "to serve and represent the Labour Party's members and supporters". Surely MPs are supposed to serve and represent all those who live in their constituencies?
John Wilkin
Bury St Edmunds
Register for free to continue reading
Registration is a free and easy way to support our truly independent journalism
By registering, you will also enjoy limited access to Premium articles, exclusive newsletters, commenting, and virtual events with our leading journalists
Already have an account? sign in
Register for free to continue reading
Registration is a free and easy way to support our truly independent journalism
By registering, you will also enjoy limited access to Premium articles, exclusive newsletters, commenting, and virtual events with our leading journalists
Already have an account? sign in
Join our new commenting forum
Join thought-provoking conversations, follow other Independent readers and see their replies