Time to embrace the Commonwealth and give Usain Bolt a knighthood
Please send your letters to letters@independent.co.uk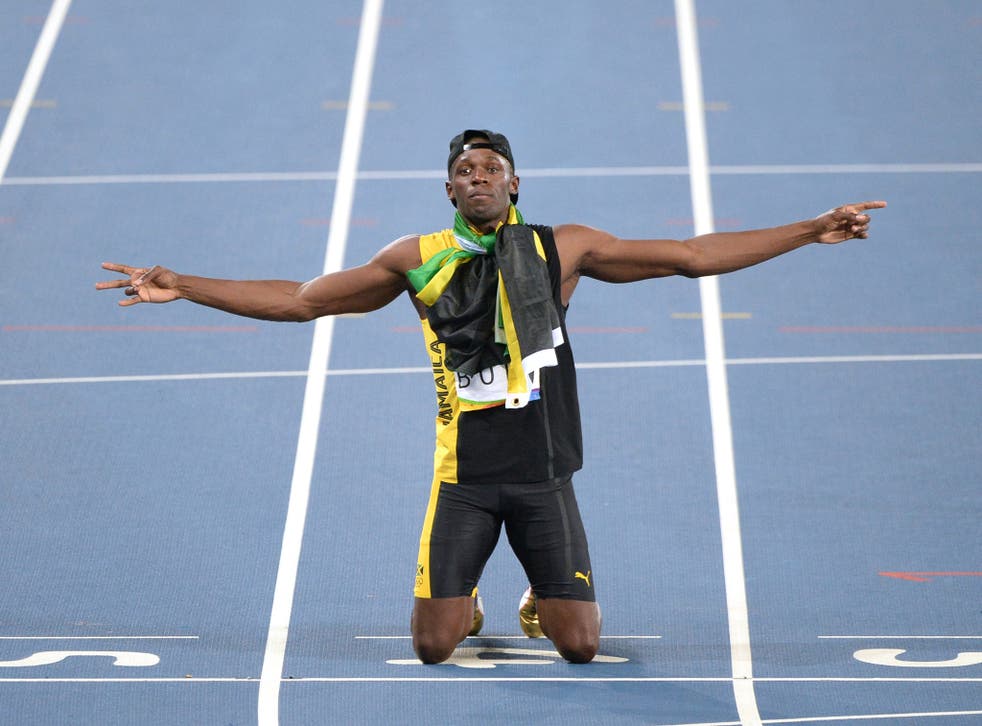 Following our exit from Europe and our return to embracing the Commonwealth, surely we should consider giving Usain Bolt, a Commonwealth citizen, a knighthood for his fantastic performance in the Rio Olympics. It might redress the validity of honours after Cameron's resignation list.
Andrew Cleverley
NorthumberlandPleas
Kevin Garside writes a mean article on Usain Bolt (Bolt bids to rival Pele and Ali, but why stop there? The Independent, 20th August).
However, his piece – although slightly breathless, as if he is trying to outdo Bolt in print – insults my intelligence and ruins his own statue-conceit, by adding "host to Christ the Redeemer"; is there anyone alive who does not now know where Christ the Redeemer is?
Moreover, the word sapien does not exist; perhaps you assume that sapiens is a plural? Might I suggest homo sapiens boltus?
Terry Walsh
Loughborough
Scourge of democratic society
I read of the attempts to save the Labour Party! Why? It is time if we want to save our democracy we got rid of the scourge that is consensus in politics that has a worse effect than coalition government on the rights of voters to hold politicians to account.
Of course I mean the end of Tory and Labour parties who between them concocted consensus politics – the end product is you get the same major policies no matter who you vote for; hence, since we joined the EU both parties were for remaining in EU, it took a bitterly contested referendum for the public's right to decide such a contentious issue to resolve something our consensus politics denied proper debate on for so long.
We urgently need a party for EU-ism; this modern scourge of a democratic society.
Eric Davidson
Banffshire
Well done to GB's Hockey team
Thirty-one years ago in 1985 I watched on television Dennis Taylor become the world snooker champion after beating Steve Davis in the famous "black ball" final frame. On 19 August 2016 in the Rio Olympics I watched on television Great Britain's women's hockey team win a similar underdog victory against the majestic Netherlands team. A gold medal victory on GB's fifth ball in the dramatic penalty shoot-out after belatedly managing to draw 3-3 in the match.
So exciting, so exhilarating, so nail-biting! It's a good job for my health that these amazing events occur so seldom!
David Ashton
Kent
Grammar schools are not the door to social mobility
I want to briefly set out why I am so strongly opposed to Theresa May's plans to lift Tony Blair's ban on grammar schools.
From all sides of the political spectrum, the evidence is overwhelming that grammar schools have always failed young people from working class backgrounds.
The independent Institute for Fiscal Studies has shown that those eligible for free school meals, or living in poorer neighbourhoods, are far less likely to get into a grammar school than their better-off peers.
In fact, private school pupils are two and a half times more likely to pass the 11-plus than state educated pupils. The pass rate for those on free school meals is just one eighth of the average.
Grammar schools are not the door to social mobility. They are closed in the face of the poorest.
The evidence is overwhelming that students lose out in selective areas, especially those from working class backgrounds.
It would be a betrayal of Labour's supporters, and of our shared belief in equality of opportunity, social mobility, and the aspiration of all young people, to do anything other than oppose the return of grammar schools in every way I can.
Angela Rayner, MP for Ashton-under-Lyne
Shadow Secretary of State for Education, Women and Equalities
There is an alternative to university
The most careers guidance the majority of children get is from teachers and parents. Teachers have usually been to university and see that as the pinnacle of achievement of the education system and if their pupils have the ability, they will encourage them to go to university.
My daughter did not want to go to university but chose to apply for a place at a fashion retail academy. Her teachers didn't seem to accept that anything other than university was worth considering and certainly didn't provide any guidance or alternatives.
We need to persuade teachers, school leaders and parents that apprenticeships and other alternatives to university are valuable and that the jobs they lead to are desirable in their own right.
I feel that we are letting our youngsters down by not ensuring that they are able and willing to do the jobs that will ensure their future success and happiness. My daughter has progressed in her chosen field and is happy in her current job working for an online fashion retailer.
Sally Kelly
Address withheld
What happens in London today will happen to the rest of the UK tomorrow
It's said that what happens in America today will happen in the UK tomorrow. Similarly, what happens In London today will happen in other UK cities tomorrow. Some people can't wait for the Northern Powerhouse to get up to speed and cash in on the opportunities, business and people it will attract.
In London, private landlords are turning two-bedroom semis into six-unit bedsits. How nice for the hard working and up-to-the-neck in debt homeowners. Last year private landlords were paid £9.3bn of tax payers' money in rent – a 50% increase on the previous year.
Also, the opening of the night tube, expected to attract 200,000 passengers over a weekend, might be financially beneficial for London's nightlife industry but what about the earnings of taxi drivers? Are they not renters or home owners? Will they be able to pay their mortgage, or get repossessed (to be bought by property investors) and end up on benefit, in what charities have described as rented prison cells? Also, will emergency or security services be able to cope?
Allan Ramsay
Radcliffe
Errors and Omissions
In John Rentoul's weekly round-up of errors and omissions he mentions "spell it wrongly" under the heading "Hold your breath". Should it not be "spell it incorrectly"?
Hamid Nawaz-Khan
Address withheld
Register for free to continue reading
Registration is a free and easy way to support our truly independent journalism
By registering, you will also enjoy limited access to Premium articles, exclusive newsletters, commenting, and virtual events with our leading journalists
Already have an account? sign in
Register for free to continue reading
Registration is a free and easy way to support our truly independent journalism
By registering, you will also enjoy limited access to Premium articles, exclusive newsletters, commenting, and virtual events with our leading journalists
Already have an account? sign in
Join our new commenting forum
Join thought-provoking conversations, follow other Independent readers and see their replies