We are looking into a future where Turkey is an enemy, not an ally
Please send your letters to letters@independent.co.uk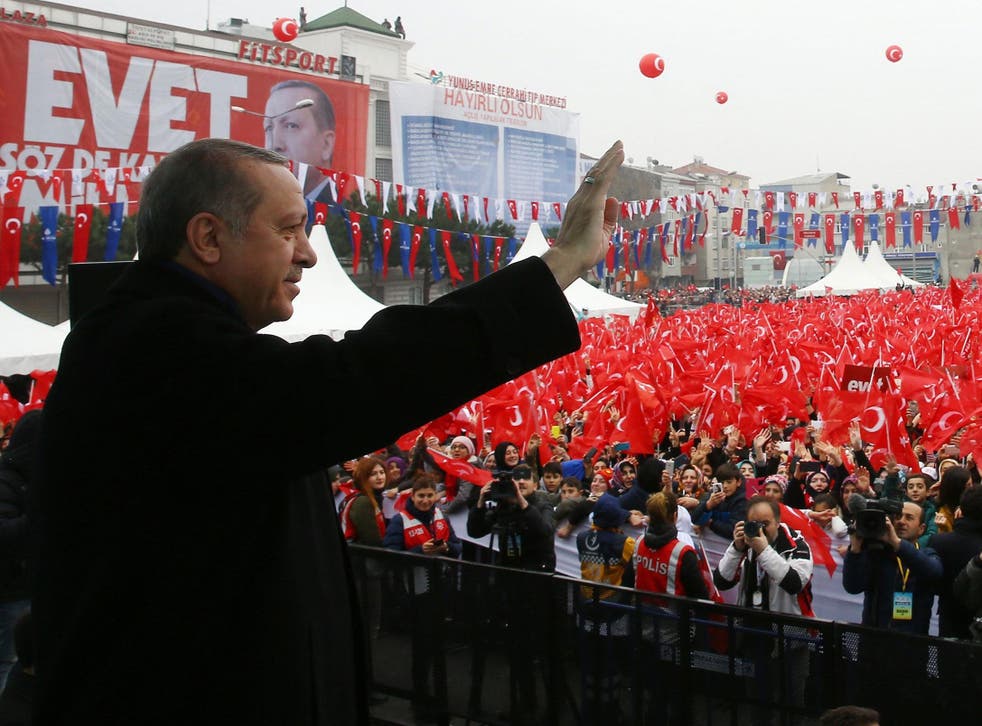 The unprecedented events in Europe, and especially the Netherlands, relating to the Turkish referendum represent a chilling glimpse of the future in which the Turkish republic is our opponent rather than our Nato ally.
That these confrontations were engineered by President Erdogan's government, which is courting the ultra-nationalist vote to help win a constitutional referendum, can little be doubted.
This referendum to convert Turkey from a parliamentary to a presidential form of government is alarming as should it pass it will in effect be President Erdogan's enabling act. Given his behaviour after last year's coup attempt, when thousands were arrested and reportedly 100,000 civil servants dismissed, it is clear that this is a man who will push the limits of these further powers to the maximum.
Furthermore, these events tell us that Erdogan views his country's European Nato allies with contempt and does not expect us to remain Turkey's allies.
After the referendum, the President will turn to the EU's failure to honour the commitment made to visa-free travel for Turkish citizens. The inevitable result will be that Turkey reopens its western borders for migrants and re-ignites the migrant crisis.
We need to wake up to the fact that under President Erdogan Turkey is no longer our ally, but a key opponent.
Otto Inglis Edinburgh
The patriotic nationalist
Hamish McRae makes no distinction between patriotism and nationalism (The EU could collapse completely if we continue to vilify nationalism, 11 March). The former is perfectly compatible with the principle of international cooperation within the EU, the latter is totally opposed to it. You can be a patriot and a nationalist, but you can't be a patriot and an internationalist!
Johan Hensens Ancrum
A broken promise
There has been loud condemnation this week on the Government wanting to renege on two election manifesto promises: National Insurance for self-employed and building 200,000 starter homes. But the reaction to the Government's plans to break their manifesto pledge on "protecting Britain's interests within the Single Market" seems to be inaudible.
Ian Quayle Herefordshire
Another referendum
A few weeks ago I was considering penning a letter to The Independent along the lines that the only good thing to come out of the Brexit debacle is that in the future, no sane political leader will ever again contemplate employing a referendum as a national political strategy. However on further reflection, I wonder whether a referendum might be a possible way of addressing the difficulties facing the NHS.
The proposition of the referendum could be framed so that a 'yes' vote would indicate support for a NHS that was state, not privately run, was financed out of general (possibly hypothecated) taxation and spending on it would be pitched at a percentage of GDP, broadly in line with the other major developed countries.
There would be several benefits from this process. First, a 'yes' vote would be a tacit acknowledgement that voters accepted they would be expected to pay higher taxes for their health care. In the past many citizens seem to have been in favour of increased spending on the NHS, as long as someone else pays. Explaining the individual financial implications for all but the very poor, would be an important educational process.
At the same time a "yes" majority would mean that all political parties would have a mandate to increase taxation. Health spending would cease to be such a contentious party political issue.
Second, the referendum would force would be privatisers of the NHS out of the woodwork. They would have to show their true colours or risk being labelled as total hypocrites. Moreover a properly funded NHS would remove the excuse for privatisation.
Third, a government that tried to renege on the spending commitment would no doubt be vilified by the right-wing press as "enemies of the peoples' will" and held to account.
Finally, a referendum on the future of the NHS, with hopefully a huge "yes" vote, would surely mean the coming together of both sides and some sense of national unity around a common cause.
T Harris Lincolnshire
Register for free to continue reading
Registration is a free and easy way to support our truly independent journalism
By registering, you will also enjoy limited access to Premium articles, exclusive newsletters, commenting, and virtual events with our leading journalists
Already have an account? sign in
Join our new commenting forum
Join thought-provoking conversations, follow other Independent readers and see their replies