We need a government-funded alternative to Hinkley Point
Send your letters in to letters@independent.co.uk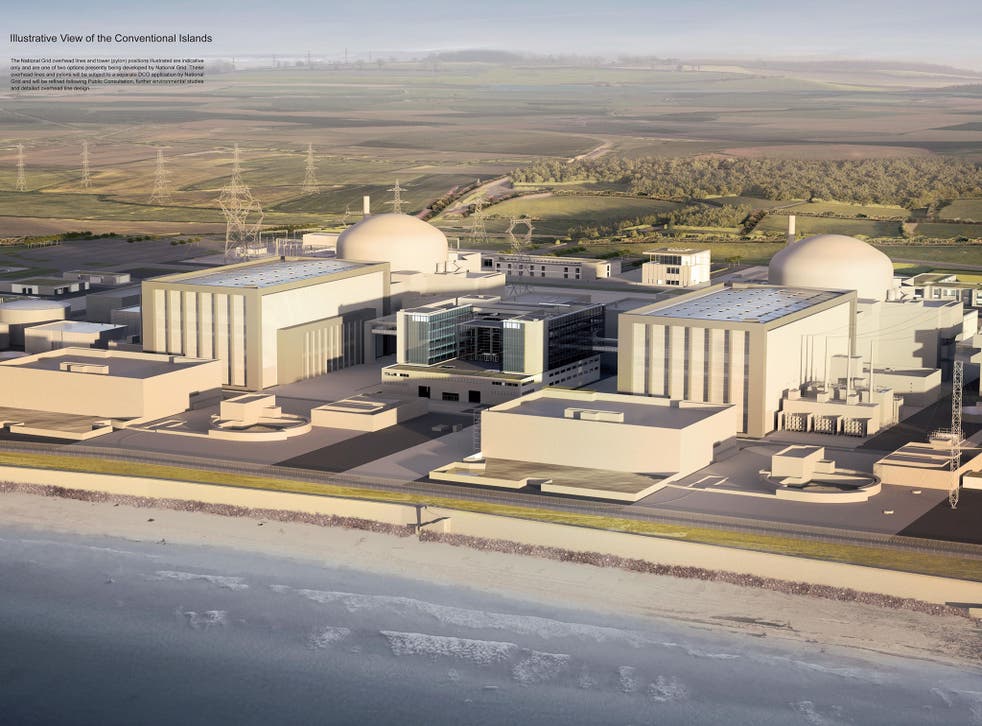 Fossil fuels. Polluting, dirty and soon to be scarce substances. They have been edged out into the gloomy shadows as Britain starts to adopt a new approach to energy. There is one problem though. Which energy source should the consumer put their hard-earned money into paying for?
For me, nuclear energy is the answer. Hinkley Point C on the other hand, is not. The idea of French and Chinese influence over vital British infrastructure concerns me. It is imperative that we have full control. Our respective countries have varying interests which may clash at some point. And if anything, Brexit has made that prospect more likely.
Britain needs nuclear energy but it needs smaller projects, run by British energy companies (funded by the government), which are spread out over the country. Thousands of jobs will be created evenly throughout the UK and prices for consumers are likely to be less than what they would be with Hinkley due to the cost of these individual projects being a lot smaller. Most importantly though, the government would be in control.
Lewis Chinchen
Sheffield
Brexit has provided us with opportunities
I strongly disagree with Paul Warren (Letters 31st July - Brexit doesn't make me proud to be British) when he writes that "as a true Englishman I am diminished" by the Referendum result. Well, I'd claim to be as true an Englishman as he but whilst I too voted Remain and was in shock for days after the result I've since been greatly heartened by the political developments that have followed and the rapid installation of a fresh administration.
Moreover, in my small way I'm personally aware of a new, optimistic mood amongst many people who want to get on with things and quickly be free of the inhibiting bureaucracy that they perceive as characterising daily life and which, in their view, always puts Britain's interests last. For many the Leave result is as if a cloud has lifted to reveal blue skies. They have rediscovered their national pride and such optimism is infectious and probably worth millions in increased productivity from a more positive attitude.
Inevitably, for years, there will tricky business and political realignments. People who were happy in the labyrinth of EU procedures and prospered from EU grants or regulations will loudly bleat their despair. Others will just seize upon the opportunities that change always brings.
But here's the thing. We are leaving the EU, not Europe. Do we really need to negotiate our exit with that great circumlocutory office in Brussels? Why should the UK, as an independent country, bother to talk tediously with a professional bureaucracy when we could speak directly to other national governments and the interests of their citizens? If countries want to sell to our 64 million people and benefit from our tourist money then surely they'd be better talking directly to us. EU bypass anyone?
Alan Gwyer
Basingstoke
I have lost my pride in Britain
Paul Warren's letter (30th July) perfectly describes my feelings post Brexit. Everything that made me proud to be British seems to have been taken away but there is nowhere to escape to.
Valerie Morgan
Leigh Sea
We need to distribute the power in this country more equally
Jasdeep Bhalla (Voices, 30 July) must be right to identify geographical inequalities as the source of our current woes, and the redistribution of wealth and power away from London as the solution.
Nothing less than the re-imagining of England is required, game-changing transformation is already afoot in the rest of the UK. As Jasdeep suggests, Parliament out of London, HS2 North to South, and Enterprise Zones are excellent ways forward.
But how to break through the political inertia, and give the debate some traction? One hope is the chaotic Labour Party. Owen Smith is likely to lose the leadership contest and the greater part of the Parliamentary group will probably split from Mr Corbyn and his new grassroots, who have turned themselves into a seminar without end.
At that moment the breakaway MPs are free to become the politicians they ought to be. Free to think the thoughts that should have been thought long ago.
Owen Smith is already bringing forward courageous ideas. In due course he and his colleagues may be open to even more radical ones. Jasdeep should stand ready to bend their ears, and the ears of their advisers and constituents!
John Gemmell
Birmingham
The Government has decimated our core industries
There are times when I really despair when considering past actions of the governments of this country as one by one they have sold, or decimated, the industries that made us great.
Thinking back to my time as a young boy we had great industries that built ocean liners, cars, locomotives, produced steel that manufactured products that put Sheffield on the world map and led the world in nuclear power. Today, as a French Minister said recently, "The British build nothing".
The Government is closing all coal power stations because of global warming, while the Chinese are building one new one every week. One way and another the government has devastated one of the best railway systems in the world. The result of their past actions are obvious to all, especially the commuters in the south-east.
A once thriving film industry no longer exists as a result of government actions. While other countries do all they are able to support their various industries, ours are hindered by crippling tax regulations.
Where are the politicians who care more about the country than their fear of losing their seat at the next election?
What will they do when they have sold what remains of our manufacturing industries? Probably visit the Tower of London and auction the Crown Jewels!
Colin Bower
Sherwood
Fly to avoid the chaos at Dover
In her latest column, Janet Street-Porter informed us that last she did the "smart thing" and took the Eurostar and TGV from Ashford to Turin.
Surely the "smart" thing to do would be spend lot less money and time and fly?
Mark Mullins
Worthing
Register for free to continue reading
Registration is a free and easy way to support our truly independent journalism
By registering, you will also enjoy limited access to Premium articles, exclusive newsletters, commenting, and virtual events with our leading journalists
Already have an account? sign in
Register for free to continue reading
Registration is a free and easy way to support our truly independent journalism
By registering, you will also enjoy limited access to Premium articles, exclusive newsletters, commenting, and virtual events with our leading journalists
Already have an account? sign in
Join our new commenting forum
Join thought-provoking conversations, follow other Independent readers and see their replies