The Government should respect our emergency services and stop cutting their jobs
Please send your letters to letters@independent.co.uk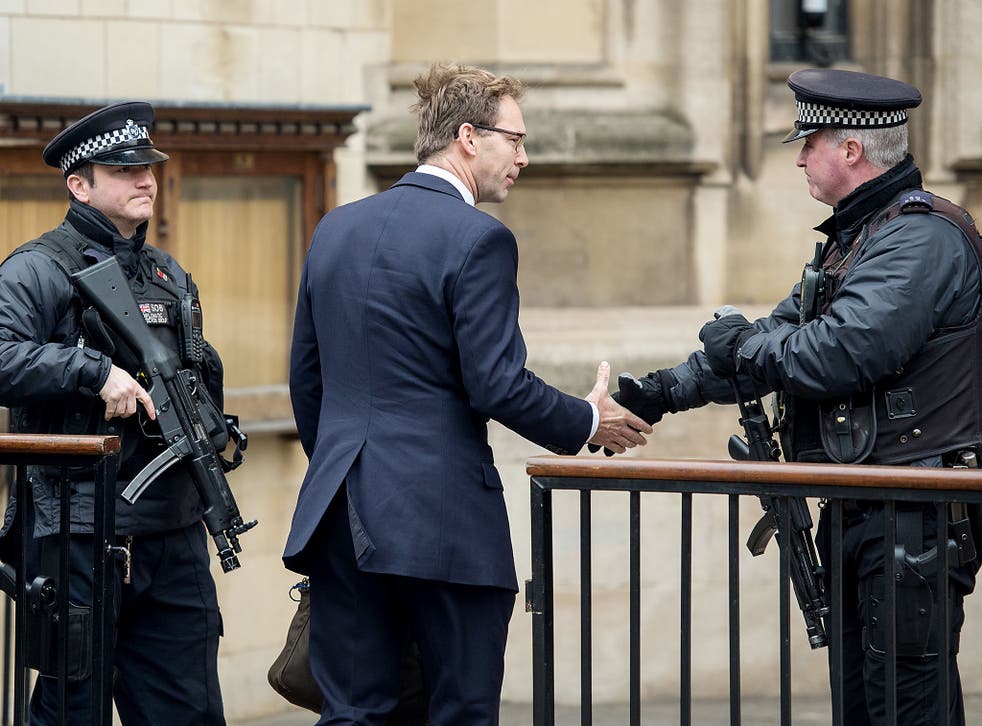 The sight of the Prime Minister and Amber Rudd standing up to praise the emergency services for their wonderful response to Wednesday's terror attack left a very bitter taste in my mouth.
This Government is pursuing relentlessly its policy of cutting the numbers of police officers, medics and fire personnel. HM Inspector of Constabulary, the British Medical Association, Chief Fire Officers Association and many others have been warning for considerable time of the perilous state of our emergency services.
I call on the Government to change its policy with immediate effect.
Glynne Williams
​Walthamstow
Taxation without representation
I am a British taxpaying expat, currently residing in Luxembourg. I am also a European citizen and shortly to be stripped of that right. I have no representation either by referendum vote, or via an MP, and our Government is ignoring millions like me. Certainly "taxation without representation".
I am angry that our Government can so easily take away my secure financial position, my right to living in another European country, and the once promising careers of my children without any consultation with us. The 48 per cent will never accept that the Brexit path in its present form is acceptable or democratic. A bumbling no-plan scenario is not what people voted for and will end in devastation of our country.
That is why I am so disappointed not to be at the National March against Brexit today. Sadly, living off a British pension, I simply cannot afford the airfare and accommodation costs to get to London.
Susan Finch
Luxembourg
The EU remains as relevant as ever
Cities across Europe, from Berlin to Bucharest, from Rome to Paris and including Edinburgh, will march today (Saturday 25 March) to show their support for the European Union.
This day marks the 60th anniversary of the creation of the European Economic Community (EEC), now the European Union, with the signing of the Treaties of Rome. The leaders of the EU's 27 will celebrate in Rome, the UK not represented as it heads towards the Brexit cliff.
The Treaties of Rome are the landmark agreements which founded the European Union and paved the way towards the creation of a European single market, underpinned by democracy and the rule of law, and a continent-wide set of citizens' rights.
There are considerable challenges facing the EU. It is however well worth celebrating an unprecedented 60 years of peace, prosperity and co-operation in Europe.
The EU remains as relevant as ever. This voluntary union of independent countries allows trade free of any barrier with our neighbours, in the wealthiest and largest trading bloc in the world, and with some 50 other countries.
It means we can tackle global challenges like cyber-crime and climate change together – the only way such problems can be defeated. We enjoy rights and opportunities as EU citizens, whether it is the right to study, work or retire across our continent, to take part in collaborative research projects, or to access EU funds for investment in Scotland.
On Sunday the clocks go forward an hour, then they go back 60 years with the triggering of Article 50 on Wednesday, initiating the UK's withdrawal from the EU…
Alex Orr – Board Member, European Movement in Scotland
Edinburgh
Terrorism is a global issue but we can't let it divide us
I would like to offer my deep condolences to the United Kingdom Government, to its people and to the families and friends of the victims who have been killed or injured by terrorists in London UK.
The terrorist who attacked London is similar to those who attacked the Islamic centre in Quebec in Canada recently.
Terrorists may have different religious beliefs, or have different colours, or different social backgrounds, but they have one thing in common, which is to terrorise people, to create suspicion and hate amongst peaceful people and divide us into sectarians if they able to do so. Therefore, we should not make them winners – rather together we must defeat them by standing united and show strong solidarity with each other.
For instance, I am sending this strong message against any form of terror and terrorism from Somalia and show my unequivocal support to the people of United Kingdom while I live where terrorists kill innocent people almost every day at their houses, place of worships, government offices and streets.
The British Prime Minister is right when she said: "The terrorist chose to strike at the heart of our capital city, where people of all nationalities, religions and cultures come together to celebrate the values of liberty, democracy and freedom of speech."
Aden Esse – Founder and Executive Director of the Somali Relief Network of North America
It's time to stop concentrating on the Westminster attacker and look to the heroes within our society
Continuing to refer to Adrian Elms by his adopted name respects his wishes – he deserves no such respect. It reaffirms his adoption and utter betrayal of a faith that is being tainted globally through association with terror. Adrian murdered and maimed, he is nothing.
Ordinary people rushed to help victims, these are the people who deserve recognition for their courage and humanity. Tobias Ellwood, Dr Jeeves Wijesuriya, Tony Davis, Mike Crofts and the nameless others photographed holding hands and reassuring the injured, staying when others ran away. These are extraordinary people, the heroes who represent the very best of us.
Denise Day
​Brockham
I am really sick to death hearing about "the Westminster attacker". He should be given no publicity. I have absolutely no interest in knowing anything whatsoever about him. I have no interest in the story of any part of his life. He should simply be forgotten.
Alastair MacGregor
Hamilton
Register for free to continue reading
Registration is a free and easy way to support our truly independent journalism
By registering, you will also enjoy limited access to Premium articles, exclusive newsletters, commenting, and virtual events with our leading journalists
Already have an account? sign in
Register for free to continue reading
Registration is a free and easy way to support our truly independent journalism
By registering, you will also enjoy limited access to Premium articles, exclusive newsletters, commenting, and virtual events with our leading journalists
Already have an account? sign in
Join our new commenting forum
Join thought-provoking conversations, follow other Independent readers and see their replies