The way we talk about trans people today reminds me of Margaret Thatcher's vicious Section 28
It took 15 years and a Labour government to finally see Thatcher's cruel clause taken off the statute books. But this victory belongs to the LGBT+ activists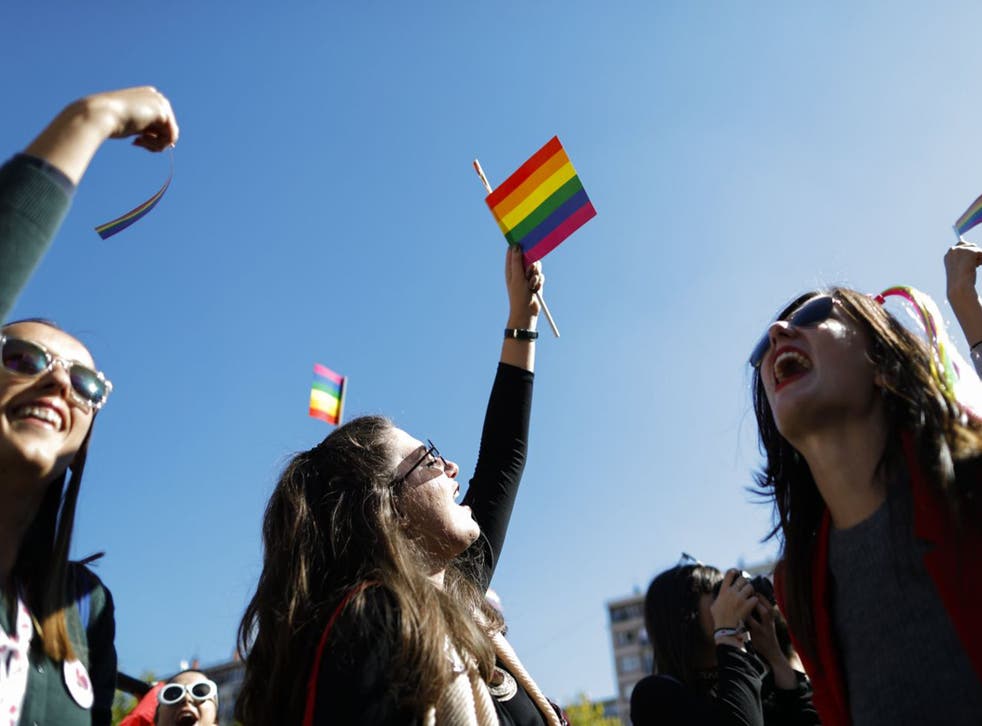 Today is the first day of LGBT+ History Month, a time to celebrate how far we've come in the struggle for equality, and reflect on what more we must do to end discrimination and prejudice.
Section 28 is a prime example. 2018 marks 30 years since Margaret Thatcher's government introduced Section 28, one of its most abominable policies. As a part of the Local Government Act, this Section was designed to prevent local authorities and schools from the so-called promotion of LGBT+ issues.
This vicious clause was introduced at the height of the HIV/Aids epidemic, when it was incumbent upon the government to spread lifesaving information.
The countries where it's illegal to be LGBT
Instead, a hateful scare campaign was used to justify the clause, which whipped up fears about children being brainwashed at school and the country's morals being corrupted.
For example, Margaret Thatcher said "children who need to be taught to respect traditional moral values are being taught that they have an inalienable right to be gay". Theresa May, at the time a local councillor, also defended it, saying "most parents want the comfort of knowing Section 28 is there".
It took 15 years and a Labour government to finally see Section 28 taken off the statute books. But this victory belongs to the LGBT+ activists who campaigned for so many years, fighting for change from the ground up.
Now, Section 28 may be gone, but LGBT+ pupils are still suffering the consequences of bigotry. Just this week research suggested there has been a 141 per cent rise in homophobic hate crimes in or outside schools over the last year while transphobic incidents have gone up by 167 per cent. These figures only represent incidents so serious that they were reported to police and flagged by officers; it's the tip of the iceberg.
I've met many lesbian, gay and trans activists who've told me what they face, sometimes even within the school gates: hate crime, fear of discrimination, physical and verbal abuse, domestic violence and homelessness.
Thousands march against Donald Trump in LGBT rights parade

Show all 8
After reading Stonewall's "School Report" last year, I was shocked to learn that 64 per cent of trans pupils are bullied at school, 84 per cent have self-harmed and, tragically, two in five have tried to take their own life. Providing the right support for these young people could literally be a matter of life or death.
Hyperbole in the media doesn't help either; wildly misinterpreting what it is to be trans, while erasing the ills which trans people endure, reminds me of the prejudiced behaviour I saw growing up. It is striking how much of the language used about trans issues today echoes the language used to defend Section 28 decades ago.
We clearly have a great deal more to do to root this prejudice out of our society.
This must begin with education. The next Labour government will ensure all teachers are properly trained on issues young LGBT+ people face, including how to tackle homophobic, biphobic and transphobic bullying.
We will also ensure health and social care workers understand the specific needs of LGBT+ patients and service users.
We will make 8,000 additional homes available to rough sleepers and work to ensure young people who become estranged from their families have access to the support they need.
We are also calling on the Government to reform the Gender Recognition Act and the Equality Act 2010 to change the protected characteristic of "gender reassignment" to "gender identity" to provide proper protection for trans people. If the Conservatives fail to act, Labour will make it law once we're in government. And we will further strengthen legal protections by bringing LGBT+ hate crimes into line with hate crimes based on race and faith, making them aggravated offences.
The last Labour government did more for LGBT+ rights than any other in UK history, but the next one will go further.
We are proud to stand with the LGBT+ community in building on the progress made in recent decades, striving to create a society where no one is discriminated against or disrespected because of who they are, what their gender is or who they love.
Angela Rayner is the Labour MP for Ashton-under-Lyne and Shadow Education Secretary
Join our new commenting forum
Join thought-provoking conversations, follow other Independent readers and see their replies