The Lib Dem surge is real enough, but Labour can claw it back – it's the Tories who are in real trouble
YouGov reveals that the Liberal Democrats are polling in first place for the first time since 2010, with the Brexit Party not far behind. Labour voters will likely be able to turn their supporters back around, but the Tories will struggle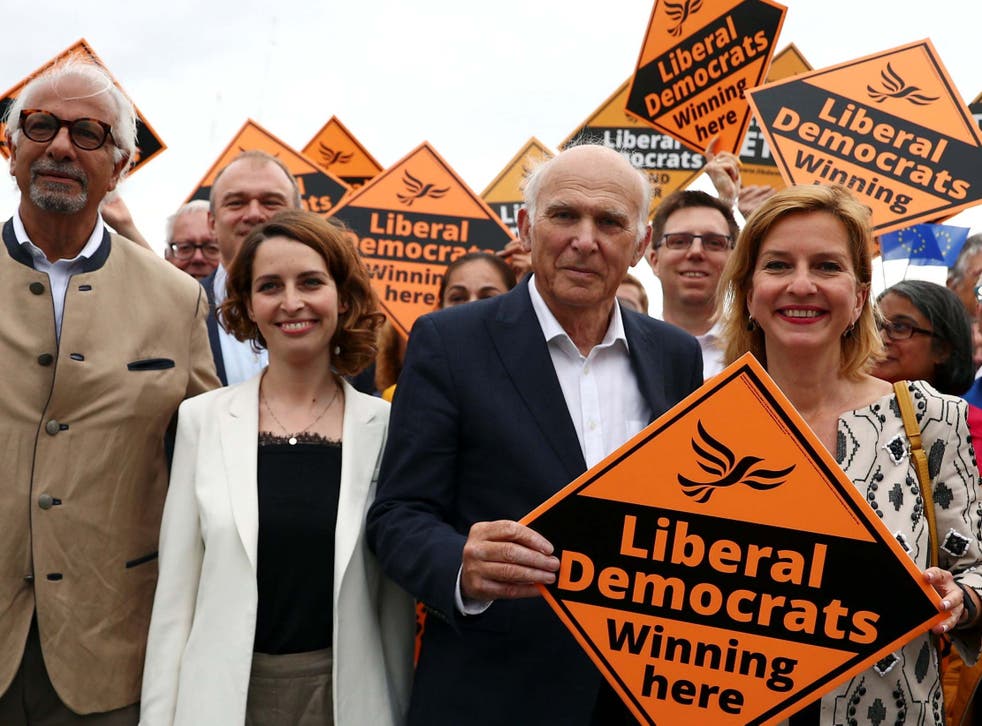 The Brexit Party was bound to do well in the European elections last week, and it was always likely to overtake the Conservatives in opinion polls for a general election. The government's failure to take us out of the EU guarantees a strong protest vote from Leavers for as long as Brexit is undelivered.
What was so unexpected about last night's YouGov poll, however, was that the Liberal Democrats have overtaken not just Labour but everyone else. Lib Dems 24 per cent, Brexit Party 22 per cent, with Labour and Conservatives tied on 19 per cent is a poll finding that breaks all kinds of records.
Above all, it is the first time since political polling began in the UK in 1938 that neither Labour nor the Conservatives featured in the top two. The numbers are disastrous for Jeremy Corbyn. After nine years of Tory government, Labour is not even the second most popular party in the country.
With a prime minister forced to resign because she has been a complete failure, Corbyn is still behind her when people are asked which of them would be a better prime minister. Theresa May is on 23 per cent; he is on 15 per cent; 55 per cent say they are "not sure" and another 7 per cent refuse to answer the question.
Emily Thornberry calls for a referendum
Yet Labour's problem is soluble, whereas the Conservatives' is not. Labour can recover many of those Lib Dem votes by moving towards a clearer Remain position. The Tories cannot do anything unless they deliver Brexit, which is probably undeliverable.
I am not saying Labour's policy adjustment is easy. The contradictory things said in recent days by leading figures in the party – often contradictory things said by the same person – have only added to the utter confusion of the policy on which Labour fought the European elections.
Corbyn, John McDonnell, Emily Thornberry, Shami Chakrabarti and Ian Lavery, the party chair, have managed to expound at least eight different positions between them, while Keir Starmer, the shadow Brexit secretary, has said little.
But there is time before a general election – probably quite a lot of time, given how unlikely a Conservative leader is to try to go to the polls. Even if the new prime minister enjoys a boost in the polls, it is unlikely to persuade them, or Tory MPs generally who would have to vote for it, to risk direct contact with the electorate.
So Labour could gradually become more of a Remain party – enough to undercut the Lib Dems under Jo Swinson in a first-past-the-post election. Who knows what Corbyn's Brexit policy would be at a distant election, or if he would even be the leader by then, but there are enough votes available to ensure that Labour would at least be the largest party. (Labour would be the largest party – in a four-way hung parliament – even if YouGov's latest figures were a general election: Labour 202 seats, Brexit 141, Lib Dem 119, Con 110.)
Support free-thinking journalism and attend Independent events
If Brexit is undeliverable, though, the Tories have no way back. Parliament remains deadlocked, reflecting the divisions among the people. In last night's poll, 39 per cent supported parties committed to remaining in the EU; 38 per cent supported parties that – notionally at least – want to leave with a deal (Labour and Conservatives); and only 23 per cent intend to vote for parties committed to leaving without a deal (Brexit and Ukip).
Philip Hammond, the chancellor, has suggested that whoever is prime minister might have to hold a second referendum to decide the question. But even if this parliament allowed a no-deal exit to be an option on the ballot paper, does anyone believe MPs would vote to carry it out if it won?
That is why I think that, although Labour can probably recover, the Conservatives are probably doomed.
Join our new commenting forum
Join thought-provoking conversations, follow other Independent readers and see their replies