Libya's women face many dangers for speaking out – they need protection so they can help rebuild their country
The death of Hanan al-Barassi is the latest example of what terrors women face for defending human rights. They cannot be frozen out of decision-making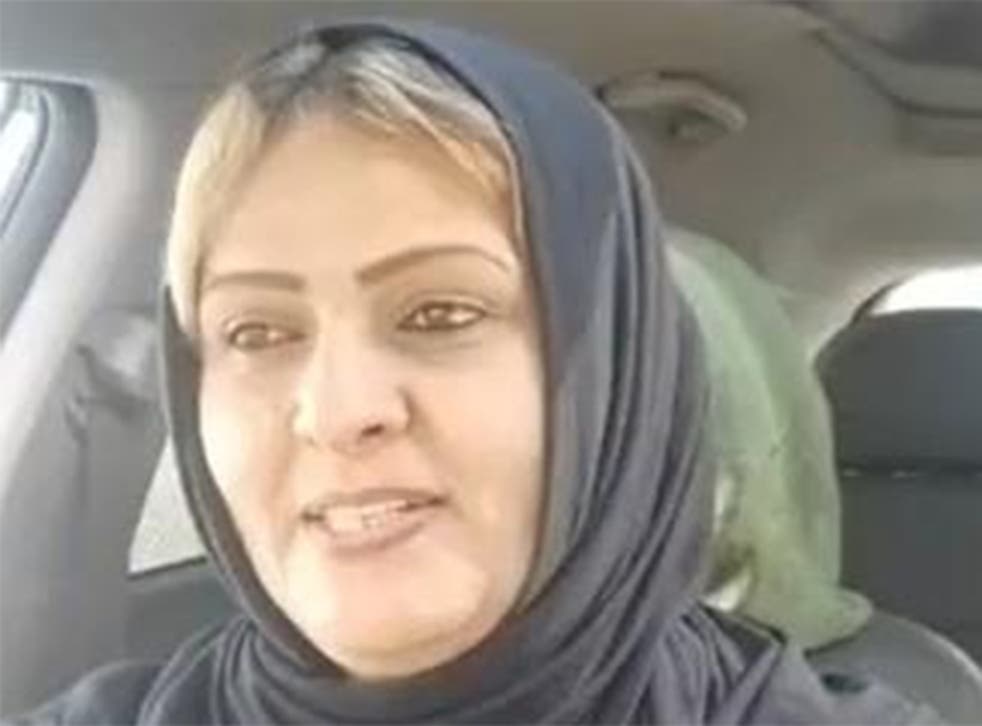 In Libya, for women's rights defenders, even the dead are not permitted to rest.
The grave of Hanan al-Barassi, a vocal critic of corruption and armed groups in the east of the country, was desecrated just days after she was assassinated.
The daughter of the prominent dissident lawyer posted pictures of the little shards of shattered gravestone scattered on the ground.
Al-Barassi was gunned down in broad daylight in Benghazi's busy city centre on Tuesday, a day after she had posted on her Facebook page saying she was going to release a video exposing the alleged corruption of the family of east-Libyan renegade commander General Khalifa Haftar.
She was startlingly open and brave in her criticism of the armed factions which have run rife across Libya in the war-wracked years since the 2011 demise of Muammar Gaddafi.
And for that she and her daughter had received numerous death threats, she was eventually silenced, and her grave destroyed.
But Al-Barassi is not an exception. Her murder came just 16 months after the disappearance of another prominent Benghazi woman, rights activist and parliamentarian Siham Sergewa, who was kidnapped by armed men in the middle of the night from her home, after openly criticising Haftar's war on Tripoli. No one knows what happened to Sergewa.
Salwa Bugaighis, Fariha Barkawi and Salwa Yunis al-Hinaid, all three of them prominent outspoken female rights defenders, were murdered in east Libya in 2014.
They are part of a long procession of women in Libya, who are usually the most vocal human rights defenders and for that have been threatened, assaulted, raped, kidnapped, disappeared and murdered for speaking out.
Women who, because they are women, are more vulnerable: they do not have powerful military brigades and militias to protect them. Instead many of them are blamed for the violence against them because they dared to step out of the "traditional" gender roles and speak their mind. They are not even protected by the powerful tribes they may hail from because few are willing to go out on a limb for a noisy woman.
In the six years that I have closely covered Libya, one of the most frustrating and heartbreaking truths of the messy war-torn country is the absence of space given to Libya's highly educated and capable women and the dangers faced by those who try to carve out an arena anyway.
Women, who have for years spearheaded Libya's civil society movements, are largely frozen out of the decision-making process at a potentially catastrophic loss to the country. While there are female members of parliament and a sprinkling of ministers, the internationally recognised presidential council anchored in Tripoli is all male and headed up by Faiez Serraj.
The rival administration in the east is largely male too. All the armed brigades and militias are staffed by men and play a worryingly powerful role in the peace negotiations.
Even in the United Nations-brokered peace negotiations taking place right now, women are woefully underrepresented: of the 75 Libyans participating in the latest round of talks in Tunis, only a touch more than a dozen are women.
"Exclusion of women has become the norm," says Rida al-Tubuly, a pharmacology professor, peacebuilder and founder of Together We Built It, which promotes inclusion of women in the peace process.
She said after addressing the UN security council last November about violence against women and the need for freedom of expression, she was accused of being a spy for foreign countries on social media groups and by a well-known Libyan TV channel. She subsequently received death threats by people who said they knew where she lived.
"We are frustrated and disappointed with the international community facilitating the process, that they are not gender mainstreaming what is coming," she added.
She said nothing underscored this issue more than the fact that Hanan al-Barassi was murdered in the middle of the peace talks, and no one has been held to account.
"I am calling on [the UN] to make sure this agreement incorporates significant measures that protect women."
Civil society activist and lawyer, Hala Bugaighis, whose is the cousin of murdered Salwa Bugaighis, said at the heart of the problem was the incorrect assumption that women in Libya shouldn't participate in the political area because it is not their place and they are not qualified.
She recently volunteered with the UN on a side-track to the ongoing negotiations where women penned recommendations for the country. Around 120 women, many of them lawyers and academics, laid out plans for transitional justice, saving the economy and restructuring the military.
"We are trying to push the UN to use these recommendations," she added with frustration in her voice.
Hanan Salah, a Human Rights Watch researcher for Libya who has documented numerous attacks on women, said the lack of female participation in the current peace process will have worrying knock on effect as they cannot put forward their views on key issues like the drafting of the constitution and how the country presses ahead with elections.
She feared that instead women will be relegated to positions in less critical ministries like culture and tourism, or family affairs.
"Women are exposed," she said and the space for them to speak is "shrinking by the hour".
In the interim there is almost complete impunity for perpetrators of violence against women. No one has been punished for the murders of Bugaighis, Barkawi or Yunis al-Hinaid – Sergewa is still missing – there is little hope that anyone will be held to account for Al-Barassi's killing.
"People in Libya think that when women dare to participate in political life, they have broken a moral social code and deserve what happened to them," said Hala Bugaighis, describing how people blamed her cousin for her own brutal murder.
She related the horrific conversations taking place on Libyan social media about what might have happened to Sergewa as punishment for her activism. Echoing Al-Tubuly, she said they were all accused of working for foreign agents.
"No woman who speaks out is safe."
Register for free to continue reading
Registration is a free and easy way to support our truly independent journalism
By registering, you will also enjoy limited access to Premium articles, exclusive newsletters, commenting, and virtual events with our leading journalists
Already have an account? sign in
Join our new commenting forum
Join thought-provoking conversations, follow other Independent readers and see their replies