Russia and Turkey have one goal over Libya – undermining Europe's influence
While the US and Arab states might be at the table too, Moscow and Ankara will want the EU to have as little as possible to do with any resolution to the conflict in the country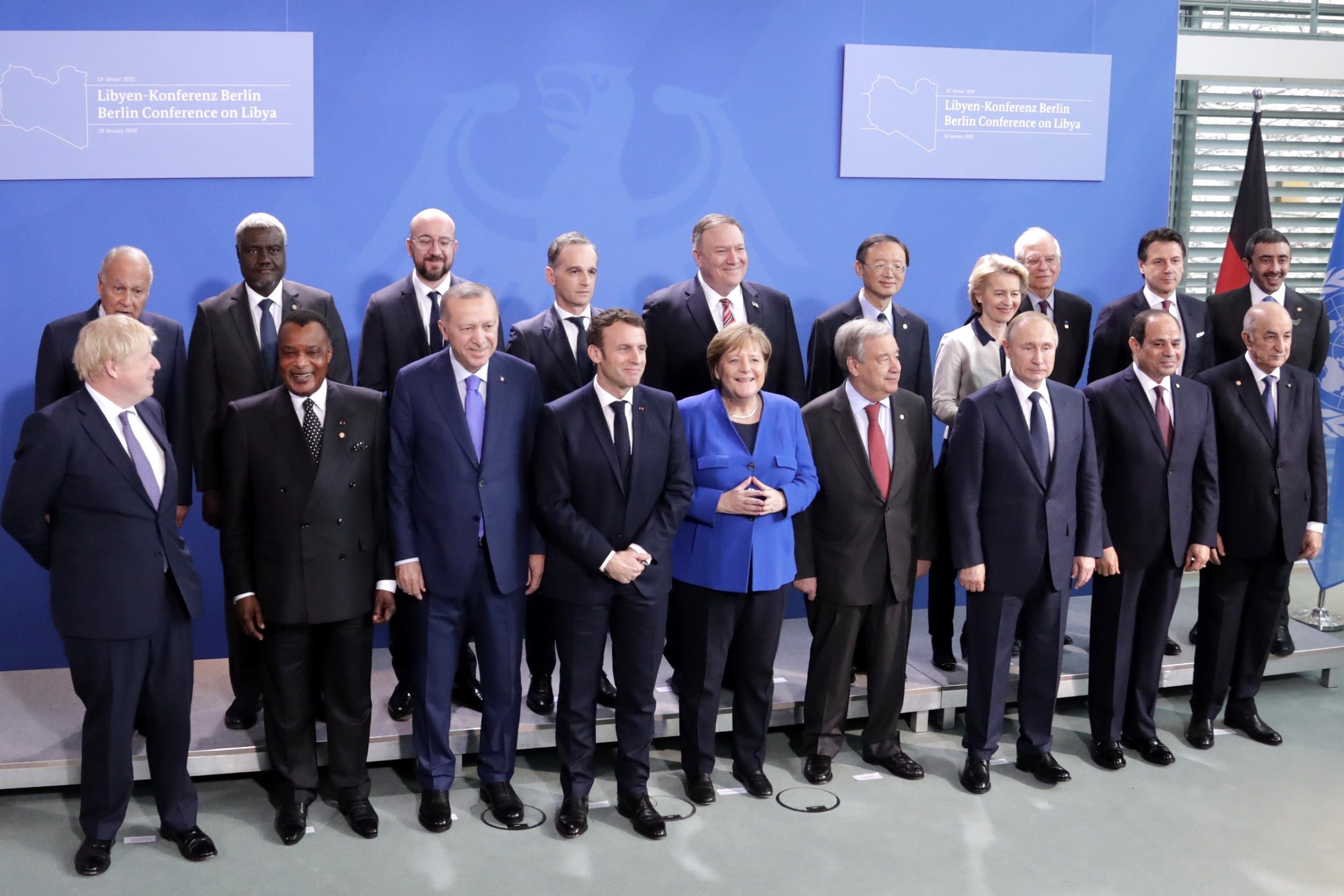 For one day at least, the real battle for Libya's future was not the battleground around Tripoli, but effectively a conference table in Berlin. It is a shame then that while the true shot-callers in the war-raged country were present, any progress looks set to remain on paper.
The conference was doomed to fail from the outset because it stands at odds with the new relationship the US and Russia have developed - even if they haven't officially acknowledged it - in the Middle East. Germany, the US, France and the UK were all there and the right noises were made about a need to limit foreign interference in the conflict. There was also an agreement that anyone breaking the arms embargo would face sanctions. There were also scattered comments about the use of a possible peace-keeping force.
But international powers face two main issues. The first is that the two major forces involved, the UN-recognised government in Tripoli led by the prime minister, Fayez al-Sarraj, and the Libyan National Army led by General Khalifa Haftar will not yet negotiate directly. Both sides have agreed to nominate five members to an UN ceasefire monitoring committee, but it is clear there is much work to be done. "Our long experience in dealing with Haftar reinforces that he will seek power at any cost," Sarraj has said
The second issue is political will. While any diplomatic efforts should be welcomed, the US was seemingly only at the table half-heartedly. Diplomats have mostly stuck closely to Donald Trump's 2017 comment that he doesn't "see a role in Libya." Subcontracting any major role to Germany and other EU nations allows Trump to stick to his promise of cutting down Washington's influence in the Middle East. And by doing so, he is giving president Vladimir Putin of Russia almost a free hand to do as it likes.
Sounds like a fair deal, doesn't it?
World news in pictures
Show all 50
Europe is itching to adopt a more aggressive role. Libya is a tinderbox not far from the bloc's borders. But Moscow will not want any European power, through its own national efforts or under the EU umbrella, to become the new trusted mediator in the region. This is also apparently not in the interests of Trump administration. While it is not official US policy, the US president has sought to downplay Russia's actions around the world in his various statements - particularly whenever Putin is in earshot. This only works to weaken Europe.
Meanwhile, Russia wouldn't give up its new role as kingmaker in the region. After spending billions of dollars propping up Bashar al-Assad in Syria, Putin's influence has been steadily rising in the Middle East, the last thing the Russian leader would want is to have a European power muscle in on this. If anything, Putin is trying to copy his Syria's successful policy in Libya.
The German foreign minister Heiko Maas's statement about making sure "Libya doesn't become a second Syria" is a case of too little too late. Libya risks turning slowly but steadily into another Syria, and this is how Putin and the Turkish president Recep Rayyip Erdogan appear to envisage the crisis.
Viral video of Libyan man speaking out against war forces him to flee into exile
Erdogan has said that his country will do all it can to support Sarraj and his government. But Turkey seems increasingly keen on re-establishing mutual deterrence and create a standoff where none of the warring parties is superior over the other. This strategy would help both Russia and Turkey build a conclusive leverage over both sides, and slowly move to block out other European and regional players in Libya.
For most of the war, it was Haftar that appeared the stronger by controlling vast swaths of the country. Turkey feels it has little choice but to support Tripoli government, although the fact that could bring a share of the immense East Mediterranean gas reserves will also have played a part. What Ankara wants in the long-term is influence and this is one way to bring it.
Russia's objectives are slightly different. It wants to make sure it has direct links with whoever will control Libya's oil supplies in the future. It is also looking to establish a foothold close to Southern Europe and impede the EU's attempts to diversify its gas resources away from dependence on Russia. Both countries are also rubbing their hands for future lucrative construction and energy contracts at the end of the conflict. The more influence both Russia and Turkey wield, as in Syria, the less room there is for others.
However, Putin and Erdogan still face two problems. Italy and France have a lot at stake over Libya, with the movement of refugees and migrants from the country a major concern for Rome. The other problem is the Arab states. Egypt, the UAE and Saudi Arabia have all backed Haftar. Qatar, on the other hand, has been on Turkey's side in keeping the Tripoli government afloat.
In showing up at the Berlin conference, Egypt's President Abdel Fattah al-Sisi and the UAE foreign minister Abdullah bin Zayed have also sent a clear message to all parties that Arab states will be looking for a say in any diplomatic resolution in Libya, having been pushed to the diplomatic fringes over Syria.
For civilians on the ground in Libya, the Berlin conference offers little but words. The conference lengthy statement involved lofty goals. It called for a lasting ceasefire, the demobilisation and disarming of militias and talks to form a single government. As well as a fair distribution of oil resources, and free elections to endorse the new government. Had it focused on less ambitious goals there may have been something tangible to build upon at another conference.
For better or worse, the summit was essentially a PR event. There are few reasons for Sarraj and Haftar to get around a table together as it stands. While Russia and Turkey may want to keep influence over the country to themselves, Libyans deserve much better than that.
Join our commenting forum
Join thought-provoking conversations, follow other Independent readers and see their replies