Our response to the London Bridge attack shouldn't be to stop election campaigns or sacrifice citizens' rights
Last night's terror attack is bound to spark talks of putting the troops on the streets and limiting free speech, but history has proven this is not the answer. Now more than ever is a time to continue protecting our democratic process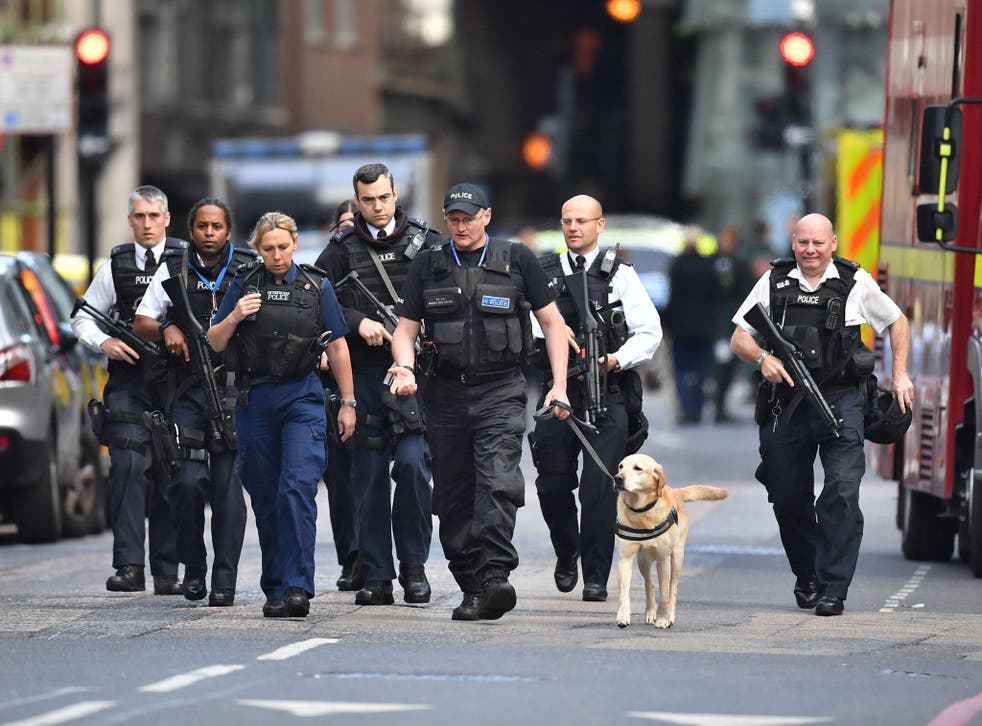 The grim truth about the latest terror attacks is that they are just that – the latest, and, if we are being honest with ourselves, certainly not the last. Indeed the murders at London Bridge were an example of the terrorists getting through, as they inevitably will from time to time: not even the most Draconian police state could eliminate the threat entirely, and could conceivably make it worse.
The authorities tell us, perfectly plausibly, that many more such incidents have been thwarted. There are in other words an awful lot of evil people plotting to kill, maim and injure, predominately at the moment Islamists but as with the assassination of Jo Cox a year ago, by no means confined to those death cults.
The fear now is that these presumably Isis-inspired attacks will, as intended, provoke retaliatory action against, say mosques, or some sort of crackdown involving removal of civil liberties from one group in our society. Thus far the reaction to all the attacks, and most hearteningly in Manchester, is to pull together and show a steely determination to resist that descent.
The right reaction then is to recognise that Britain, and especially its large cities and public events, will have to learn to live with a level of terror threat that is perhaps unprecedented – because terror is an intractable challenge that has never been ended by reprisals or dramatic gestures.
Sadiq Khan reacts to London attack
We have been here before, at least after a fashion, as have many other peoples. In the 1970s and 1980s, mainland Britain got acquainted with the random bombings and shootings on civilian targets that had become the norm in Northern Ireland. With the exception of Scotland, apparently left alone because the IRA and UDA feared an uncontrollable sectarian civil war spreading, the British got used to what one Northern Ireland Secretary notoriously termed an "acceptable level of violence". It was an almost contemptuous phrase for victims blown apart simply because they were having a drink in a pub in Belfast or Guildford or Birmingham, but the point was clear.
Terrorism is extremely difficult to eradicate, even with the toughest measures. It is sometimes said the French do things better by rounding up hundreds of suspects – well, had that really worked?
Think too of all the hard line governments in Israel who don't mess about: they have also failed to prevent suicide bombers and assassinations over decades, whatever measures they take. Or the Russians' brutal attempted suppression of secessionist terror, virtually lawless. The Moscow metro remains a target, as do buses in Tel Aviv.
London Bridge Terror Attack

Show all 16
This is not a weak and defeatist "moral equivalent" argument and nor is it obvious that there is any peace process that could possibly stop the present wave of fanaticism. It is simply to take a practical approach to what confronts us.
The dull answer to terror is not internment, putting the troops on the streets or shutting down free speech or banning the burqa or migration: it is the dull, patient and expensive work that the police and intelligence services do to detect plots and crucially act on the cooperation and tipoff that they do receive from concerned people in Muslim communities and elsewhere.
If there is a political point to this it needs to be made: that successive governments may not have put the needed resources into intelligence and, yes, protected police and security from the cuts in public spending. We need to talk about that. Moreover, we cannot allow these outrages to continually disrupt the election process – it just presents a further incentive for them to think they have the power to do so, and perhaps the understandable reaction to Manchester and the Westminster Bridge murders did exactly that. It is perfectly possible to be moved and upset by what has happened and want still to debate the future of the NHS, and indeed national security. Democracy cannot be left another victim of these attacks.
Register for free to continue reading
Registration is a free and easy way to support our truly independent journalism
By registering, you will also enjoy limited access to Premium articles, exclusive newsletters, commenting, and virtual events with our leading journalists
Already have an account? sign in
Join our new commenting forum
Join thought-provoking conversations, follow other Independent readers and see their replies