This bland world of safe spaces needs more glorious risk-takers like Magenta Devine
Like Keith Flint of Prodigy, Magenta was the ultimate generation-divider but both were talented to the core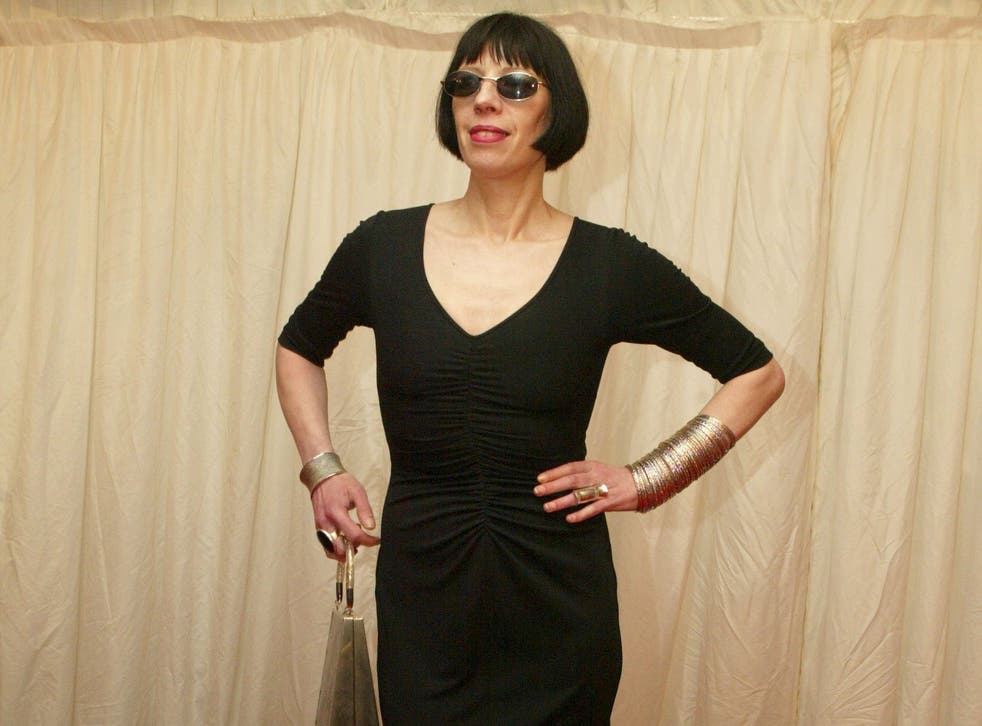 Magenta Devine – who died this week – was easily the most incredibly annoying person I've ever worked with. She was also the most talented – effortlessly cool and never less than the consummate professional on camera. No mainstream television presenter had ever looked like Magenta before she appeared on Channel 4 in 1987 – she had already honed her image (black bob, dark glasses, red lipstick) to perfection and it never altered.
Magenta was enigmatic, secretive and highly intelligent. She also managed to do excellent work in spite of her long-standing battle with drugs.
Believe me, most ambitious or smart people think they can present a television programme, and the kind of programmes I created in the 1980s, which were aimed at people under 24, – received patronising coverage from the mainstream media, as if we "dumbed down" our material for stupid and impressionable youth.
Critics mistook our frenetic style and heavy use of graphics and music for lack of serious content. They lambasted presenters like Magenta, deriding her appearance as if she was vacuous and dumb. Big mistake. Presenting live television is challenging and Network 7 delivered excitement and an ability to engage with its audience. It also won numerous awards.
When I subsequently went to the BBC tasked with attracting younger viewers I chose Magenta to present a current affairs show (Reportage on BBC2) with Krishnan Guru-Murthy, and then she fronted Rough Guides, a travel series that looked at destinations through the eyes of locals.
The best TV shows of 2019 (so far)

Show all 47
Magenta's background was in pop music and PR – she was always at home in a dark nightclub – but she shone in this new role, travelling to Africa, Europe and the Caribbean with her co-host Sankha Guha. Up to then, travel shows had consisted of sun, sand and bargains. Magenta made travel exciting, dangerous, hip.
Like Keith Flint of The Prodigy, who also died this week, Magenta was the ultimate generation-divider (older people thought both were unspeakable, just like they had misjudged and dismissed Johnny Rotten) but both were talented to the core.
They were "brands" unlike any other. It's interesting to reflect now – in a week when Kylie Jenner was declared the youngest billionaire in the world after exploiting social media to relentlessly flog her makeup brand – how homogenous popular culture has become.
So many young women opt for the same long, beautifully curled hair (even the Duchess of Cambridge), the same heavy brows, the same large lips, emulating women like Kylie J and her family.
Turn on the television and women on shows like Love Island have a disturbing "sameness" about them. In an era of unparalleled choice, how come so many of us want to look just like each other? The "express yourself" legacy of punk and Eighties music has been completely replaced by blandness. At the same time, the disturbing trend that wants to stifle free speech and institute "safe" spaces at universities and colleges also signals a new puritanism and conservatism amongst the young. Magenta symbolised risk-taking.
I met Magenta because she shared a flat with my boyfriend of the time, the guitarist Tony James. They had previously been lovers. She'd already been introduced to heroin by someone in the music business. It led to her amazing capacity for coming up with excuses about why she was late – the best one being: "I took all my clothes to the dry cleaner's and then I lost the ticket, and I've spent all day visiting every dry cleaner's near my home to try and find them." You have to admit that was original.
Magenta's addiction never impeded her ability to work (and as I am always late myself, I could hardly complain). She had started out writing a column in a local fanzine (just like another brilliant presenter I gave a job to – Danny Baker) and then worked for the PR company looking after Queen. Well-read and well-informed, she was always the equal of any interviewee, from David Bowie to Spandau Ballet, Run-DMC to Duran Duran. Her taste in clothes was monochromatic, black, white and a bit of red. Her clothes never went in or out of fashion, they were – just like Coco Chanel's suits – the Magenta look.
Support free-thinking journalism and attend Independent events
Even in her death, some people can't resist the odd snotty comment about "yoof tv" – but programmes like Rough Guides were quickly imitated around the world, and their legacy is still apparent in mainstream television. Magenta could read a script once, and then deliver the gist of a complicated piece to camera about a huge range of subjects from architecture and local customs to the best restaurants. Of course, there were the occasional gaffes, like wandering through an African village in a rubber bondage skirt, and delivering a piece to camera about religion outside a cathedral in Spain, whilst wearing a bra top, but we forgave her these little idiosyncrasies, they were all part of the bizarre world of Madge.
When not working, Magenta would rarely leave her flat, sitting for hours slathering herself in cocoa butter (who knows why?), watching television all night and writing furiously in a series of notebooks, which she kept in a padlocked box under her bed. I wonder what they contained?
She lived on a diet of pot noodles, yoghurt eaten straight from the carton and baked beans eaten directly from the tin. Cooking held no appeal.
The last time we met, she arrived at my house two hours late (normal) wearing a black and white fake fur skirt. We went to a bar around the corner, where she managed to hold a drink, a cigarette in a long holder, and reapply her lipstick at the same time without a mirror. It was extremely impressive. When Magenta entered any room, she immediately held court, and that night was no exception.
Forty winks? My heart's not in it
If you want to lower your blood pressure, take an afternoon nap, according to a new study in Greece.
Researchers found that a siesta lasting around 45 minutes has the same effect as taking medication for hypertension. Fans of power naps (or "nana naps" as my mates in Australia call them) claim they also improve alertness and concentration. They've never worked for me – by the time I've done the breathing exercises and thought myself into a meditative state, got warm and comfy, turned off all lights and external stimuli, the alarm goes and it's time to re-enter the competitive high-achieving world of modern media.
I look befuddled, my skin squashed and crumpled as if a giant mole has emerged from below ground. Don't tell me about Winston Churchill (he took a 20 minutes nap every afternoon). The man was an alcoholic. Taking a siesta admits you over-indulged the night before. We are at our most vulnerable when asleep, so I'd like to know how this "medicinal nap" would apply in busy offices, factories and retail outlets. Should employers now find space for "nap rooms", where duvets and pillows are piled in a corner and staff can drop in and out at their leisure?
Colleagues will see us snoring – and they will use their smartphones to document every dribble. I'd rather stick with healthy eating, walking and smiling a bit more, and my blood pressure is normal.
Register for free to continue reading
Registration is a free and easy way to support our truly independent journalism
By registering, you will also enjoy limited access to Premium articles, exclusive newsletters, commenting, and virtual events with our leading journalists
Already have an account? sign in
Join our new commenting forum
Join thought-provoking conversations, follow other Independent readers and see their replies