Theresa May cuts a reassuring figure – but her anti-terrorism plans for the future leave a lot to be desired
Baroness Warsi, the former Tory chairman and first Muslim cabinet minister, says the Prevent brand has become 'toxic', while a former adviser on terrorism has told MPs: 'Prevent has become a more significant source of grievance in affected communities than the police'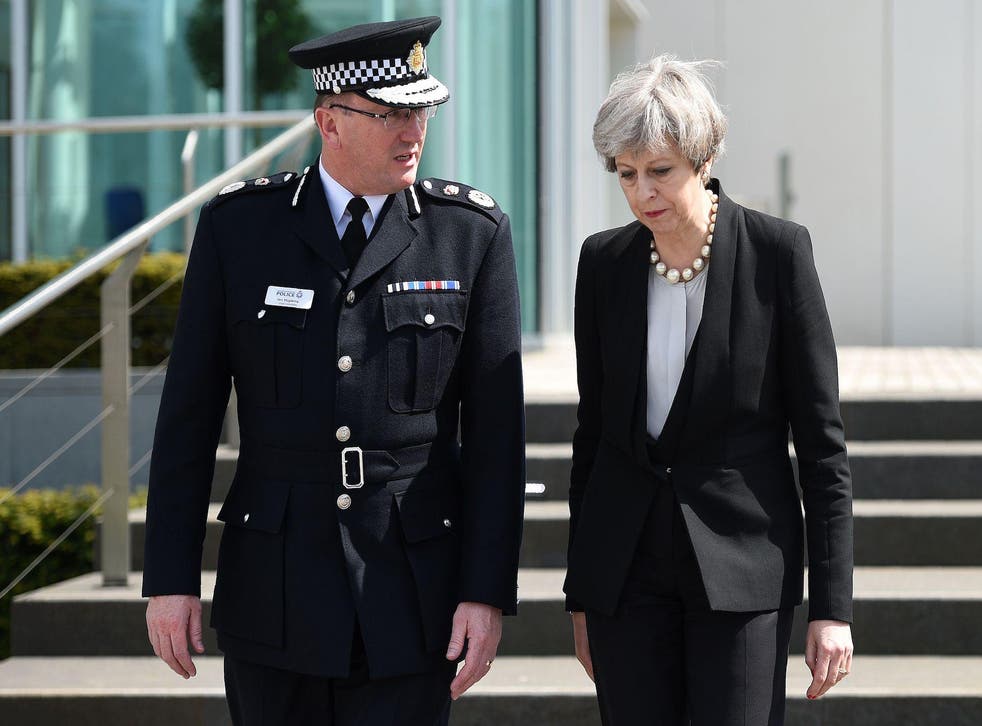 When Theresa May announced that the terrorism threat level was being raised from severe to critical following the horrific attack in Manchester, she said she did "not want the public to feel unduly alarmed", pointing out that Britain had faced a serious terror threat for many years.
Her understandable attempt to reassure people when the sight of troops on the streets will create fear showed what a difficult balancing act our political leaders must perform. They must be strong and in control, but calm and measured at the same time.
May will cut a reassuring figure for the nation at this terrible time. The election campaign pales into insignificance against the human suffering and heart-warming community spirit seen in Manchester. Yet there was a noteworthy contrast between the Prime Minister's nervy, defensive BBC interview with Andrew Neil after her spectacular U-turn on social care on Monday, and her confident media appearances since the Manchester attack.
Her two forays into domestic policy, on grammar schools and social care, may have gone badly, and the Budget retreat over national insurance contributions by the self-employed was a disaster. But it is obvious that May, after six years as Home Secretary, is comfortable in her own skin when handling security matters.
Manchester attack: Theresa May raises terror threat rating to 'critical'
That does not mean that, when it is the right time to learn lessons from this week's tragedy, her record should avoid scrutiny. May's mantra on public services, that it is possible do "do more with less", is based on her experience of cutting police numbers – down by 20,000 since 2010 – and seeing crime fall by a third. However, experts point out that the fall in crime is part of a wider international trend. Senior police officers have grave concerns about the drop in numbers, especially in the big cities outside London. Fears in the security services of a terrorist attack there have now been realised. The police cuts are one reason why the armed forces are now needed to fill the gaps – for example, in the number of police carrying firearms.
True, there is always room for greater efficiency in any organisation. It is also true that "more with less" will reach its limit at some point.
May's huge experience on the security front should thankfully ensure she avoids repeating Tony Blair's knee-jerk response to the 2005 London Tube and bus bombings. Most of his "12-point plan" was made up on the hoof and dropped. If re-elected, May would probably force social media companies to hand over encrypted messages to the police and security services. That was already planned following the March attack at Westminster. This week's events will make it harder for the big firms to oppose it. But the risk is that terrorists would merely switch to lesser-known ones.
Manchester explosion in pictures

Show all 37
There will rightly be a debate over how best to stop Muslims being radicalised. Amber Rudd, the Home Secretary, already planned a shake-up of the Government's controversial Prevent strategy. Critics claim Prevent has alienated many Muslims, who feel spied on, and created a "climate of fear" in some communities, making it counterproductive. Reform is even more urgent after Manchester. Today Rudd promised an "uplift" in both budget and effectiveness. She insisted the programme had stopped 150 people, including 50 children, heading to Syria last year, as she hit back against what she called the "industry" that opposes Prevent.
Right-wing voices will call for Prevent to have a much harder edge, and more extremist groups to be banned. That would be the wrong response; the top priority is surely to win the trust of the Muslim community. The "industry" cited by Rudd has raised legitimate criticisms shared by the Government's advisers, MPs and peers. David Anderson, the former independent reviewer of terrorism laws, told MPs: "Prevent has become a more significant source of grievance in affected communities than the police and ministerial powers."
Sir David Omand, who was the Government's security and intelligence co-ordinator when Prevent began, has said: "The key issue is, do most people in the community accept [Prevent] as protective of their rights? If the community sees it as a problem, then you have a problem." Baroness Warsi, the former Tory chairman and first Muslim cabinet minister, says the Prevent brand has become "toxic".
One thing that would reassure Muslims would be for May and Rudd to ensure a much tougher response to hate speech and hate crimes, whether in the street or online. It would be a powerful signal that the Government is determined to bring the country together and to ensure its values are applied for the benefit of all.
Register for free to continue reading
Registration is a free and easy way to support our truly independent journalism
By registering, you will also enjoy limited access to Premium articles, exclusive newsletters, commenting, and virtual events with our leading journalists
Already have an account? sign in
Register for free to continue reading
Registration is a free and easy way to support our truly independent journalism
By registering, you will also enjoy limited access to Premium articles, exclusive newsletters, commenting, and virtual events with our leading journalists
Already have an account? sign in
Join our new commenting forum
Join thought-provoking conversations, follow other Independent readers and see their replies