Margaret Thatcher lived above a shop and now Theresa May wants us all to live in one
My complaint is that she needs to go further by passing legislation conferring the right to live in used shops as well as the boarded up. Everyone will have a preference, and as a habitual problem gambler I'd go for one of the 193 betting shops on every high street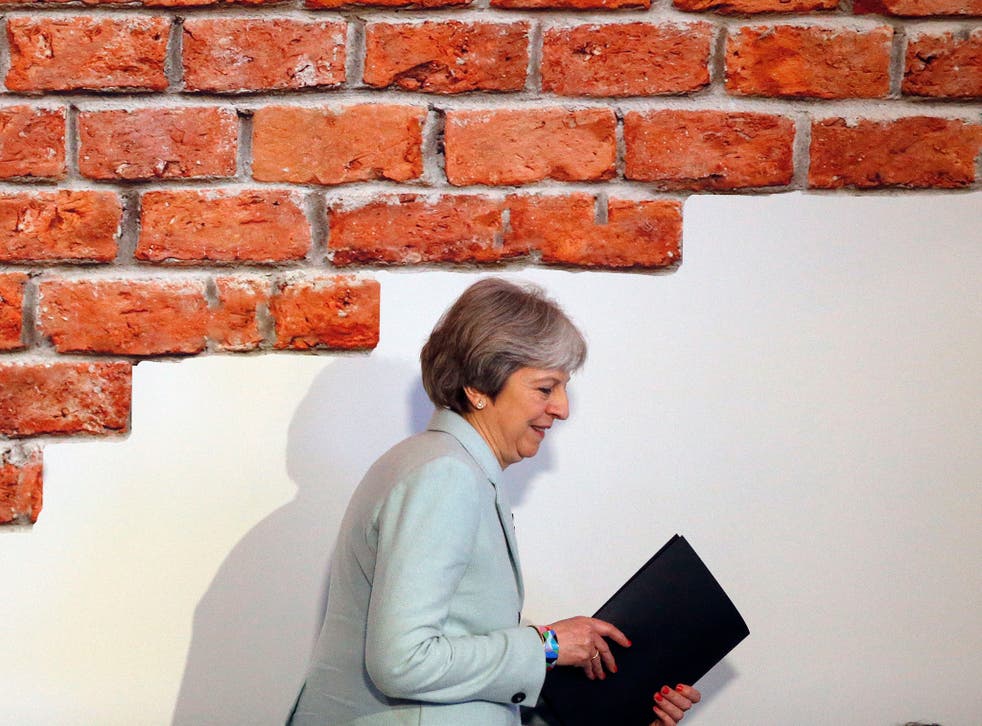 Napoleon sneeringly called us a nation of shopkeepers. But if Theresa May wins her personal Waterloo against the housing crisis, it may not be long before Emmanuel Macron dismisses us as a nation of shopdwellers.
Her proposal that high street shops double up as homes has attracted a little sneering itself. Some detect a frisson of let-them-eat-cakeism in her pronouncement. Perhaps they have a point, though it would be asking too much for the PM and the Arthur Askey husband to relocate a mile from Downing Street to a porn emporium in Soho. Damian Green would have made the case in the quest for a refreshing diversion from traditional Cabinet business. But he's gone now, and the security implications would be horrendous.
Meanwhile, council leaders, who were already exasperated at being unfairly blamed for the chronic shortage, seem irritated that May's solution ignores such eccentric measures as letting councils build more homes.
Once, it was different. Until the late 1970s, the post-war consensus held that it wasn't necessarily a terrible thing if the state built enough properties to satisfy demand, and rented them out cheaply. But that was a shameful era typified by socialist heresies designed to improve people's lives.
When Margaret Thatcher rode into town to end all that, she had the brainwave of depleting social housing stock by selling heavily discounted council homes. That was the perfect way to free the aspirants she courted from the bondage of lifelong tenancies at very low rents (with a sprinkle of gerrymandering to season the pot). The problem has been brewing and deepening ever since.
Theresa May tells developers to 'do their duty' to the country on home building
Famously, Thatcher herself was born and raised above a grocery store in Grantham. So here, as in other areas, I guess her Tory detractors will see May as a comedown – if only by a storey – for advocating that people live in them.
My complaint is that she needs to go further. She has restricted her proposal to disused shops. There are too many of those, of course, and for that she blames the growth of internet commerce. She seems less willing to blame the surge in commercial rents and business rates which this Government, like those of both parties before it, has done nothing to check.
But there aren't nearly enough disused high street premises to answer the needs of the millions, primarily young and possibly beginning to tire of their childhood bedrooms, who have a better chance of riding an arthritic Tibetan mountain yak to a Cheltenham Gold Cup victory than ever being able to afford to rent, let alone buy, a home.
The solution is to pass legislation conferring the right to live in used shops as well as the boarded up and shuttered. Everyone will have a preference, and as a habitual problem gambler I'd go for one of the 193 betting shops on every high street. You would need earplugs to cut out the noise of the simulated ivory ball clicking around the wheel on the fixed-odds betting machines. But shove four of those together, and strap a futon to the top, and you'd be snug as anything in a Paddy Power.
Others would opt for a kebab shop. The lamb fat stink on the clothes would be a nuisance. But living there would save the bother of tramping the streets in search for one after a night in the pub, and during a cold snap like the one just passed the heat from the grill would be a boon.
The fashion conscious could opt for a Zara, where the easy accessibility of soft materials would compensate for any shortfall in conventional bedding supplies. The ironist might prefer a berth in an estate agency (though the earplugs would be more of a necessity in a Winkworth than a Betfred). Oxfam would have a golden chance to redeem its reputation by hosting all-night sex parties for new residents.
It would be over-sugaring the pill to claim such radical treatment for a debilitating social disease would be free of side effects.
Although the maximum utilisation of shop space is a retailing imperative, some shopkeepers would object. But a sharp reduction in business rates – 10 per cent per person, and 25 per cent for a full family – might go a long way to assuaging them.
And it cannot be denied that the idea of people sleeping on or beneath counters has a stridently dystopian flavour that might amuse and even gratify our soon-to-be-former EU partners. In their countries, or so it's rumoured, people in work can by and large afford conventional accommodation.
But more strikingly dystopian than that is the notion of sleeping in underground stations – and our ancestors assured us they were never happier than when singing Vera Lynn's songs while taking refuge from the Luftwaffe on tube platforms.
With this proposal, Theresa May would revive not only the ailing high street by repopulating it with numbers unseen since the rises of the supermarket and internet. She would also revive the old Blitz spirit absent from these parts since last we were isolated in a war with mainland Europe.
As for the accusation that she's a home counties Marie Antoinette, there's a simple rebuttal to that. Let them eat cake. Let them live in a Gregg's.
Join our new commenting forum
Join thought-provoking conversations, follow other Independent readers and see their replies