Mario Kart stunt in Westfield London shopping centre puts the kart before remorse
 It's fair to say that their idea to tear through the mall on Crazy Carts, dropping bananas along the way, has struck a chord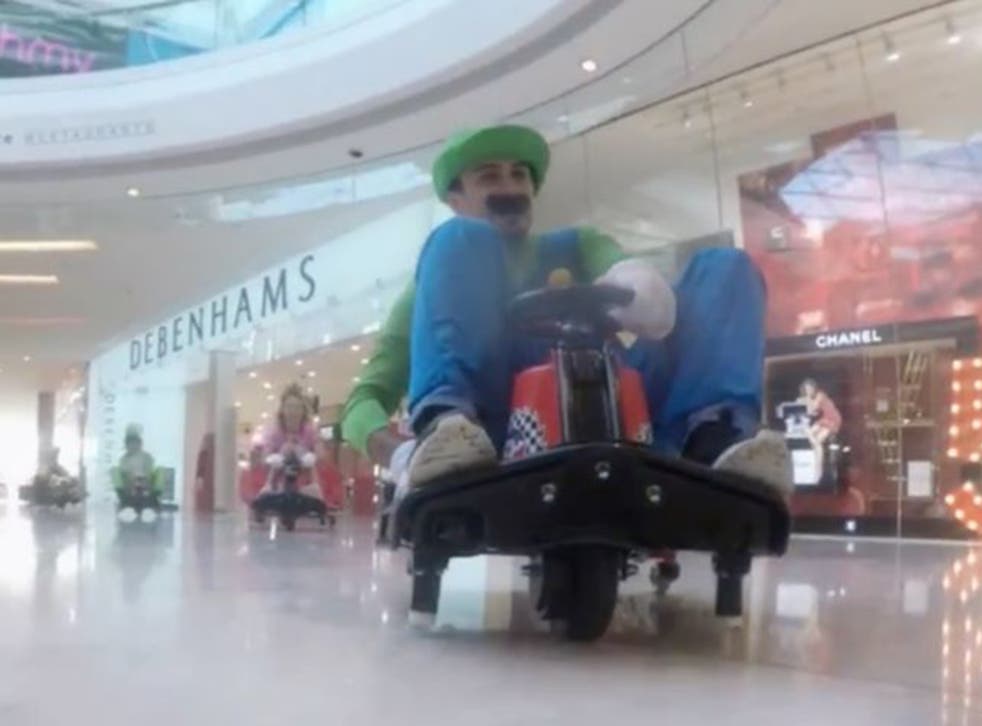 "What are the rules? Don't hit anyone and don't get caught." Unless you happened to be in Westfield London shopping centre late last year, chances are that the first you will have seen of a stunt by a group calling itself Base37 is the video that they posted to their Facebook page last week.
Tens of thousands of likes, shares and comments later, it's fair to say that their idea to dress up as characters from the video game Mario Kart and tear through the mall on Crazy Carts, dropping bananas along the way, has struck a chord.
"London is a giant playground," one Base37 member, who prefers to remain anonymous, tells me. "We come up with ideas either just sitting around chatting or in the pub and like to do things that are amusing and a little poke at anarchy. We chose Westfield because it is close to where most of us live and it's full of smooth surfaces."
And how did that encounter with the police at the end of the video turn out? "They saw the funny side and let us go. I think they just wanted to make sure that we weren't planning anything else." And are you? "Obviously."
Keeping mum
After the success of the first eight titles in the "Ladybird Books for Grown-Ups" series (first written about in, ahem, The IoS), it will come as no surprise that authors J A Hazeley and J P Morris are hard at work on the next batch. But how to follow those titles Dating, The Shed, The Hipster, The Hangover, The Mid-life Crisis, Mindfulness, etc? Last week, Penguin announced How it Works: The Mum, just in time for Mother's Day.
And very amusing it is too (sample text from page one: "This is a mum. A mum has two very important jobs to do. One is to look after her children. The other is to do everything else as well"). But where, I couldn't stop myself from wondering, was the corresponding book for dads?
Repeated requests to the press office result in me being told that "Jason and Joel are up against it with a deadline" at the moment. But might I put this question to them as soon as possible? "Could you hold off until the next title is published, which may or may not be the Dad as you suggest [smiley face]." So, there you have it. You read it here first etc. No doubt it will appear just in time for Father's Day.
Local heroes
Occasionally, a regional news story will spread wider than intended for all the wrong reasons. Last year, it was this gem from the Plymouth Herald – "Breaking: Wheelie-bin blown over by the wind on Plymouth Street" that had Twitter users trying to decide if this was intentional clickbait or just a slow news day.
And while that is surely impossible to beat, last week the Lurgan Mail, the local paper in County Armagh, Northern Ireland, gave it a good go. Under the headline "Like Paris, café culture set for Lurgan streets", a reporter named Carmel Robinson writes: "Like Paris and Amsterdam, Lurgan is to 'join' the sophisticated international world of pavement café culture. Our New York-sized streets may soon be bedecked with pretty tables surrounded by local socialites enjoying a glass of champagne."
Sadly for the socialites of Lurgan, the change in the law will not come into effect until October, so for this summer at least they will have to continue sipping their champagne indoors while the long wait to "join" the sophisticated international world of pavement café culture goes on.
Take that, troll!
Susan Keogh is a newsreader for Today FM in Dublin. Last week, a man tweeted her words to the effect of "If you miss your kid so much while you're at work, maybe you should give up your job."
A few days later, Keogh responded with the following: "Dear Brave Man. I got your message. How had I not thought of that. So helpful. I work for many reasons. I like my job. It's important to me. It makes me happy and content. And as a result a better Mom.
"I don't have a career to show [my daughter] she can have one too. She can do what she pleases. And I guess that's why I do it. I want to show her that she can make choices …."
The perfect response. The only problem is that Keogh blocked the man who sent the original tweet so the chances are he won't have seen it.
Rom con
Not planned that Valentine's Day gift yet? To help you out, here are five "Out There" ideas that have been brought to my attention:
1. Name a roach (Bronx Zoo will name a cockroach after your loved one). Creepy.
2. UltraDex Fresh Breath Oral Spray ("must-have item to avoid any bad breath embarrassment"). It's odour.
3. Mystery Potato (an anonymous message of love. Written on a potato). See you, tater.
4. Emoji cushion (Tesco labels this item "quirky"). Crying, but not with laughter.
5. Care Me Foot Pedicure Hard Skin Remover (Amazon's "Best Valentine's Day gift for him or her".) Callous.
Register for free to continue reading
Registration is a free and easy way to support our truly independent journalism
By registering, you will also enjoy limited access to Premium articles, exclusive newsletters, commenting, and virtual events with our leading journalists
Already have an account? sign in
Join our new commenting forum
Join thought-provoking conversations, follow other Independent readers and see their replies