Marks & Spencer should stick to pants and packed lunches if it wants to survive
The queen of the great British high street is in terminal decline – but if you put me in charge, I could sort it out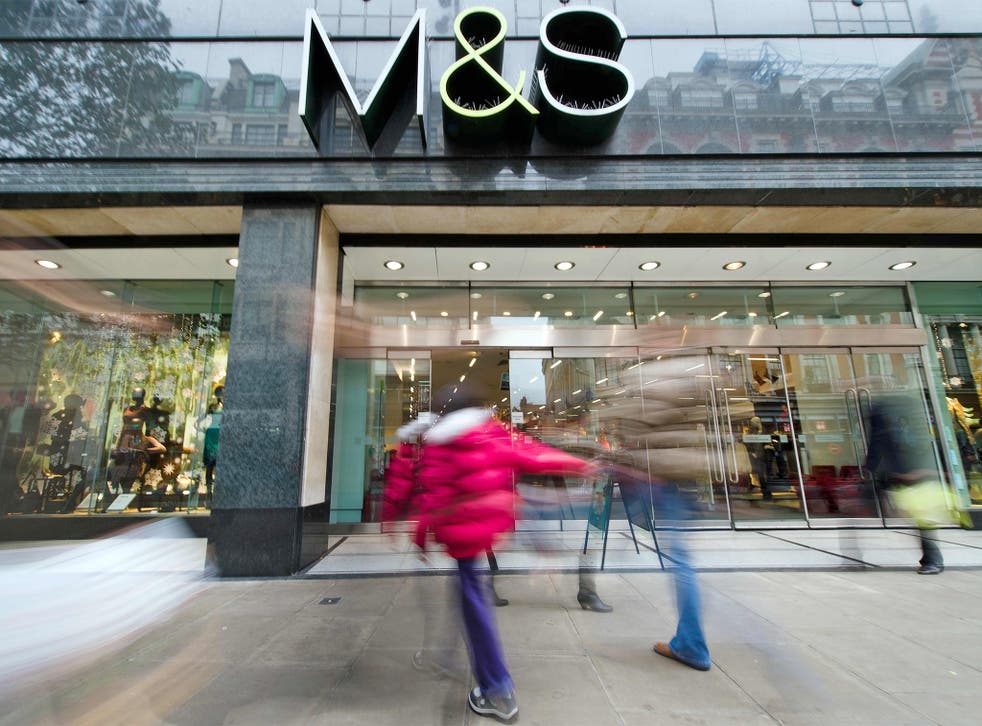 Can you turn around a brand by focusing on just one customer? The new boss of Marks & Spencer thinks so, but experts are unconvinced.
Announcing a drop in pre-tax profits this week, the M&S share price fell by over 10 per cent, resulting in its worst day on the stock market for seven years. Steve Rowe used to run the food division (which is still healthy), but can he turn around the flagging sales of M&S clothing?
Rowe says he wants to focus on "wooing" his target customer: a 50-something woman who (he says) visits the store 18 times a year, spending £28 on clothes each time.
Steve Rowe discusses M&S results
The clothing division has been in the doldrums for years, no matter who's in charge and what strategy they adopt. Rowe spouted the usual management-speak, claiming he would be concentrating on "wearable, contemporary style" and promising to listen to customers' needs.
He might as well be shuffling deck chairs on the Titanic. I spend a lot of time in queues at Marks & Spencer food outlets, and few of my fellow customers would ever consider purchasing anything to wear along with their three bean salad.
When I was a child, my mother would say things like, "next week, we'll go to Marks and buy you a new school skirt". M&S was a classy destination for working class families, somewhere to purchase a quality cardigan or a sweater on a special visit. My 70-year-old mother was their biggest fan and must have owned every bloody bit of knitwear. I bought them as a 'daughter tax' for not visiting her more often.
Mum has long gone to the giant waiting room in the sky, and these days Marks remains a quality destination for the very best crunchy salads and healthy lunches, with food outlets at service stations, and transport hubs all over the UK. I wouldn't buy my lunch anywhere else.
As for clothing, I might buy possibly buy knickers and maybe bras a couple of times a year. But £5 packs of cotton briefs and opaque tights are not enough to turn this ailing flagship around.
I predict that in the not too distant future Marks & Spencer will be selling food, pants and nothing else. Homeware will soon be ditched. These days, we can buy clothing and bed linen online, comparing prices for hours.
And we're also buying less, too. A new study by CBRE, the commercial property agency, shows high streets all over the UK are being kept alive by coffee shops (a 20-fold increase in outlets), competitively-priced restaurant chains and fast food retailers.
Sex & the city near you: Carrie's stylist brings Manhattan to M&S

Show all 8
Banks are closing their branches, pubs are being turned into housing (and the ones that remain are focusing on selling coffee during the day), shoe shops are vanishing, and betting shops are proliferating.
The environment where Marks & Spencer department stores once flourished has changed out of all recognition, no longer a destination in which you feel encouraged to linger and cough up for cashmere or a leather skirt. There must be a risk of more stores closing.
Steve Rowe might spin a nice yarn about cosy relationships with customers, but he needs us more than we need him. The whole balance between shopper and supplier has radically altered, and consumers have the upper hand.
More importantly, 42 per cent of M&S customers are men, notoriously conservative in their shopping habits. One in five customers are under 35, with limited cash and fickle tastes.
If I were running Marks & Spencer, I would sack 90 per cent of the clothing division management and abandon the Alexa Chung publicity-seeking stunts to focus on a small collection of simple, authentic, quality basics.
When I shop at Zara or Topshop, I don't know or care who designs the clothes – style, price and instant availability are the key. Instead of 500 different kinds of under-wired bras, could Marks & Spencer just make 10?
The message that too much choice is time-wasting and debilitating in our busy world doesn't seem to have filtered through to a store whose clothing ranges are utterly confused. They might still account for 10 per cent of UK clothing sales, but to stem the terminal decline, M&S must stand for one thing: Basic, Brilliant and British – a simple credo which transcends and appeals to all age groups.
Put me in charge, I'll soon sort it out.
Register for free to continue reading
Registration is a free and easy way to support our truly independent journalism
By registering, you will also enjoy limited access to Premium articles, exclusive newsletters, commenting, and virtual events with our leading journalists
Already have an account? sign in
Join our new commenting forum
Join thought-provoking conversations, follow other Independent readers and see their replies