Mel and Sue quitting the Great British Bake Off is bad news for female comedy
The BBC's commitment to feature at least one woman on their panel shows has set the bar pretty low. So low, in fact, that it has tripped up numerous, diverse, witty and confident comedians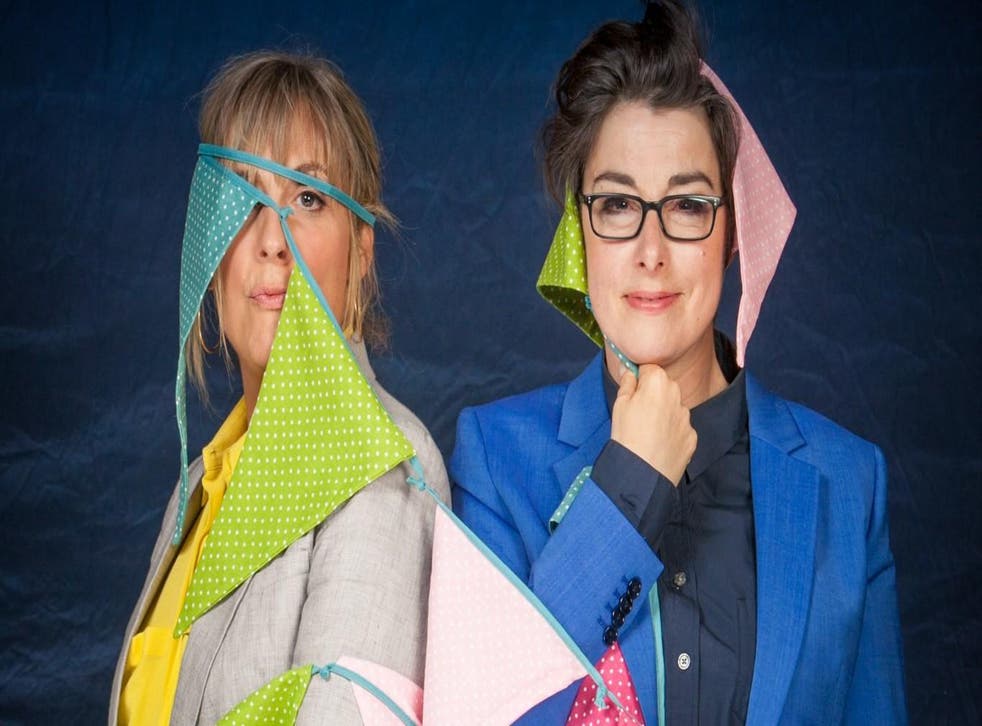 BBC1's sugar hit The Great British Bake-Off is moving Channel 4 after financial disagreements between the Beeb and the show's production company Love Productions. Cue Bake Off fans lamenting, en masse, that their previously uninterrupted hour of television, best described as 'sugar for the mind', will now be punctuated with adverts. But that's not all that's changing – when the show shifts channels next year, it will go without presenters Sue Perkins and Mel Giedroyc.
For the uninitiated, this may seem like no great loss. Surely anyone can read puns from an autocue? But what Mel and Sue have done for fun, frivolity and feminism during the past six series of the show should not be forgotten just because the two are now stoically refusing, in their own words, to go "with the dough".
Female comedians fronting primetime British television is still, unfortunately, a rare occurrence. While we are making strides in the right direction in scripted comedy, with Phoebe Waller-Bridge's Fleabag proving a huge success for the BBC, the statistics on female participation in unscripted entertainment shows are woeful.
In 2015, the comedy website Chortle revealed that BBC classic Have I Got News For You included more than one female contributor in only three episodes out of 29; Mock the Week featured just one woman per episode (appearing alongside to six men); and the line-up of Radio 4's I'm Sorry I Haven't A Clue was only 3.5 per cent female across a series.
The BBC's commitment to feature at least one female comedian on their panel shows has set the bar pretty low. So low, in fact, that it has tripped up the numerous, diverse, witty and confident female comedians fit for the task and left only a handful of stragglers trying to get their material heard while subjected to an edit that favours male banter over the female perspective.
Who is in the Great British Bake Off 2016 tent?

Show all 12
So when Mel and Sue quip about the phallic nature of a contestant's bake they are doing so much more than making a 26-year-old project manager slightly uncomfortable about the shape of his loaf. They are giving the women who have heard, one too many times, that they're "funny, for a girl" something to aspire to.
And while the duo has no shortage of knob gags, Mel and Sue do not leave their brains outside the Great British Bake Off tent flap. As Sue parodies Jane Eyre and Mel correctly pronounces the titles of European bakes they are also busting a stereotype.
It is not uncommon that young girls, when communicating with others, choose to play dumb, finding that the easiest way to be considered amusing is to demonstrate a laughable lack of understanding. I have certainly been guilty of saying something comically misinformed in the hope of being found hilarious company.
Are these the best Great British Bake Off innuendos ever?
And while it is crucially important that comedy is not seen as reserved for women who've had the privilege of an elite education, it is still refreshing to see women like Mel and Sue bringing their knowledge, experience and essential geekiness to a show that is attracting a huge audience despite out culture of considering ignorance to be the most amusing female trait.
The BBC has lost one of its greatest forums for casual female comedy thrive and flourish. And thanks to the integrity of Sue Perkins and Mel Giedroyc, Channel 4 looks unlikely to have gained one for its own schedules. All we can do now is wait to see whether the new hosts of the show carry on the precious tradition of intelligent middle-aged women behaving like naughty children for the nation to chuckle along with.
Register for free to continue reading
Registration is a free and easy way to support our truly independent journalism
By registering, you will also enjoy limited access to Premium articles, exclusive newsletters, commenting, and virtual events with our leading journalists
Already have an account? sign in
Register for free to continue reading
Registration is a free and easy way to support our truly independent journalism
By registering, you will also enjoy limited access to Premium articles, exclusive newsletters, commenting, and virtual events with our leading journalists
Already have an account? sign in
Join our new commenting forum
Join thought-provoking conversations, follow other Independent readers and see their replies