Seattle's homelessness crisis is getting worse – no amount of big tech philanthropy can undo Microsoft's damage
The city's housing problems must be understood in the context of how its richest residents, Bill Gates and Jeff Bezos, made their money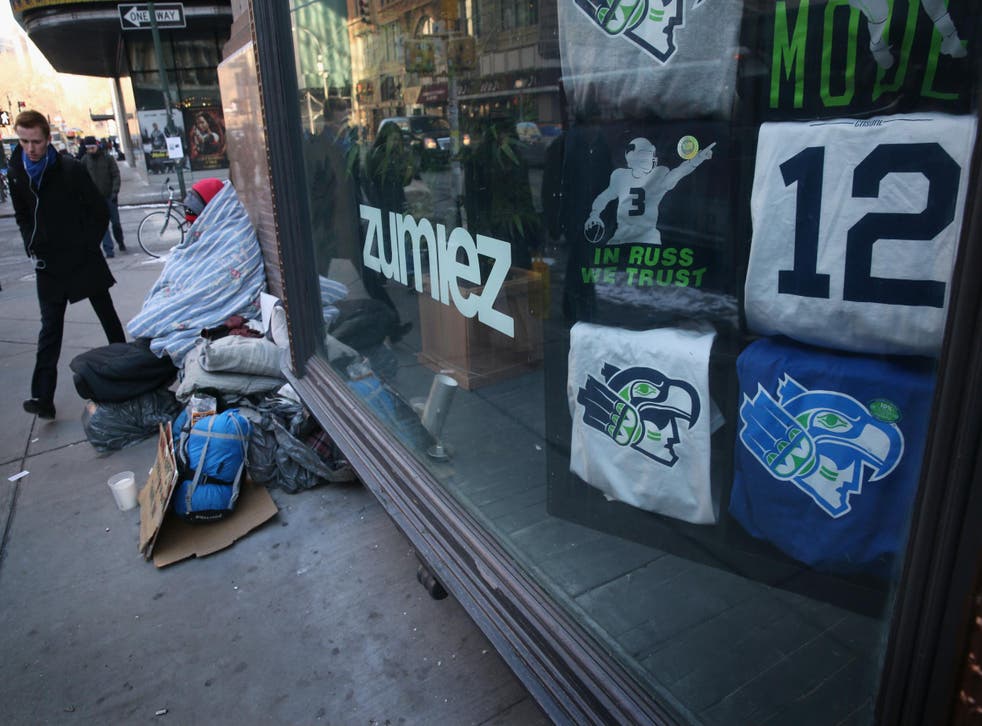 One thing Microsoft deserves credit for over its announcement of $500m (£383m) to help address the shortage of affordable housing is the admission of the role of big tech in worsening the problem.
When it made this region its headquarters in 1979, it had just 30 employees. Today that number is close to 40,000 – all of them helping to push up the cost of buying or renting homes. "Since 2011, jobs in the region have grown 21 per cent, while growth in housing construction has lagged at 13 per cent," wrote company president Brad Smith and chief financial officer Amy Hood. "This gap in available housing has caused housing prices to surge 96 per cent in the past eight years."
It also deserves credit for admitting the money it was announcing as part of its corporate social responsibility plan (the vast bulk of it in the forms of loans and just $25m in a donation) is only a small part of the solution. There is a long way to go.
Seattle has one of the worst housing crises in the US. While cities such as Los Angeles, New York and San Francisco also suffer from rocketing rents and lack of affordable housing, The Seattle Times has estimated the situation is even worse here, depending on what data you use. It said the area in 2017 had 54 homeless people for every 10,000 residents – 10 times the national average – and that homelessness in the city had increased by 23 per cent since 2014.
World news in pictures

Show all 50
The problem is highly visible: people are sleeping rough on benches, in parks and camped under highway flyovers. Others sit at bus stops, or try to rest in a warm library.
Along with its homeless record, Seattle is also home to the two richest men in the world – Bill Gates, the co-founder of Microsoft and its chairman until 2014, and Jeff Bezos, founder of Amazon. Gates, who has donated much of his wealth to a foundation named for him and his wife, has a net worth of $95.6bn. Bezos is said to be worth $140bn. Gates lives in a waterfront property called Xanadu 2.0 in the neighbourhood of Medina. The 66,000-square-foot property has an estimated value of $180m. Bezos is said to own at least six properties in the US, including a $20m mansion in Washington DC. His Seattle home is said to be barely a mile from that of Gates and has been estimated to be worth $70m.
Both Gates and Bezos have donated plenty of money to homelessness. While Amazon and Starbucks objected strongly to a proposed "head tax", overturning the city council's 2018 plan to raise up to $50m fund new low-income housing, soon afterwards the Amazon boss announced he would be donating $2bn to help the homeless and early childhood education through a fund called the "Day One Fund".
Big technology is not the only factor in the soaring cost of housing in many cities and growing homelessness. A decades-long failure to invest more in affordable homes, along with people's objection to high-density housing being built in their neighbourhood, are just as important. And Gates and Bezos deserve credit for their philanthropy. But it must be understood, too, in the context of how they made their money.
Support free-thinking journalism and attend Independent events
Gates and Microsoft co-founder Paul Allen, who died last year, built their business in a manner so rapacious and aggressive that in 2001 the Department of Justice brought an anti-trust lawsuit, accusing it of seeking to create a monopoly and crush threats presented by rivals such as Apple, Netscape and Java. While the government lawsuit initially succeeded, it was overturned on appeal, and in the settlement that followed, Microsoft avoided being broken up. Before it got better PR, the company was also criticised for refusing its contracted workers the rights to form a union.
"One of the biggest causes of financial precariousness in the US is the gig economy and the fact that people lack secure employment," says British sociologist Linsey McGoey, author of No Such Thing as a Free Gift: The Gates Foundation and the Price of Philanthropy. "For decades, Microsoft has been at the forefront of efforts to erode the employment rights of contracted workers."
She says the company lobbied hard against a decision in 2015 by the National Labour Relations Board that tried to make large companies take more responsibility for the fair treatment of contracted staff. She says: "It's commendable Microsoft is criticising the stagnating wages of US workers, but it's a problem that Microsoft is failing to acknowledge its own ongoing role in the exploitation of subcontracted workers."
Bezos has similarly been accused of exploiting his workers on the road to becoming the world's richest man. When Bernie Sanders sponsored a bill last year that would have taxed companies the full amount of welfare claimed by their workers because of the low-wages they receive, Amazon announced a $15-an-hour minimum wage across the board.
The donations (and loans) being made by Gates, Microsoft and Bezos to try and address a problem of inequality they admit big technology exacerbated, was only possible because of the much vaster sums of money they were able to amass in an economic system based on inequality.
As new Democratic representative Alexandria Ocasio-Cortez suggested to an audience in New York earlier this week, any economic system that allowed people to become billionaires was "immoral".
"I don't think that necessarily means that all billionaires are immoral. It's not to say someone like Bill Gates or Warren Buffet are immoral people. I don't believe that," the congresswoman said. "I think that it's wrong that a vast majority of the country does not make a living great wage. I think it's wrong that you can work 100 hours and not feed your kids."
Register for free to continue reading
Registration is a free and easy way to support our truly independent journalism
By registering, you will also enjoy limited access to Premium articles, exclusive newsletters, commenting, and virtual events with our leading journalists
Already have an account? sign in
Join our new commenting forum
Join thought-provoking conversations, follow other Independent readers and see their replies