Mike Pence and Donald Trump say they don't want to punish women who get abortions – yet Purvi Patel spent a year behind bars
Patel was handed a 20-year sentence – reduced from 30 years – for self-inducing an abortion. She walked free in August after another judge overturned her conviction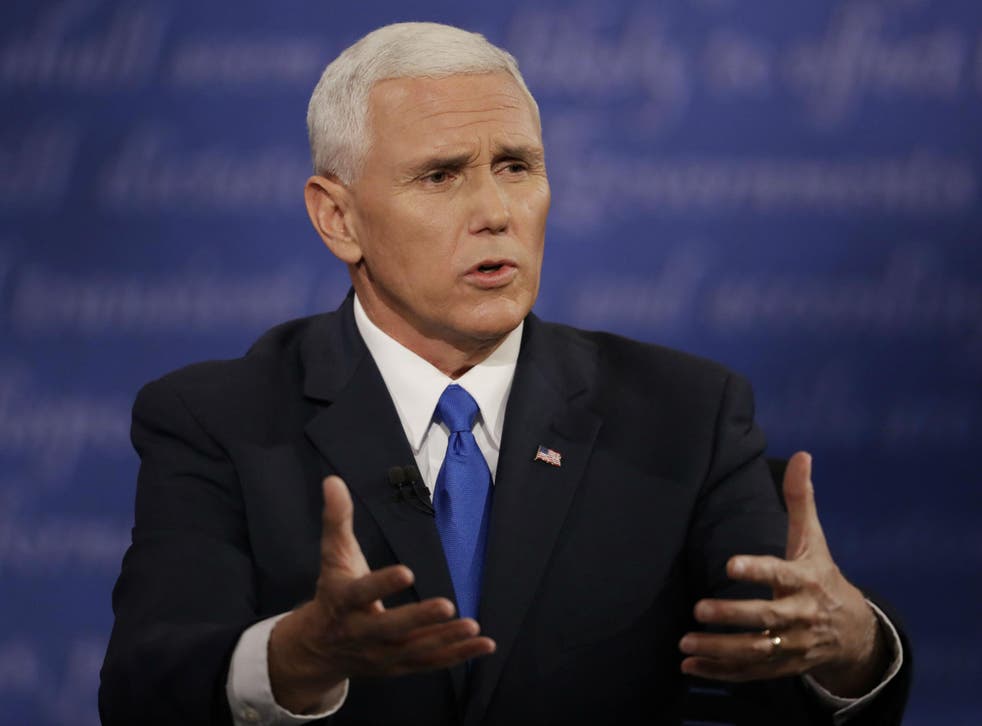 Among the millions of people who tuned in to the first and only vice-presidential debate on Tuesday night, one might ask whether Purvi Patel was one of them.
"Donald Trump and I would never support legislation against women who make the heartbreaking choice to end a pregnancy," said Donald Trump's running mate, Mike Pence.
Yet Purvi Patel was sentenced to two decades in prison for self-inducing an abortion – called "feticide and neglect of a dependent" – in July 2013. Patel could hardly turn to her governor for help – it was Mike Pence.
A judge overturned the conviction, meaning she could walk free on 31 August after one year behind bars.
Patel was bleeding through layers of clothing when she came in a panic to her local emergency room three years ago. She admitted to staff that she had taken abortion pills. She came from a conservative family who would not have approved of her having sex outside of marriage. She had placed the foetus in a dumpster.
Two years later, the 34-year-old was facing punishment. Punishment that would span the majority of the rest of her life.
Indiana has adopted one of the strictest anti-abortion laws in contemporary US history. As of July 2015, women who get abortions are mandated to mourn the foetus. Often no bigger than a pea pod, the unborn foetus can be buried, cremated, get a tombstone at a graveyard. A woman can get counselling.
An abortion must not be seen as a positive step for a woman to regain control of her life. It must be seen as a tragic bereavement.
Pence said at the debate on Tuesday that society should be judged by how it treats its most vulnerable – that includes the unborn. He doesn't need to say it directly, but his meaning is clear: women are not valued as much as human beings as they are cherished as vessels for procreation.
What else can we expect from a man who talks about "broad shouldered leadership" and "strength" – male associations – to describe the positive aspects of his campaign?
Tim Kaine, Hillary Clinton's running mate, asked Pence why he did not trust women to make choices over their own bodies.
A valid and important question. It is also a question Kaine might ask of himself, given that he voted against using certain federal funds to pay for abortion services.
It appeared to be uncomfortable territory, with two middle-aged white men debating abortion. While one flat out denied women's rights, the other, who personally does not believe in abortion, was obligated to toe the party line.
Another uncomfortable truth: Trump said in March that women who get abortions should face "some sort of punishment". No matter if he retracted it within 24 hours. The meaning, again, is clear.
"We should cherish the worth, the dignity, the value of every human life," said Pence.
If only we could be sure he would cherish us, too.
Register for free to continue reading
Registration is a free and easy way to support our truly independent journalism
By registering, you will also enjoy limited access to Premium articles, exclusive newsletters, commenting, and virtual events with our leading journalists
Already have an account? sign in
Join our new commenting forum
Join thought-provoking conversations, follow other Independent readers and see their replies