Miley Cyrus says Robin Thicke wanted her 'as naked as possible' at the VMAs. I'm not surprised
Remember when Robin Thicke was 2013's golden boy and everyone turned on Miley for their collaborative dance routine? These days she's taking control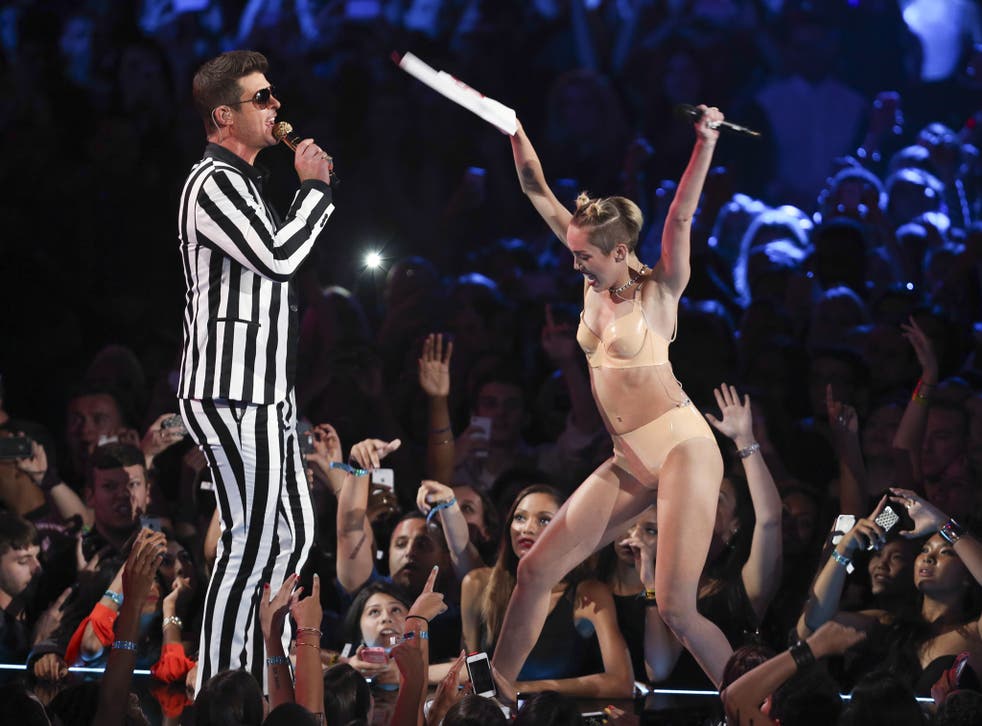 It's pretty difficult to cast our minds back to the time when Robin Thicke was pop's golden boy, before people actually read the lyrics to monster hit 'Blurred Lines' and pointed that there were some distinctly rapey (there's really no other word) undertones. Long before the multi-million pound court battle over whether or not the song was plagiarised from Motown legend Marvin Gaye and the embarrassing on-stage begging to try win back ex-wife Paula Patton, Thicke was the star of 2013.
Back in the midst of the 2013's VMA media firestorm, it was Thicke who got away lightly while co-performer Miley Cyrus was left to defend herself amidst claims she was being sexually exploited by MTV and corrupting the minds of America's teenagers. Even the creator of the foam finger felt the need to get involved, and sternly told Miley off for 'degrading' the spongey American icon.
Meanwhile, Thicke skipped off stage, later telling Oprah: 'Listen I'm the twerkee. I don't twerk myself, okay? I'm just twerked upon.' According to him, if Miley wanted to appear half naked and gyrate, that was all 'on her.' Except apparently it wasn't. According to Cyrus in a recent interview, Thicke had conveniently blanked out several rehearsals where not only did he know exactly what Miley had planned, he actively encouraged her to be "as naked as possible" because it fitted with the concept (a term used loosely here) of the Blurred Lines video. While she says "It was very much a collaboration" , it confirms what really we already knew: it's easy for powerful men to make as much money as possible off basically naked women whilst sitting back and letting them deal with the consequences.
The most controversial music performances

Show all 11
The more frustrating part is the resigned response of the usually irrepressible Miley Cyrus. She told the New York Times: "It's funny that I got so much heat for it, but that's just being a woman." If even a pop star brave enough to turn her back on her tween fan base and count heart-shaped nipple tassels among her everyday wardrobe basics accepts that being screwed over because of her gender is merely 'part of being a women', how much hope is there left for the rest of us? The pay gap, sexual harassment on the tube, talking to creepy men because we're too scared of what will happen if we walk away - is it all just 'being a woman'?
Two years on from the VMAs, and having ridden out the storm, Miley's more of a grown-up than Thicke (who's almost two decades older) will ever be. She's taken control of her image in all its tongue-waggling glory, as well as hitting out against Disney's narrow definition of what girls are supposed to look like. She's redefined the pop princess, from the blandly pretty puppet Hannah Montana to a chart-topper who uses her latex binkini to disturb rather than titillate. She's also apparently an unexpected champion of old-fashioned good manners, gently chiding Nicki Minaj for 'not being very polite' in her recent Twitter spat with Taylor Swift.
This Sunday's VMAs will be a different story. Miley will host the show on her own terms, having been promised a free reign by executive producer Garret English. Thicke and his humbugged striped suits will be nowhere in sight. And hopefully she'll prove that being criticised for what you wear, how you dance and how you live your life doesn't need to be part of being a woman any more.
Miley Cyrus's Outrageous VMA's wardrobe

Show all 10
Register for free to continue reading
Registration is a free and easy way to support our truly independent journalism
By registering, you will also enjoy limited access to Premium articles, exclusive newsletters, commenting, and virtual events with our leading journalists
Already have an account? sign in
Register for free to continue reading
Registration is a free and easy way to support our truly independent journalism
By registering, you will also enjoy limited access to Premium articles, exclusive newsletters, commenting, and virtual events with our leading journalists
Already have an account? sign in
Join our new commenting forum
Join thought-provoking conversations, follow other Independent readers and see their replies