Mind the moral gap next time you're in a hurry on the Tube
A change to escalator etiquette on the Piccadilly line reveals a good deal about society and individualism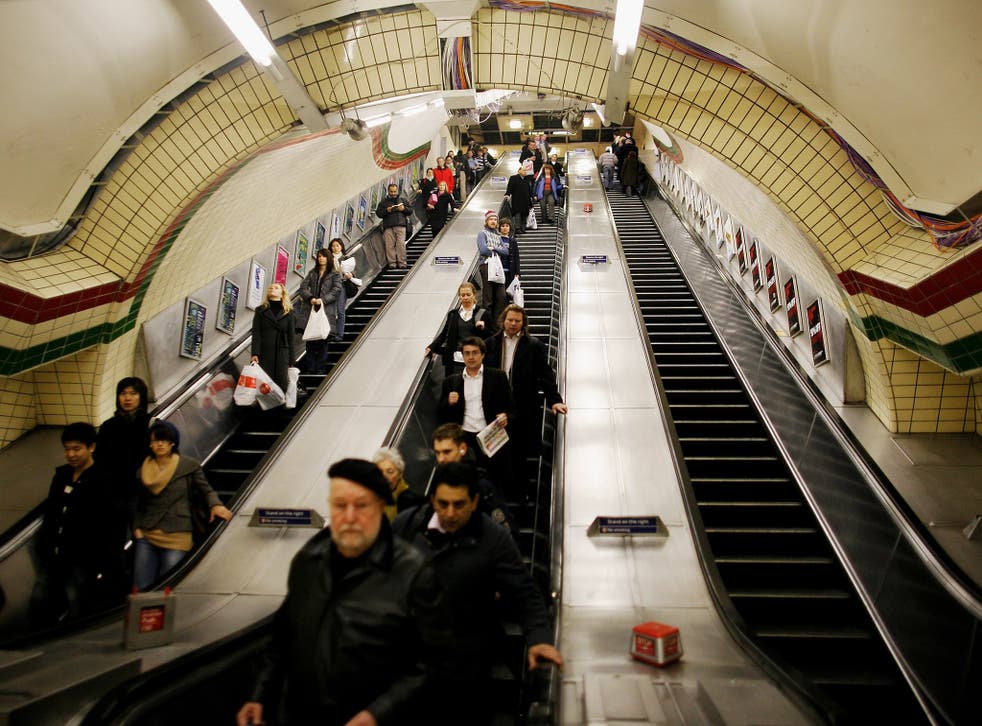 The plan to persuade passengers on the London Underground not to walk up the escalators is of wider interest than might be supposed. Of course transport geeks and students of trigonometry will be fascinated by the detail. Apparently the Horizontal and Vertical Components of Acceleration make the counter-intuitive case that it is quicker to stand still on a busy moving staircase than to walk. But for the rest of us the debate highlights something more profound about the ups and downs of our common life.
The paradox of the escalator exposes the tension between individualism and the common good which bedevils so many aspects of contemporary society. Let me explain.
An experiment at one of London's deepest stations, Holborn, has revealed that persuading people not to walk up the escalators results in "improved passenger flow". Until now the convention on the Tube was that travellers stand on the right side, allowing others to walk up the left. But at stations with very long escalators few people choose to walk – so much of left-hand side is unused.
A "standing-only" experiment last year resulted in 3,475 more people being carried on the escalators during rush hour, and fewer queues. So from next month a "standing-only" policy will be introduced there. "It may not seem right that you can go quicker by standing still," said a London Underground spokesman, "but our experiments have proved that it can be true."
This is not strictly accurate. It may be the case for the majority, but a handful of individuals in a hurry will be slowed down in their journey to the surface of the earth. A number of escalator-climbers have expressed irritation at being held back, much as Barack Obama did when he denounced David Cameron and other Europeans of being "free riders" on the back of American efforts to defend the free world. The 2011 bombing campaign in Libya by Cameron & Co had left the country "a shit show", in the choice phrase of the undiplomatic US president. "Free riders aggravate me," he said.
The interests of individuals inside common enterprises has long been problematic. The 18th-century Scottish philosopher Adam Smith tried to reconcile the two with his notion that an "invisible hand" governed the free market in such a way that each individual pursuing his self-interest mysteriously worked in the best interests of the common weal. In that way "individual ambition benefits society, even if the ambitious have no benevolent intentions". A rising tide floats all boats, as John F Kennedy put it in more homespun terminology.
A nice idea, but it doesn't seem to work for the poorest people, as Pope Francis noted. "The promise was that when the glass was full, it would overflow, benefiting the poor," he observed. "But what happens is that when the glass is full, it magically gets bigger and nothing ever comes out for the poor."
What's often forgotten is that Adam Smith's The Wealth of Nations was partnered by his work The Theory of Moral Sentiments, in which Smith argued that human sympathy and a supportive community behaviour is essential to a well-functioning society.
It is that balance which has been lost in the radical individualism which has overtaken us, along with an economic fundamentalism. We often suppose that our society is polarised. But left and right, bohemian and businesswoman, capitalist and counter-culturalist today share a mindset in which individual freedom has primacy. It is the triumph of a shameless selfishness against which the great American constitutionalist Thomas Jefferson warned: "Self-love is no part of morality. Indeed it is exactly its counterpart. It is the sole antagonist of virtue leading us constantly by our propensities to self-gratification in violation of our moral duties to others."
What this suggests is that a proper sense of concern, sympathy and moral obligation to others, institutionalised in a pragmatic frameworks of checks and balances, is required to bridle our venal individualism if we are to better manage our complex social and economic existence. But be prepared for howls of protest from those who like to bound up our escalator steps.
The mathematical engineers of London Underground are braced for that, which is why they are reserving one of the four Holborn escalators as a "no standing" zone. One escalator will be "standing only" at all times. Two will adopt that policy at the busiest times of day. But one will remain a zone for the free expression of selfish individualism, even at the cost of reducing the overall efficiency of the flow of people. We can only hope that this individual exceptionalism is not introduced next at traffic lights.
Paul Vallely is visiting professor in public ethics at the University of Chester
Register for free to continue reading
Registration is a free and easy way to support our truly independent journalism
By registering, you will also enjoy limited access to Premium articles, exclusive newsletters, commenting, and virtual events with our leading journalists
Already have an account? sign in
Join our new commenting forum
Join thought-provoking conversations, follow other Independent readers and see their replies