Don't bother calling people like Mitch McConnell and Lindsey Graham Republicans any more
The idea that Republicans can deny election results — and still serve the Republic, believe in Republicanism, and be called Republicans — is a farce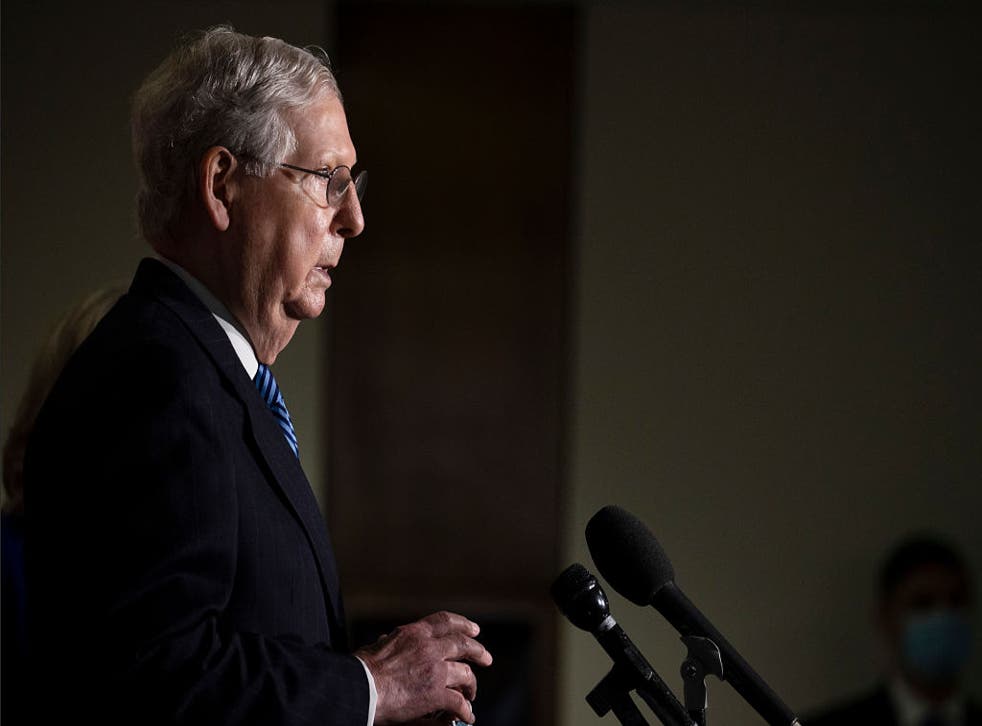 Here's the deal: Until they accept all the results of the free and fair 2020 US election — not just their down-ballot victories — and universally deride the Trumpian delegitimization of President-elect Joe Biden, the Republicans need to be identified by their correct party affiliation, which is A for Autocrat — not R for Republican.
Let's start using the accurate nomenclature: Mitch McConnell (A-KY), John Thune (A-SD), Roy Blunt (A-MO), Lindsey Graham (A-SC), James Lankford (A-OK), and so on. In a position that can only be described as autocratic, Republicans want to assert local GOP victories and deny Biden's victories in the same states based on the affiliation, and increasingly based on the race, of the voters.
The defiance of the presidential election results by Majority Leader McConnell, Minority Leader McCarthy, the vast majority of their Congressional caucuses, and the US General Services Administration, which should have already ascertained President-elect Biden's status, is a traitorous betrayal of our Republic. The GOP silence and the insistence by Secretary of State Pompeo and Vice President Pence that they would deny the will of the American people should not be dismissed as merely delusional. This is something far more nefarious and inimical to America's stability.  
When Senator Graham calls the Georgia Secretary of State and encourages him to discard the votes of Democrats, that is criminal, unethical, and the stuff of autocracy. When the Trump campaign directs the local Wayne County Board of Canvassers to deny certification of the cities and towns where a majority of Black voters reside (a gamble which ultimately didn't pay off) that is autocracy. This isn't a partisan game of chicken. As Nancy Kaffer of the Detroit Free Press tweeted about the efforts to overturn Michiganders' voices, a majority of whom voted for Biden-Harris by over 100,000 votes: "This is unprecedented in my 20 years covering government".
When Trump sues to have Nevada annul its Electoral College results because he lost the state, that is autocracy. When the campaign wants to throw out Pennsylvania absentee ballots because they advantage Democrats who wanted to avoid contracting Covid at the polls and infecting their neighbors, that is autocracy. And when they let the baseless conspiracies about fraud run rampant at the instruction of their reality-denying cult leader, Donald Trump, Republicans are correctly identified as the Autocratic Party.
The idea that Republicans can deny election results — and still serve the Republic, believe in Republicanism, and be called Republicans — is a farce. The GOP has claimed for years to make the distinction between their creed of republicanism as compared to raw democracy, arguing that their liberalism was democratic republicanism and not purely democratic. This was a convenient way for them to hold on to minoritarian rule. But now we see they believe in neither republicanism nor democracy. We know that because they are refusing to accept the system of the Electoral College when they don't win the required 270 votes. This is, of course, in addition to the party's complete disregard of the popular vote and its significance in preserving fundamental fairness.
For years, Republicans have likewise touted federalism and the rights of individual states and local communities on which the national government ought not infringe. Apparently, this doesn't apply to Democratic-governed districts or voters — or when they simply don't win elections, as in the case of Georgia.
Now, Republicans want to quite literally invade the processes of municipalities. It follows a similar autocratic pattern when the Trump administration, at the suggestion of Jared Kushner, effectively denied American people in "blue states" and "blue cities" critical PPE during the early stages of the pandemic — as well as Trump's continued threat to not release a vaccine to New York.  
So the Republicans believe in Republicanism when they win — and only when they win? No, that's what autocrats do. Autocrats believe in Republicanism only when they win.
It's why we ought to be calling them the Autocrats, at least until they cease their rank abuse of the legal system to try to discount the votes of America's cities and suburbs, which overwhelmingly favored Biden-Harris to Trump-Pence. Simply stated, a Party of Autocracy is working to disintegrate any semblance of union in the United States of America.
Register for free to continue reading
Registration is a free and easy way to support our truly independent journalism
By registering, you will also enjoy limited access to Premium articles, exclusive newsletters, commenting, and virtual events with our leading journalists
Already have an account? sign in
Join our new commenting forum
Join thought-provoking conversations, follow other Independent readers and see their replies