I spent a day at the first Momentum conference – and I still didn't convert to Corbynism
I did warm to the Momentumites. I liked the people – even though one called me 'the enemy' when he spotted my press badge, and his missus ran over my foot with her mobility scooter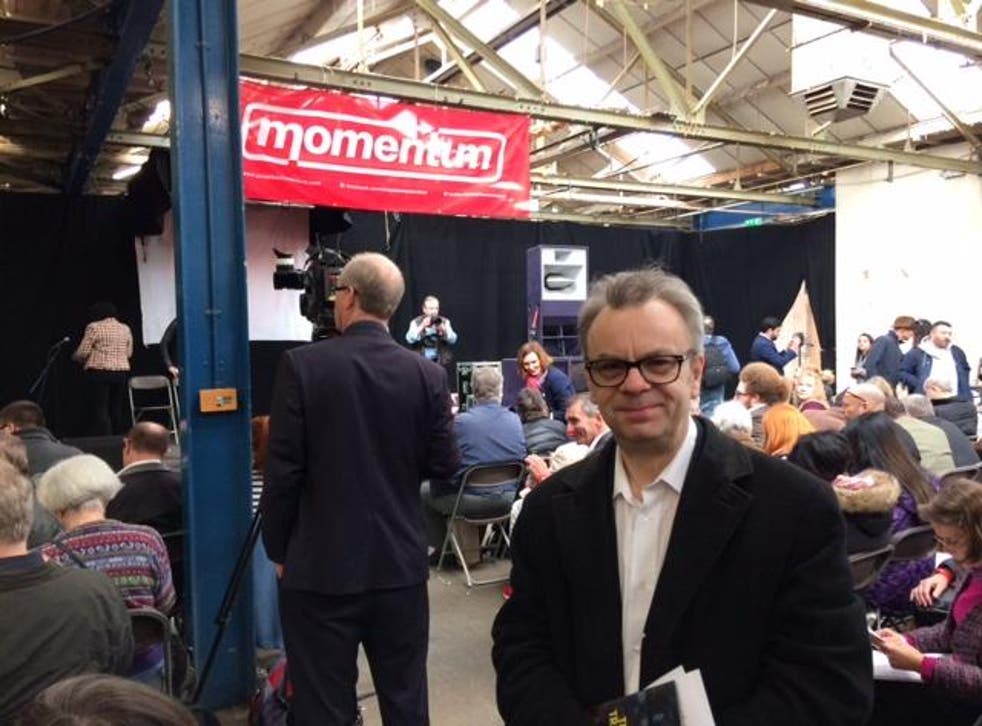 If I was going to be unkind, I would say that you can judge the depths to which the Labour Party has descended by the fact that some of its members now need to be taught the very basics of discussion and debate. Actually, not unkind – just truthful.
At the inaugural Momentum conference in Birmingham, that is precisely what has been happening. I write this directly from the session entitled "Nice People Finish First" in room 3. I had hoped it would be an absurdly saccharine mass for Jeremy Corbyn. I was disappointed. It's run by some Geordies in a group called Talking Socialism and isn't about Corbyn or policy or about making the process that creates policy, but about the process that creates the process that creates policy.
Thus Momentum members – they freely use this party-within-a-party term – are being tutored via a slideshow of useful phrases that may be unfamiliar to them, like a foreign phrase book:
"I can see both sides of this."
"What's an offer we can both sign up to?"
"To what extent are we on the same side?"
Unspoken during the role play, but I suppose hanging heavily in the dank Brummie air, there was the admonition to use such terms in preference to, say, a crude anti-Semitic slur or an inventive death threat via Twitter.
It was much the same at the "Taking Back Control" session. This was hosted by an engaging pair of young activists, Ruairidh Paton, 21, and Benedict Limbe, 25, who work for Red Pepper and as a freelance scriptwriter, respectively. Again they preach love dialogue and respect. They asked the 100 or so people in their session to split into pairs, which was OK for the Momentum activists because, although small, it is still possible to have a row and provoke a split in a group of two. During the subsequent "feedback", one Momentumite shouted "cobblers" and quoted Marx and Engels' Communist Manifesto, which was classy if uncomradely. Someone mentioned the Soviet Union and another insulted Blair. Not really the "narrative that gets beyond left and right" being sought.
So Tom Watson and his allies who fear Momentum should relax to that degree at least. They're not capable of plotting. In a draughty old, cold ex-factory in Birmingham, no policies were being formulated – far from it – beyond the usual devotionals for Corbyn.
This is not the new politics, either. It's slogans. It's fundraising buckets of small change. It's leaflets. It's badges. It's T-shirts. It's more badges. With all the trestle tables sponsored by the usual suspects – Stop the War Coalition, the Morning Star, Hands off Cuba – entering the Momentum conference hall is like stumbling into a gigantic jumble sale of bad ideas.
Good hearts, though, I should concede.
As it happens, I warmed to the Momentumites on my day out. This chaotic, freezing cold conference was more fun and had better food (from Shababs of Balti Triangle, Birmingham) than any pompous New Labour affair. I liked the people – even though one called me "the enemy" when he spotted my press badge and his missus ran over my foot with her mobility scooter. They're palpably decent and well-meaning and helpful.
The only sour Momentum moment was when John McDonnell, the demon headmaster of British politics, did a pathetic sub-Trump attack on the press, blaming us and our owners for Labour's problems. They think they have popular policies and getting out on the streets wearing badges "saying coal not dole" will win the election. They are wrong wrong wrong.
They aren't trusted by the public on the most vital issue, the economy – 31 points behind and maybe more if the Tories trash the economy, ironically enough. People do not rate Corbyn. Activist numbers don't win many votes. The press write what they will in a free society.
Nice people, Momentum, but they will lose Labour the next election. Not nice. Not nice at all.
Join our new commenting forum
Join thought-provoking conversations, follow other Independent readers and see their replies