Money's no object for flood defences – unless they're too expensive
It's time the floods were privatised. Towns could bid each year to be one of the places drenched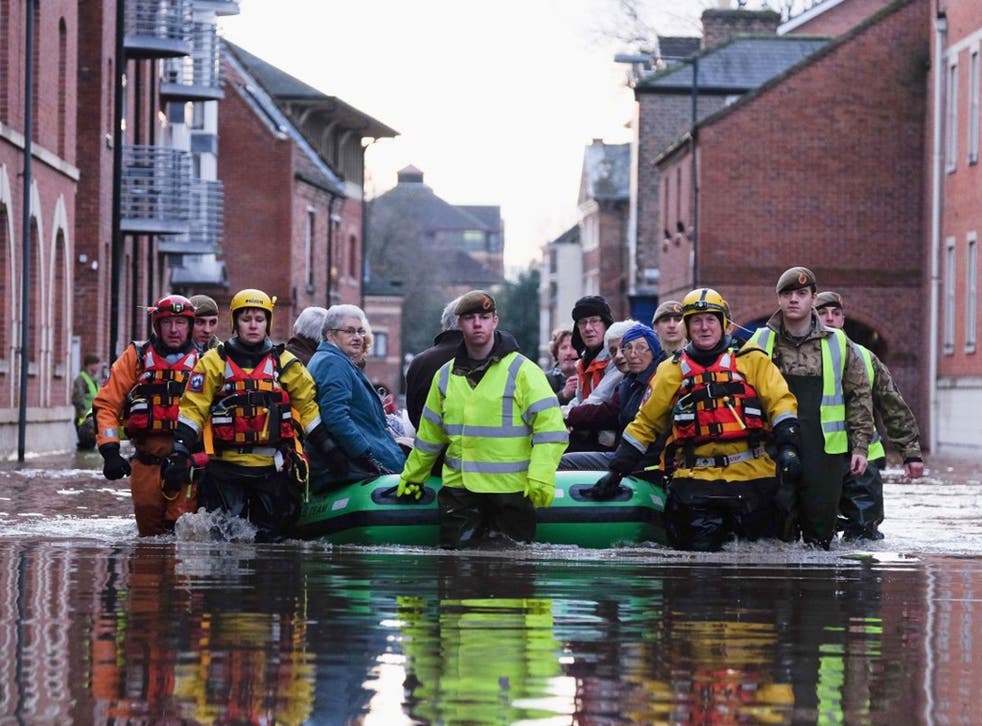 It's becoming a Christmas tradition now, part of the annual fun like the John Lewis advert or the Slade song, for a few towns to disappear underwater on Boxing Day. In a few years families will snuggle together, as we used to for Morecambe and Wise, to watch residents of Otley spending Christmas in a submarine.
Eventually it will become an accepted ritual, like mince pies or carol singing; everyone will agree Christmas is a time for children, and for floods. We'll tell our kids Santa comes down the chimney because one year he came by road but all the reindeers drowned when they reached Halifax. We'll start to believe Jesus was born in a dinghy, because there was no room left at Keswick Community Hall.
And some people will show off by decorating their whole house, with silt on the roof spelling "Happy Christmas" and a canoe covered in flashing lights sticking out of their upstairs bedroom window. But even they will be jealous, because someone over the road has a collapsing bridge that glows in the dark, and it was featured on ITV regional news.
Already we've established a charming custom, in which the Prime Minister splashes up a high street in wellingtons saying: "These extreme weather conditions are entirely unpredictable annual events. Every year we face one of these once-every-200-year catastrophes, and there's simply nothing we can do to anticipate them."
He also said: "Money is no object; whatever is needed will be spent."
We can trust this, because if there's one phrase that springs immediately to mind when we think of this Government's attitude towards public services, it's "money is no object". Every community project and youth club ends up screaming at the Prime Minister to stop giving them money. "Please, Mister Cameron, there's nowhere in the old people's home to hang another Rembrandt. Keep a bit for yourself."
Yet, strangely, Cameron's Government had scrapped a flood defence plan in Leeds because it was "too expensive". If you were a pedantic sort, I wonder if you might spot a contradiction between the two phrases "money is no object" and "too expensive."
In 2011, the environment minister Richard Benyon cut flood funds by 8 per cent. This meant some flood defence schemes were cancelled. But, to be fair, he did say: "This doesn't mean any particular scheme cannot go ahead in the future." That's typically over-generous isn't it? To only cut something by 8 per cent, and in return promise you haven't necessarily ruled out that someone else one day might pay for it, if they want to, in the future. The Benyon kids must have a lovely Christmas: "This year, as usual, instead of presents," they must have been told, "I've decided to not rule out that someone buys you something at some point between now and the end of eternity."
Even more touching was the response of Sir Philip Dilley, chairman of the Environment Agency, who spent the first four days of the floods in his second home in Barbados. When asked why he hadn't returned to address the environment – which, if you study his job title, falls vaguely within his responsibilities – he said: "I can't be in two places at the same time."
This would be a perfectly reasonable answer, if the question had been: "Why didn't you attend the flooded areas, while remaining on holiday in Barbados?" But it shows that the people swimming through their kitchens were in his thoughts, and that's the main thing.
Several people, such as the thoughtful, eloquent, loyal, ex-Labour MP Simon Danczuk, insisted we should stop overseas aid and spend the money on flooded areas of the UK instead.
But then it turned out that Syrian refugees had volunteered to build a flood defence wall in Littleborough, and mosques across Lancashire organised collections of food and blankets. So when the people complaining about foreigners saw that, I'm sure they changed their mind and insisted the answer to floods is to bring in more refugees and build more mosques – then we'd soon have the whole country protected for free.
The more likely solution to be offered by this Government, however, is that – as the annual festive floods bring attention to the submerged towns – this will be seen as a business opportunity to promote the region affected. Because how often are Dumfries, Hebden Bridge or Cockermouth in the news except when they're floating off towards the Isle of Man? Yet now, every little shop in these towns gets free publicity on the news as we watch the owners drift out of their top window on a wardrobe.
So it's time the floods were privatised. Each town could bid each year to be one of the places drenched the following Christmas, earning it national coverage and unlimited financial potential.
This is the perfect time to start such a scheme. Sepp Blatter has some time on his hands, and he's organised this sort of bidding process many times before. Soon we'll enjoy him opening an envelope, and announcing that, this year, the torrents of filthy water from burst riverbanks and unprecedented storms will be flowing through… Qatar.
"It's true it hasn't rained there since 2500 BC," he'll say, "but the Emir has plans to build a river and get David Cameron to fund the flood defence, ensuring that it will overflow and ruin the desert in plenty of time for Christmas."
Register for free to continue reading
Registration is a free and easy way to support our truly independent journalism
By registering, you will also enjoy limited access to Premium articles, exclusive newsletters, commenting, and virtual events with our leading journalists
Already have an account? sign in
Join our new commenting forum
Join thought-provoking conversations, follow other Independent readers and see their replies