The Munich shooting has revealed the identity crises sweeping across the continent
Germany has been the most welcoming country for refugees, but bilingual and bi-national people still tend to feel the pressure to prove that they belong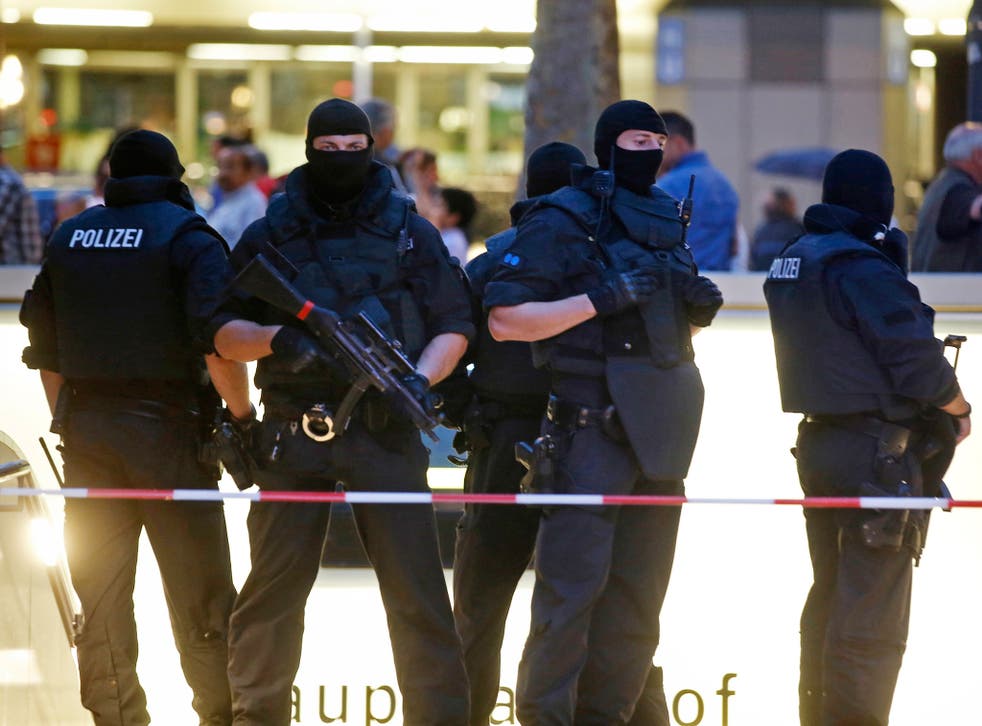 An 18-year-old German-Iranian has murdered at least nine people and injured many more. Apart from that, little else is known of what happened in a shopping mall in the Bavarian capital, but he is reported to have shouted: "I'm German!"
It's happened many times. We know the pattern. A crowd is enjoying itself and then a man appears, alone – he gets a weapon out and starts shooting indiscriminately. Or, he brandishes a knife, as a few days ago on a train – again, a teenager, and again, in Bavaria.
As people start laying flowers, the true facts behind this attack yet to be ascertained, we wonder how Germany as a whole will eventually react. The country is apparently being attacked on a large scale, like France. But unlike its neighbour, Germany has been the most welcoming country and has played a major role in trying to "normalise" the refugee crisis.
Video shows the moment gunman opens fire in Munich
True, the Pegida movement, the success of the anti-European and anti-immigration Alternative für Deutschland (AfD) party and bouts of far-right extremism have highlighted the fact that not everyone in Germany is happy about the country's humanitarian enthusiasm.
Angela Merkel has proved to be a conservative leader with a progressive heart. This is why the Große Koalition government with the Socialist party has worked ever so well. Ten years in charge, as a female leader, is no small endeavour, in a continent swept by nationalistic politics led by male chauvinism and women like Marine Le Pen (Front National) and Frauke Petry (AfD). They have embraced an awful jingoistic rhetoric to climb the political ladder and their domino effect will not help the situation.
What made this teenager shoot and scream "I am German"? Why the need to reaffirm his identity in a most aggressive and tragic context? I suspect he might have felt self-conscious about his joint German-Iranian nationality. We know how bilingual and bi-national people tend, in some cases and under some circumstances, to feel the pressure to prove they belong.
Was he made to feel a misfit? Does Europe's widespread chauvinism contribute to isolating people by making a point about their being different? Are we not all a bit "different"? We need to think more deeply about newcomers' psychology and mental wellbeing. We owe it to them.
That said, I get the feeling that American-style shooting rampages will become a common sight in Europe, if the current political climate remains a constant. Anders Breivik firmly set this trend. Now the Munich atrocity – whether this was linked to Isis or not, weapons (including knives) are bound to invade our public sphere more and more.
The fear of large crowds and public events is already sinking in, with many being cancelled across the Continent following attacks over the past year. Is terror winning at last, as the fear sinks into our hearts and we isolate ourselves out of dread?
Not if we keep doing what we know best: allowing public life to flourish by bringing down barriers, of all kinds. After Cologne, the Germans have somehow stuck to Merkel, despite criticism darting in from all corners.
This leading country will hopefully keep its nerve and carry on coherently, as it has so far. This is German strength, and hopefully we can keep terror at bay by completely disregarding it as part of our lives.
Register for free to continue reading
Registration is a free and easy way to support our truly independent journalism
By registering, you will also enjoy limited access to Premium articles, exclusive newsletters, commenting, and virtual events with our leading journalists
Already have an account? sign in
Join our new commenting forum
Join thought-provoking conversations, follow other Independent readers and see their replies