My NCT classes were so concerned with pushing an agenda they forgot to mention the realities of childbirth
On that operating table, as I unnervingly lost the sensation from my chest down, I thought about how us ladies in the group were ushered away to do an exercise about breathing while only our partners were taught basic facts about C-sections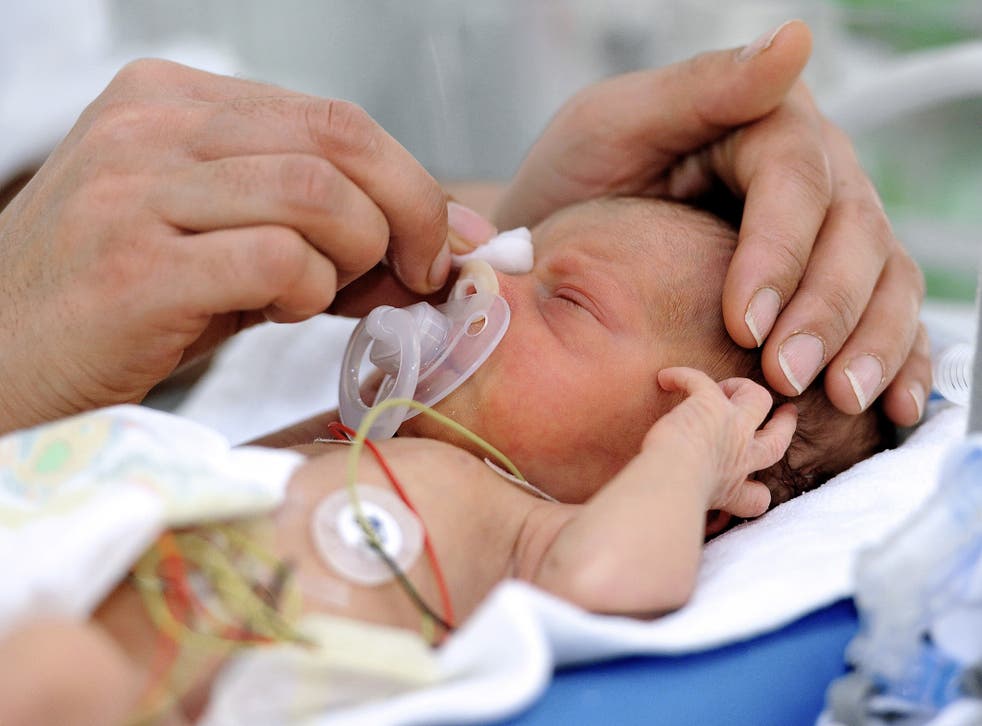 As I sat legs dangling on the edge of a bed, naked except for the hospital gown, waiting for a huge needle to be inserted into my spine so I could give birth safely by C-section, I briefly wondered: 'Why was this never taught to us in my NCT class?'
My baby was in the breech position and despite being told by the NCT it was my 'right' to ask for a midwife who specialised in breech births, so I could have my natural delivery if I wanted, there was the slight issue that no such midwives existed where we lived in Brighton.
So when my baby refused to turn head down, and doctors gave me the choice: C-section or risky birth. The op was a no-brainer.
As amazing as some of the work the NCT does, it doesn't actually do a mum-to-be any favours when it comes to gearing them up for birth - which is the main point of their classes (aside from meeting local mum friends to potentially have coffee with alongside your new bundles of joy).
In the end, out of eight mums in my NCT group, all of whom wanted a non-medical birth, only one of us achieved this.
Even the mum who'd opted for a home birth was told when her contractions started there was no homebirth midwives available due to being short-staffed. This was a scenario we were told was very rare in our NCT class.
On that operating table, as I unnervingly lost the sensation from my chest down, I thought about how us ladies in the group were ushered away to do an exercise about breathing while only our partners were taught basic facts about C-sections.
It was typical of the NCT course as a whole. Almost exclusively we were taught natural childbirth is best, and we should avoid "unnecessary" medical interventions at all costs.
When it came to being taught about other medical interventions, like inductions or pain relief, the subjects were glossed over while deep breathing, birthing positions, and positive thinking were focused on.
Even more controversially, the NCT class I went to taught us roleplays in which we argued against "unnecessary" medical intervention with doctors characterised in the scenarios as rude and brisk.
The most stunning photos that capture the beauty of birth

Show all 15
As my midwife said when I mentioned this to her, "I love what NCT do, but they are not responsible for safely delivering your babies, we are. And no doctor will offer medical intervention unless he has to."
When I knew I needed an op to deliver my baby safely, I had to quickly read up what to expect online and watch YouTube videos. The £240 on six childbirth NCT classes never felt so wasted.
So much of giving birth remains shrouded in mystery and shame, even today, and the fact is the NCT perpetuates many of the myths. It's disappointing this organisation, originally set up in 1956 as a group of mums to teach mums about childbirth, isn't ripping up the 'rule book' about what society says is 'right' or 'wrong'.
As the green op screen went up to hide the gore of my exposed innards, I held onto my fiancé's hand for dear life before the knife went in. Taking a few deep breaths was perhaps the only practical exercise I could draw on from my 12 hours of classes.
What seems to be forgotten is childbirth isn't a roleplay. Birth is unpredictable, often happens fast, can easily be panicked, and our good ol' NHS labour wards are not at all conducive to mums giving birth naturally.
While were taught we needed softly lit, private back rubs in peace and quiet, the antithesis is what's on offer in our noisy, overcrowded, hectic wards illuminated by strip lighting.
As my baby was pulled screeching from my open wound, I cried with happiness and couldn't thank the fantastic staff at the Royal Sussex hospital enough, despite being off my chops on a variety of pain relief, antibiotics and sickness drugs. Drugs I never wanted but needed, and thank God they were available. After all, they saved me from a potentially very long, tough breech birth labour that possibly would have threatened mine and my baby's life.
C-section births a trend in Brazil
Hours later, as my body started to regain feeling, it was my best friend from university who'd had three C-sections who I texted for advice, not an NCT helpline. She gave me the real truth: reassured me it was normal for my sleepy, drugged-up newborn to struggle a little to breastfeed and to be terrified to go to the loo for the first time.
"Don't worry, it will feel like pooing will rip you in but it won't," she wrote with a cheeky-faced emoji.
Again, I wondered why I'd bothered with a 21st century childbirth course when none of these raw truths were touched upon.
Even our NCT breastfeeding class, run by a cheerful mum of two who admitted she struggled herself at times, was scary in its limited ideology.
"We shall not be talking about bottle feeding at all," she declared. "Everyone is capable of breastfeeding." Except this is patently not true.
And I know this, despite being lucky enough myself to find breastfeeding easy. The reality is that luck is definitely involved.
When our teacher asked what else might be helpful as a breastfeeding mum, I dared to mention I'd used the 'N' word (N-word being Nipple Shields, apparently a definite No-No in NCT world) and she shook her head vigorously. "Absolutely not, they are no good at all," she declared.
Except my experience is that nipple shields saved my sore, bleeding nipples with my firstborn. They allowed me to carry on feeding for almost two years.
The NCT argues its teaching is evidence-based, but a sense of balance between what is realistic and idealistic, and how every birth is amazing and brilliant even if it's not natural, would be much more helpful. We had a well-informed, engaging, fun NCT teacher who really wanted the best for us, but the syllabus she was teaching from is fundamentally flawed.
Instead of perpetuating myths about breastfeeding and natural births, it's a missed opportunity to not to be campaigning vigorously for better maternity services.
The NCT should exist to explode the myths around childbirth and reassure every new mum as long as your baby is fed and you're both happy then it's OK, breast or bottle. And as long as you're both alive and well at the end of childbirth, who cares how you deliver?
I gave birth naturally without drugs to my first daughter and by emergency C-section with my second. I had little control over the outcome how either of my children entered this world, but the second time round, I felt damn grateful for modern medicine. Sorry, NCT, but the drugs do work.
Register for free to continue reading
Registration is a free and easy way to support our truly independent journalism
By registering, you will also enjoy limited access to Premium articles, exclusive newsletters, commenting, and virtual events with our leading journalists
Already have an account? sign in
Register for free to continue reading
Registration is a free and easy way to support our truly independent journalism
By registering, you will also enjoy limited access to Premium articles, exclusive newsletters, commenting, and virtual events with our leading journalists
Already have an account? sign in
Join our new commenting forum
Join thought-provoking conversations, follow other Independent readers and see their replies