Lutfur Rahman: My part in exposing the mayor in the face of verbal attacks and threats
Ted Jeory, whose fearless blog helped to expose the mayor of Tower Hamlets, explains the divide-and-rule tactics which have left a scar on the community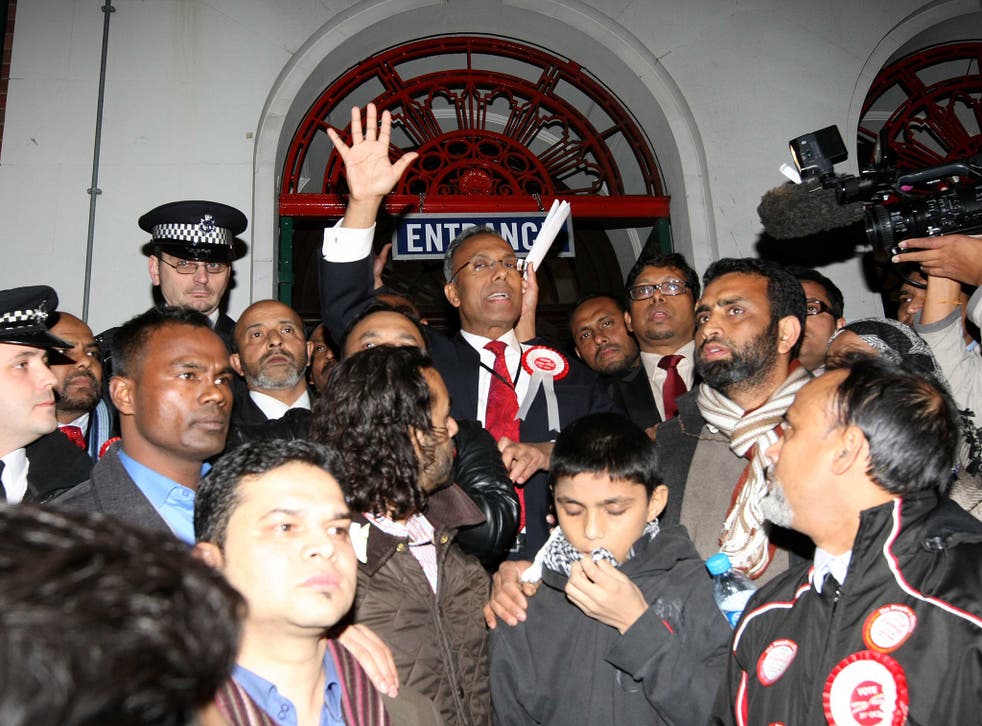 In many ways I owe Lutfur Rahman a great deal of thanks. After his first election victory in 2010 I blogged he would, over the coming years, create the Nirvana sought by all reporters: Storyville. He didn't let us down.
Within days of his election a fed up official at Tower Hamlets town hall leaked that one of Rahman's first requests as Britain's first directly elected Asian mayor was to require a staff member to traipse across London to Covent Garden to buy him the new iPhone 4. Not long afterwards, he exercised his next executive order: a rather nice Mercedes car. With chauffeur to boot.
He went on to make another extraordinary and significant decision early on in his mayoralty. Very quietly and without any genuine debate or consultation, he wrested control of the council's grants system. I warned about it at the time.
The grants had previously been awarded to community groups via an open committee of councillors. That committee had for years published details of each decision, including the advice and assessment of council officers. Rahman sucked the scrutiny and transparency from the process and gave himself ultimate sole discretion on who got what.
He then created a new grants stream: millions of pounds to "refurbish" faith buildings in the borough. Now why would he want to do all that, we asked? As a result of yesterday's judgment, we can now safely say the answer: as a targeted bribe for bloc votes.
Even some in his own team thought his actions on grants unwise. But Rahman doesn't like to be questioned. In fact, he declined to answer any questions put to him at council meetings, or at sessions of the crucial scrutiny committee. During last year's mayoral elections he even refused to attend a single hustings. Why? Because he was concentrating almost entirely on the Bengali and Somali community for votes. That had been his re-election strategy from day one, all the while espousing a One Tower Hamlets theme – and labelling critics who dared challenge this "racist" or "Islamophobic". Irony is not one of his strong points. He never branded me racist. And when his supporters did, or when they verbally attacked my British Bangladeshi wife, he called them out.
There will always be rogue politicians who somehow make it to senior office. Invariably they will be found out. But for me there are two more far-reaching issues from yesterday's judgment. Rahman was found guilty of undue spiritual influence, a centuries-old law rooted in pre-Home Rule Ireland. Some wanted it removed from the statute book. Judge Mawrey advised it shouldn't be. In fact, he suggested it be updated for a modern age when simple adherence to Islam by millions of voters can be exploited.
And lastly…I started my spare-time blog in 2010 when I realised my former paper, the East London Advertiser, was no longer able or willing to keep an eye on the detail of the council administration. I kept plugging away where it should have been. For that, I received numerous legal threats from the town hall. None succeeded. But the retreat of so many local papers is deeply worrying. How many other Lutfur Rahmans are there out there?
Register for free to continue reading
Registration is a free and easy way to support our truly independent journalism
By registering, you will also enjoy limited access to Premium articles, exclusive newsletters, commenting, and virtual events with our leading journalists
Already have an account? sign in
Register for free to continue reading
Registration is a free and easy way to support our truly independent journalism
By registering, you will also enjoy limited access to Premium articles, exclusive newsletters, commenting, and virtual events with our leading journalists
Already have an account? sign in
Join our new commenting forum
Join thought-provoking conversations, follow other Independent readers and see their replies