I once named Aung San Suu Kyi as one of my biggest role models – then came the betrayal
Abraham Lincoln who said: 'Nearly all men can stand adversity, but if you want to test a man's character, give him power.' His quote sadly now seems to fit Aung San Suu KyI like a glove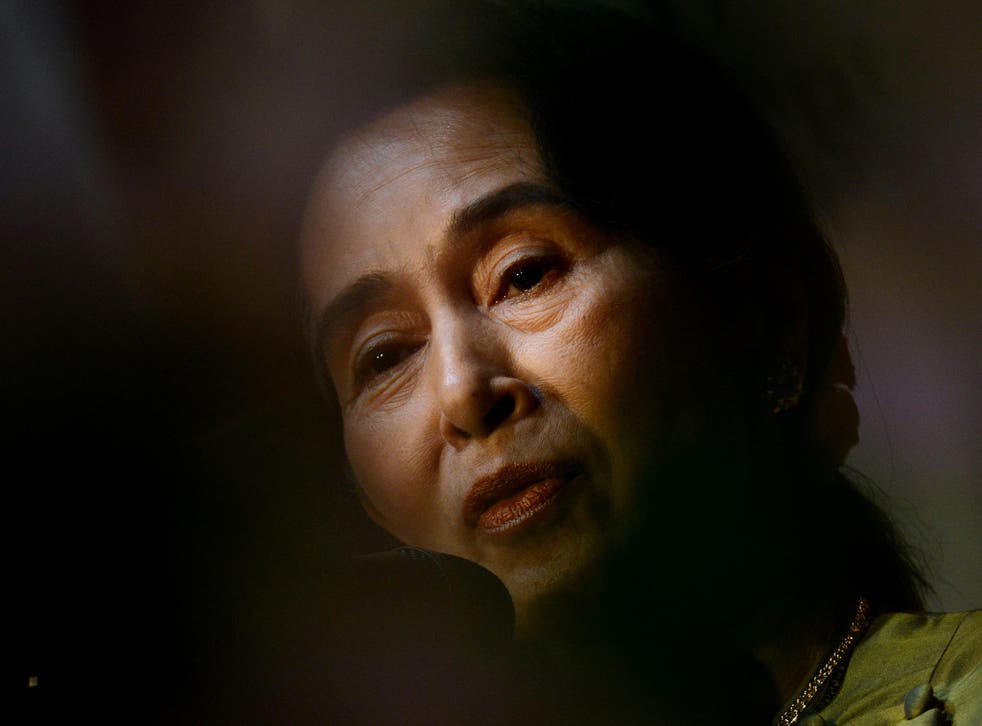 A few years ago in the run up to the publication of my debut novel Secrets of the Henna Girl, I was asked to provide a list of female role models as part of the publicity drive on the blogosphere. As my novel was about a British girl who stands up for herself against the odds –and wins, my publicist thought it would be interesting to list the women who have inspired me enough to write a story about defending human rights.
History is full of empowered female figures that have stood up to tyrants and oppressive systems and won despite living in extremely patriarchal times. But who were the more modern day heroines who deserved to be in a list with the likes of Rosa Parks known as the "First Lady of Civil Rights"?
One of the obvious candidates was of course Aung San Suu Kyi, the tireless campaigner for democracy and human rights in her home country of Burma, now known as Myanmar. Aung San Suu Kyi won the Nobel Peace Prize in 1991 for her "non-violent struggle for democracy and human rights" against Burmese military rule.
World news in pictures

Show all 50
There was also a personal connection to the Aung San Suu Kyi's commitment to democracy.
As a British citizen with Indian heritage, I have grown up with stories of relatives who lost livelihoods and fled Burma following the coup d'etat on the 2nd of March 1962 when the military replaced the civilian government. My relatives were not Rohingya, who have been a Burmese minority for centuries and are being ethnically cleansed now, but Indians from Gujarat who had settled in Burma as traders with the encouragement of the British Raj. Burma was then a province of British India. For me, Aung San Suu Kyi was a heroine who was fighting not just for the future, but for justice for those who lost everything and became refugees in 1962/63. Many of these relatives later settled in Britain in the mid 60s to start their lives all over again in the wool and cotton factories of Yorkshire and Lancashire.
Aung San Suu Kyi pushes back against criticism of handling of Rohingya abuses
So of course she made it on my list. How could she not with her commitment to her principles for which she endured fifteen years of house arrest. She was a modern day Mandela, King and Gandhi all rolled into one, and extremely photogenic to boot with her high cheekbones and flowers in her hair. She became the darling of the west, known as The Lady, the underdog we loved to support, and with whom we could relate to that much more because she had read Philosophy, Politics and Economics at Oxford University and married an English academic. In other words, she was one of us who was fighting for democracy and human rights "over there".
It was the American President Abraham Lincoln who said: "Nearly all men can stand adversity, but if you want to test a man's character, give him power."
Lincoln's quote sadly seems to fits Aung San Suu KyI like a glove.
To the despair (disappointment is too soft a word) of the many who held her up as a modern day saint, her attainment of power on has shattered what in the end was apparently an illusion.
Aung San Suu Kyi's political party own the election on November 2015, but instead of a decrease in the state violence against the Rohingya, we have witnessed an increase. Since the weekend, there have been United Nation reports and survivor testimonies that ethnic cleansing is being committed.
Video shows Rohingya flee burning villages in Myanmar
And Aung San Suu Kyi has chosen to remain silent on it all.
She has refused to allow United Nations investigators and the world's media to access the area known as Rakhine state where the Rohingya are being slaughtered and has also blocked all UN aid. The UN estimates that 87,000 Rohingya have fled to Bangladesh in the last few days and thousands more who failed to escape are hiding in the jungle. Reports of bodies being burned by the military to hide evidence are also circulating.
Such is the alarm at the genocide being committed by the military that Malala, another Nobel Prize laureate, issued this statement this week calling for Aung San Suu Kyi to condemn the violence.
Aung San Suu Kyi is seemingly not the 21st century icon that we in the west imagined and wanted her to be. The one who deserves to be on a list of female role models which inspires a sense of justice for all. Her silence suggests that Aung San Suu Kyi only wanted democracy and human rights for her own kind – and not the Rohingya whom she regards as the "other".
Still, there are some who have excused and chosen to interpret Aung San Suu Kyi's silence on the Rohingya's suffering as neutral. But as Paulo Friere said: '"Washing one's hands of the conflict between the powerful and the powerless means to side with the powerful, not to be neutral".
Aung San Suu Kyi cannot claim neutrality on the genocide of the Rohingya. As the leader of her country, she is complicit. There are many human rights activists who feel betrayed by her. I would imagine this includes previous Presidents (Obama) and Prime Ministers (Gordon Brown) who lauded her before she rose to power. Perhaps it is her betrayal of the principle of human rights for ALL which has stopped them from tweeting their condemnation. I like to imagine they are still in shock at who she turned out to be when it mattered the most...and they have no words.
Register for free to continue reading
Registration is a free and easy way to support our truly independent journalism
By registering, you will also enjoy limited access to Premium articles, exclusive newsletters, commenting, and virtual events with our leading journalists
Already have an account? sign in